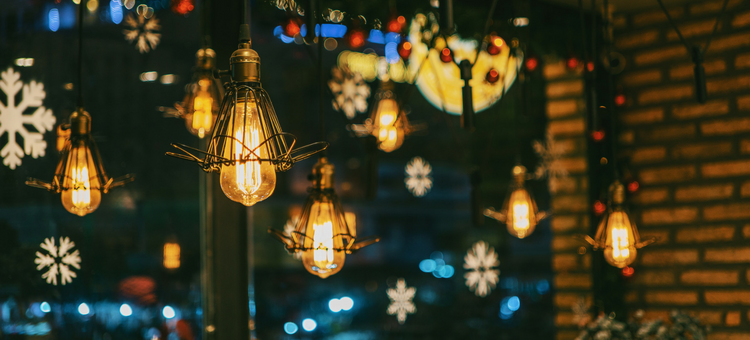 The weather outside may be frightful, but you can make the inside of your bar delightful. While you might deal with a Grinch or two, chances are that most of your customers will be all too happy to get into the Christmas spirit—that is, if you do your part to get your bar ready for the holidays! Check out these seven ideas to deck your bar with holiday cheer.
1. Don't be afraid to go all out.
You've probably been in plenty of bars and restaurants that put up a wreath or a Christmas tree and call it a day. But where's the fun in that? You can not only impress customers but also get a reputation for your decorations if you go big. Looking for some inspiration? Check out these bars and restaurants in NYC. Break out the bulbs, the garlands, the tinsel, and the twinkle lights to create something truly special.
 2.Celebrate for 12 days.
Show your true loves—your customers—that you care by offering 12 days of great deals and promotions. Whether it's two-for-one drinks on day 10 or a free appetizer on day 7, holiday deals will help your customers get in the spirit.
 3. Mix up your drink menu.
Eggnog, mulled wine, and various other Christmas cocktails will be in demand, so make sure they're on your menu! And don't forget about Christmas beer and wine.
 4. Get the right soundtrack.
Starting at around Thanksgiving, pretty much everyone welcomes Christmas tunes. Whether you put on a fun, traditional pick like the Jackson 5 Christmas Album or bring in a local band to play covers of Christmas classics, the right songs will boost everyone's moods.
 5. Remember the less fortunate.
Christmas brings out the charitable side of even the biggest Scrooges, so don't forget about the needy this holiday season. Hosting a charity fundraiser or a food drive is a great way to bring customers in while also supporting a good cause.
 6. Play up your parties.
Does your bar have the space to host parties, perhaps in a separate room or a second floor? If so, make sure everyone in your neighborhood knows about it. Get the word out to local businesses and let them know that you'd love to host their office parties.
7. Snow day deals.
Christmas often brings snowy weather, which can get people in the spirit…but make them more likely to stay home. Tempt them out to your bar by offering special snow day deals, like a dollar off drinks for every six inches of snow or fifty cents off burgers for every inch.
Don't let the holiday season pass you by with a "bah humbug"! Christmas can be a great way to boost business if you take advantage of some of these ideas.
[fl_builder_insert_layout slug="whitepaper-signup-module-50-best"]