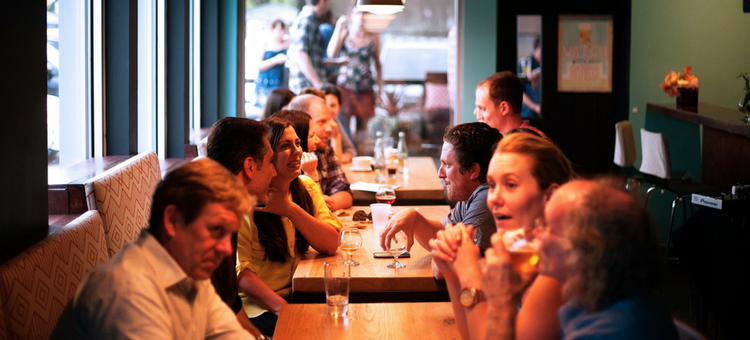 Loyal customers can make the difference between a restaurant that succeeds and a restaurant that fails. Just take this fact into consideration: over 40 percent of customers are loyal to their favorite restaurants, whether or not those restaurants are offering any special deals or promotions. Sure, an awesome discount, coupon, or event is a great way to bring in customers, but it's those customers who come in week after week no matter what who really help your business out. So what can you do to make sure you attract faithful customers? Read on to find out seven key elements you can use to build customer loyalty at your restaurant.
1. Loyalty programs.
Creating an awesome loyalty program is one great way to keep your customers coming back for more. Not sure how you can implement a loyalty program in your restaurant? Check out our list of ideas for clever loyalty programs.
2. Consistency.
Customers like to know what to expect, and if you can give them this, they'll come back again and again. Make sure your portions are always the same size, and follow recipes so that a dish doesn't end up spicy one day and bland the next. Offering certain specials each week on the same day can also encourage customers to return—if they know that every Wednesday is burger day, they'll know what they have to look forward to.
3. Social media.
Your business should definitely have a strong online presence. Whether you're using Twitter, Facebook, Yelp, Instagram, or another social media platform, you need to be sure you're interacting with customers, reminding them of your specials and promotions, and encouraging them to come back to your restaurant often.
4. Game nights.
A game night can encourage customers to come in on a weekly basis. With Buzztime tablets, you can host an awesome trivia night (or other game night) that your customers will love. By creating a social event, you'll gain not just individual loyal customers, but whole groups of friends who love your business and come back regularly.
5. Be a part of your community.
Customers are more likely to be loyal if they see your business as part of a thriving community. Support local vendors, partner with other businesses, take part in community events, and invite local artists and musicians into your bar or restaurant. By showing the community members that you care about them, they're more likely to care about you—and support your business by coming back regularly.
6. Form relationships.
If you view your customers as friends, they'll see you the same way. Learn customers' names, interact with them when you can, and be available to help them have the best dining experience possible. Make sure all your customers feel welcome. And don't overlook the value of the occasional freebie. Whether it's a birthday drink for a loyal customer or a free "just because" appetizer for one of your regulars, small gestures of appreciation can go a long way.
7. Great service.
The best way to get build customer loyalty is also one of the most obvious. If you don't have great service, it doesn't matter what else you do—you probably won't be able to get many loyal customers. Being friendly, paying attention, and keeping customers happy are the best things you can do if you want to get more regulars.
Loyal customers are the heart of your business. By following these tips, you can keep customers coming back again and again!
[fl_builder_insert_layout slug="whitepaper-signup-module-33-customer-loyalty"]