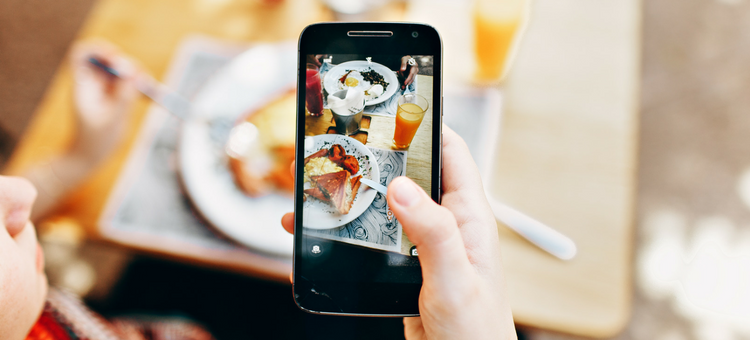 Feeling uninspired when it comes to restaurant photo ideas for social media? We get it. Constantly cranking out content can be difficult, especially when you have a bar or restaurant business to run. But photos are a great way to engage with followers and get them excited about visiting your business. So, to free up some of your time and get the inspiration flowing, here's our quick and simple guide to restaurant photo ideas for social media…
Front of House
1. Food!
Sure, this may seem like an obvious choice. But it's not just about the food – it's about restaurant photo ideas that make your restaurant stand out. So don't just snap a quick pic and post with a hashtag. Take a moment to ensure you're getting the most out of each photo by making your food pop:
Get the lighting right: Lighting is a big deal when it comes to restaurant photo ideas that make followers take notice. You want natural, flattering lighting, but not direct sunlight or shine (otherwise your food will look washed out – not very appetizing).
Add pops of color: Pick your most vibrant-looking dishes to feature in your restaurant photo ideas. Stay away from monochromatic menu items, or at least add some colorful garnishes.
Try out different angles and locations:

Remember: your photos don't stand alone, but make a "mural" on your Instagram feed. So keep things interesting with different angles: from the side, from the top…with people or without…indoors or outside…in the kitchen or in the front of the house.
Pro Tip: If you want to go the extra mile, check out these tips from Buzzfeed to really get the most out of your food photos.
2. Craft Cocktails
Craft and artisan cocktails are a huge culinary trend right now, according to the National Restaurant Association. That means your drinks are a must for your restaurant photo ideas.
Snap a pic of your drink-of-the-day or some of your best sellers with vibrant colors and pretty garnishes. Share to social media with details about the drink or a list of ingredients for the cocktail. And it never hurts to boost your restaurant photo ideas with fun hashtags, like #ThirstyThursday.
3. Interior Design
If it's all about the ambiance at your restaurant, capture those vibes in your restaurant photo ideas. Showcase the interior design of your restaurant for followers to get a glimpse of what their dining experience will be like.
Not sure what kind of details should make the cut? Here are some restaurant photo ideas for your interior design:
Pick a focal point: Does your restaurant have an accent wall, large mural, or another eye-catching feature that your guests love? Photograph, post, and repeat.
Make a big deal out of little details: Sometimes, intricate details in photos can show just how much you pay attention to your restaurant. That's why items like unique glassware, decorative pieces, or floral arrangements make great restaurant photo ideas.
Shine a spotlight on your fixtures: Sometimes, your source of light can also act as a source of inspiration for your restaurant photo ideas! If you have an interesting chandelier, trendy lamps, or a wall of candles, show it off on your Insta.
Pro Tip: Get inspired by checking out interior shots from other designer restaurants – like this one from TomTom in L.A. (You may recognize it from Vanderpump Rules – but even if you're not a fan of the show, you can't deny that the design is on point!)
Behind The Scenes
4. Ingredients
More and more diners want to know where their food is coming from and how it's made. So, give the people what they want in your restaurant photo ideas. Take pictures of your latest shipment from your suppliers. Then post details about where the ingredients came from and what dish they go into.
This is especially important if you order from local suppliers and farms. Locally sourced ingredients are another big trend that shows no signs of slowing down. So feature your fresh ingredients and listing their source in your restaurant photo ideas can both legitimize and showcase your dedication to the farm-to-table movement.
5. Kitchen Prep
If we've learned anything from the Food Network, it's that people love seeing how food is made. And let's be honest – it's an exciting process. So, if you're already snapping pics of completed dishes for your restaurant photo ideas, why not also show off the prep that happens beforehand?
Get a close up of your chef cutting vegetables for your soup of the day. Take a candid shot of your cooks working on the line. Snap a photo of a fridge full of fresh produce waiting to be prepped. Open kitchen concepts are popular trend for a reason, and using kitchen prep as one of your restaurant photo ideas gives your followers a closer look at how your restaurant operates. 
People
6. Events
Get your followers to feel serious FOMO by using weekly events as inspiration for your restaurant photo ideas. Sure, it may seem counterintuitive to stop what you're doing and take a picture when you have a full dining room and bar. But that's the exact type of content that you want to share with your followers!
Take a picture of the winning team after a close game of live or on-demand restaurant trivia. Or the crowd singing along during karaoke or fans cheering as they watch the big game. Those are the moments that will make your followers want to stop scrolling and come in for a drink.
Pro Tip: Of course, you probably have a lot going on during those busy events and may not have a moment to think about restaurant photo ideas. So, pick a dedicated staff member to take photos throughout the night.
7. Your Customers (and Their Pets!)
Spotlight some of your regulars by making them the main feature of your best restaurant photo ideas. Share their story about how long they've been coming to your restaurant or which dishes are their favorite. Or, make your guests feel really special by sharing pictures of their birthday or anniversary with a simple message of thanks for spending their big day with you. (Obviously, always ask permission if you can take their pic and post it first!)
Pro Tip: No one can resist a picture of a puppy. So, if you're a dog-friendly restaurant, post photos of your pet guests showing that man's best friend is always welcome at your restaurant. Again, always ask permission first.
8. Your Staff
Last but not least, highlight the stars of your show…your staff. They're the ones who make the magic happen, so use them as inspiration for your restaurant photo ideas. But don't just stick with plain, staged photos and headshots. Show your staff having fun with silly, candid shots of them interacting with each other and your guests.
Restaurant photo ideas that involve the staff not only make your team feel more involved with the business, but it also shows how much fun it is to work at your restaurant (which translates to how much fun it is to dine there too).
Today, a great restaurant pic is worth more than a thousand words. On social media, it could be worth more likes, followers, extra business, and maybe…just maybe, viral fame. So use these restaurant photo ideas as inspiration to engage with your audience and make your restaurant look #Awesome on social media.