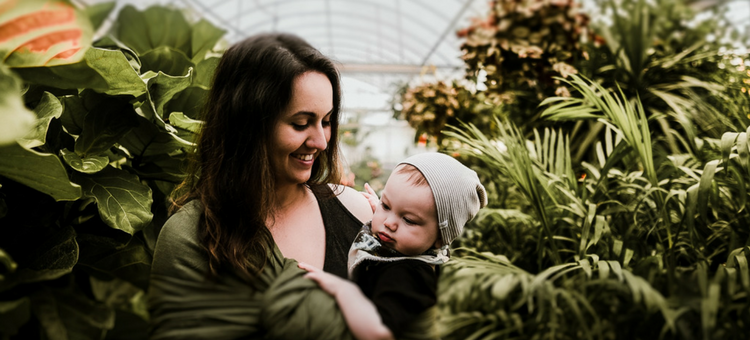 Spoiler alert: Mom is going to have a very good Mother's Day. To celebrate her special day, the average person will shell out a record $270 this year according to the National Retail Federation. With these 8 creative Mother's Day promotions, you can win over Mom – and her spend-happy admirers.
1) Make Mother's Day Eve Your Signature Holiday
Mom deserves more than one day, right? Host a "Mother's Day Eve" as one of your Mother's Day promotions. Treat her to a night out, sans kids. Bring in a DJ and create mom-only drink specials. Or, hire a hilarious female comedian.
Another option: take a more mellow approach. Start your "pre" Mother's Day Promotions early with complimentary chair massages and a wine-tasting flight.
2) Mother's Day Promotions That Maximize the Entire Day
Brunch: Try a Little Trendiness
You can't go wrong with omelet and waffle stations. But these trendy, menu-based Mother's Day promotions are the way to her heart.
Bottomless Mom-mosas: Just for mom…it might be her dream come true. Serve mimosas in a mason jar or other special glass she can take home.
Avocado Toast Trio: Prep 3 variations of this trendy toast.
Gourmet Yogurt Bar: From house-made granolas, to shaved chocolate – set out gourmet toppings and let Mom go wild. It's the brunch version of the sundae bar. Or prepare a Bloody Mary bar as one of your Mother's Day promotions. Think crumbled bacon, fresh herbs, and hot sauces.
Mid-Afternoon High Tea, Dahling
When 2 pm hits, tap into the British tradition of high tea for your Mother's Day promotions. Complete with tasty finger foods and an array of teas, it's the perfect mother-daughter event. Use the BBC's guide to high tea to plan an authentic tea time.
Farm-to-Table Prix Fixe Dinner
Fixed price menus make for popular Mother's Day promotions at every meal. Guests love knowing how much they'll spend in advance. Plus, limiting choices means your kitchen can work more efficiently (hello, faster table turn).
Create a special Mother's Day dinner inspired by the farm-to-table trend. Focus on in-season, local fare. Need help going local? Try one of these 11 sources for local ingredients.
3) Free Gifts for the Win
A little mom-spoiling goes a long way in building loyalty. Show your appreciation with a small gift as part of your Mother's Day promotions.
Sweet Succulent: All the other restaurants will offer her a rose. Go trendy with a little potted succulent. Already ordered those roses? Print out a few lines of epic Mother's Day poetry to go with each rose.
Treat Bag: Welcome moms to your restaurant with a gift bag filled with chocolates. Ask nearby businesses if they'd like to include coupons or offers, too.
Branded Merch: Send her home with a souvenir like a coffee mug or pint glass with your logo. Each time she sips, she'll see your logo – so these freebie Mother's Day promotions are worth the investment.
Mom's Personal Paparazzi: Hire a photographer to snap pics of the family. Guests can download their photos at your website – or visit Facebook to find their pic. Either way, you're driving digital interactions with these photo-based Mother's Day promotions.
Amuse Bouche: This is an easy one. Indulge her sweet tooth. Start the meal with a complimentary treat, like a pastry or chocolate-covered fruit.
4) Mother's Day Promotions (That Bring Them Back)
For most restaurants, Mother's Day is already big business. Use the holiday to earn repeat business with these Mother's Day promotions that bring 'em back:
Mom's Night Off Certificate: Create a free meal certificate that Mom can "redeem" any weeknight in May when she doesn't want to cook. Of course, she'll bring in the rest of the family.
The Envelope, Please: Give Mom a sealed envelope. She can bring back the envelope (in 2-3 weeks) for the server to open – and reveal her surprise offer. Include a free dessert or appetizer voucher. In a few envelopes, throw in a $10 or $15 git card.
Father's Day Deal: Try Mother's Day promotions that encourage guests to book future reservations – on the spot. For example, give a $25 credit if the family books their Father's Day meal with you.
5) Cater to the Kids
The fastest way to mom's heart? Mother's Day promotions that entertain her kids at your restaurant. Translation: she'd love to sip that rosé in peace, can you help make it happen? Here's how to be mother's little helper:
Believe in Magic: Skip the clowns (of all days to creep out mom, this is not the one). Instead, hire a magician to perform tableside tricks the entire fam will love.
Make Mom a Card: Hand out blank cards and crayons to kids. Ask them to play Picasso and make her a handmade card. Awww, who knew Mother's Day promotions could be so sweet?
Digital Arcade Games: This is one Mother's Day gift that keeps on giving all year. Bring in restaurant tablets loaded with trivia and arcade games for both kids and adults.
Mini Me Meals: "I'll have what Mom is having, thank you very much." Older kids have a thing for ordering from the grownup menu. Cave into their demands by offering small portions of your main dishes.
6) Mother's Day Meal Deals
Show guests watching their wallets that you have their back. Offer a few budget-friendly Mother's Day promotions, like:
Moms Eat Free: If you're a family restaurant, you may already offer a kid's night. Turn the tables on that traditional promo by offering moms a free meal on their special day.
Family-Style Dining: Add some shareable entrees to your menu, like family-style dishes or tapas. Guests can order something for the
whole table to enjoy at a slightly lower price.
7) Clever Contests as Mother's Day Promotions
Add an interactive element to your Mother's Day promotions with these contest ideas.
We Pay the Babysitter: Let moms fill out a card explaining why they need a night out. (Ask them to check a box giving you permission to share their story on social media – funny stories could even go viral.) Reward the 3 best reasons with a gift card to pay their babysitter. P.S. This is a great way to capture email addresses!
Best Mom Ever Mother's Day Promotions: Ask kids and spouses to nominate their mom for the "Best Mom Ever" award. Leading up to Mother's Day, collect nominations through a website form or on social media. (Just ask them to send you a message on Facebook.) On Mother's Day, present all winning moms with a print out of their award and include a gift card they can redeem in May.
Juggling Contest: Mother's Day promotions don't need to be so serious! Moms juggle it all…from full-time jobs to piano lesson chauffering. Have fun with this fact of motherhood by running an actual juggling contest.
8) Signature Cocktail Specials as Mother's Day Promotions
Mommy needs a drink. (That's what she said.) As one of your Mother's Day promotions, create an indulgent drink list. Need inspiration? Check out 32 spring cocktail recipes, or whip up one of these:
Cranberry Pear Prosecco Cocktail: This sophisticated spin on a classic mimosa will have moms asking for seconds.
Bourbon Mint Lemonade: Help busy moms cool off during your Mother's Day promotions with a refreshing lemonade, mixed with a unique blend of bourbon and fresh mint.
Blackberry Vanilla Cocktail Float: This decadent cocktail doubles as dessert, using a scoop of vanilla ice cream, blackberry syrup (that you can easily make in-house), and mom's choice of vodka or gin.
Feel free to go a little overboard with your Mother's Day promotions. Show guests that when it comes to treating moms right, your restaurant knows best.