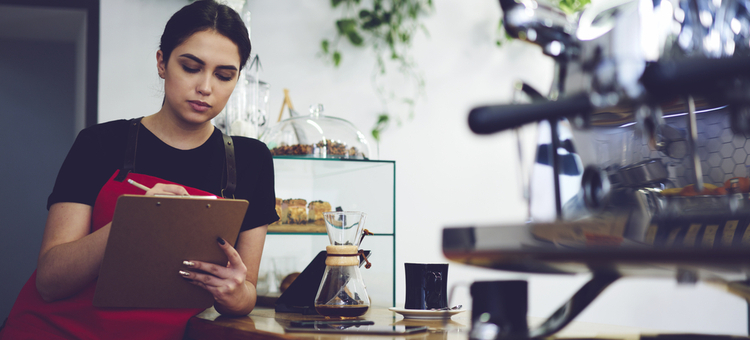 So, you want to be a restaurant franchisee. Great! The food franchise industry is booming – even full-service franchises are expected to grow sales by 6.8% in 2017. Thinking of getting in on the action? Start by learning how to franchise a restaurant the right way with these 8 expert tips.
Before Your Begin: Remember, There is Risk!
Many entrepreneurs believe it's less risky to open a franchise instead of building their own restaurant name and concept from scratch. That's not always true. Don't rush into franchising without doing research first. Successful franchisees take time to plan out how to franchise a restaurant – so should you.
1. Play Well with Others
Planning how to franchise a restaurant is a group effort – here are 3 people you want in your corner.
Consider a Consultant
Most successful first-time franchisees partner with a restaurant franchise consultant to avoid costly mistakes upfront. A credible consultant should have ample experience and a proven success rate. They can teach you how to franchise a restaurant and help you create a business plan that works best for you.
Lawyer Up and Be Accountable
You will need an entire team to navigate the waters of how to franchise a restaurant – especially if this is your first venture.
Lots of paperwork and money are going to exchange hands throughout the franchising process. Partnering with a good lawyer and accountant can empower you to make sound financial decisions.
Plus, they'll both protect your interests in any negotiations.
The less you have to worry about legally and financially, the more you can focus on how to franchise a restaurant.
2. Prepare to SOP Till You Drop
There's a reason franchises are often less risky than starting a business from scratch. Most franchises are built upon Standard Operating Procedures (SOPs). That means strict guidelines are in place for how to franchise a restaurant, including the menu, management, and marketing.
The SOPs are a requirement. You may be the franchise owner, but the rules don't belong to you. So, if you thrive on getting creative and putting your ideas into action, franchising may not be the best option for you.
However, some franchises are more lenient with looser SOPs. The takeaway is this: review the franchise agreement thoroughly before signing. SOPs are usually covered in great detail, outlining constraints and freedoms that come with how to franchise a restaurant. It's up to you to determine your comfort level with the terms.
3. Start for the Right Reasons
Seriously exploring how to franchise a restaurant is a giant leap that requires commitment. Carefully evaluate your reasons for starting the franchise.
Frustrated with your current job and want a way out? Think learning how to franchise a restaurant will be a cake walk? Do you believe it's an easy way to make money? Don't start a restaurant franchise on a whim, or to escape your current situation.
Speak with a franchise consultant if you're on the fence about learning how to franchise a restaurant. They will ask the right questions. Your reasons for becoming a franchisee need to be strong enough to keep you going for years – not just until opening night.
4. Set Realistic Expectations
Yes, there are many advantages to consider when deciding how to franchise a restaurant. You're starting a business with a well-known name, established branding, and built-in marketing platforms. It's like investing in a stock that's performed well in the past.
However, just like the stock market, results are unpredictable. As you plan how to franchise a restaurant, keep your expectations in check.
Even if opening goes smoothly, there's no way to guarantee your market's reaction. It could take weeks, even months before you begin seeing a return on investment.
[fl_builder_insert_layout slug="whitepaper-signup-module-5-step-marketing-budget-planner"]
5. Prepare for Long Hours
When learning how to franchise a restaurant, remember this: you're in the hospitality industry. That means long hours, no matter what kind of franchise you're starting.
As the owner, you need to be hands-on, especially in the beginning as you train staff and managers. If this is your first franchise, you'll have to learn the ropes before training your team! As we mentioned earlier, you'll likely have many standard operating procedures (SOPs) to master: from cleaning to managing food costs, assembling food to the ordering system.
Learning how to franchise a restaurant usually goes quickly thanks to the SOPs. But you still need to ensure those procedures are being implemented properly. That means being on-site most days from open till close.
Eventually, you may be able to hire a high-quality team to run the business without your constant presence. Be prepared. That could take years! In the meantime, prepare for the hours needed to get your business off the ground.
6. Money Talks – What's Your Cash Flow Saying to You?
Becoming a franchisee is expensive. When researching how to franchise a restaurant, you've likely seen that most franchises require a significant initial investment to get started. Some chains want hundreds of thousands (even millions) of dollars upfront – before you even open the doors.
Once business begins, some chains require that you open more units over time. The amount could be determined by your sales numbers or market opportunity. But the expectation is the same: make enough money to open more stores.
While that ultimately means more money in your pocket in the long run (Ka-ching!), these new locations also require upfront investments of their own.
As you explore how to franchise a restaurant, keep an eye on your cash flow and your comfort level with a serious upfront investment.
7. Find the Perfect Franchise Match
Once you learn the basics of how to franchise a restaurant and decide it's the right move for you, the next step is selecting the franchise. According to Nation's Restaurant News breakdown of 100 franchises, you have plenty of options to choose from. You can take your preferences and professional goals into account when making your decision.
Do you enjoy interacting with guests? Want to run weekly events like poker tournaments or trivia nights? Prefer to work in a fast-paced, quick-turnover environment?
Narrowing down what you'd like your customer experience to be will help you determine how to franchise a restaurant that meshes with your business style. If you're still struggling to make a decision, then your franchise consultant would be a great resource to help you figure it out.
8. Treat Every Customer Like Gold
Repeat customers should be your primary goal as you learn how to franchise a restaurant.
As with any business, you're building a reputation for your franchise. That means anyone who walks through your door should be treated to quality, consistent service.
To ensure your team meets your high standards, provide:

While you can't change a franchise's set of established rules, you can exceed their standards of how to franchise a restaurant! Providing a pleasant guest experience will keep your patrons coming back, which boosts your bottom line and franchise success rate.
The key to owning a successful franchise is taking advantage of resources that can help you learn how to franchise a restaurant the right way. Ask questions, do your research, and take your time deciding if you were meant to be a franchisee.