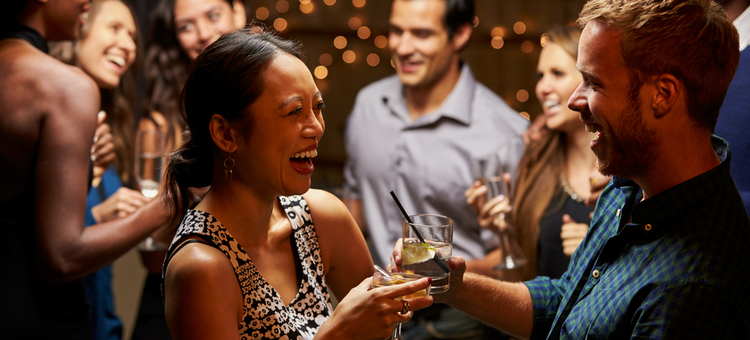 Wish weeknights at your bar were just as busy as weekends? With bar events, you can easily give a slow Tuesday evening the same energy as a fun Friday night. All it takes is a little planning to set up events that'll have your guests staying out longer, even if they have work in the morning…
The Plan
Step 1: Brainstorm Bar Events
The first step in running successful bar events is to come up with a core concept. Think about the audience you want to attract, then brainstorm event ideas that will appeal to them. To get you started, here's some inspiration:
Live Trivia: Attract midweek business – on repeat – with a recurring live trivia night. You can hire a trivia host, or join over 2,700 bars and restaurants that run the bar event using their own staff and handheld tablets.
Networking Events: Host networking bar events to attract local professionals in your area. Set up networking nights by industry, and invite nearby offices, freelancers, and contractors to make connections and talk shop while you pour the drinks.
Yappy Hour: Bar events that allow patrons to BYOP (bring your own pup) are definitely barking up the right tree. If you have a patio or outdoor area, host events like doggy playdates or even "find your match" adoption events.
Open Mic: Let your patrons flex their performance skills with an open mic night, which allows aspiring musicians, singers, and comedians to practice new material or just get used to a crowd.
Bar Triathalon: Tell your patrons to assemble their best team for a trifecta of some favorite bar pastimes, like corn hole, billiards, and darts. Or, add a college-time twist with popular drinking games, like beer pong, flip cup, and quarters (just be sure to pour responsibly and keep plenty of Ubers on standby for alcohol-focused bar events).
When determining what the event should use for entertainment you should also be considering the risks or threats that your event my face. Azavista points out nine different risks that your event may face and gives you great insight on how to overcome them.
Step 2: Schedule Your Bar Events
Once you've narrowed down your list of bar events, it's time to decide when they should go down. To do this, take a look at your cash flow from the last few weeks. Then, determine which days and dayparts could use a pick-me-up.
Say your Wednesday happy hour is pretty robust, but quickly dwindles around 7 p.m. That would be the perfect time to schedule one of these bar events. You'll capture the attention of people already there – and they'll be more likely to stay longer (and order more).
The Marketing
Step 3: Make a Social Media Plan
The best way to spread the word quickly about bar events is to use the power of social media. Create an event page on Facebook with all the details for your bar events. Share pictures teasing your events on Instagram and tweet updates on Twitter as you start to prepare for them.
To ensure that your social media marketing is effective, follow best practices when posting about bar events:
Be Visual: Want to increase the chances that your followers will remember details about your bar events? According to research, 65% of people were able to retain information posted with an image three days after seeing it.
Be Engaging: The purpose of social media is to interact with followers. So, don't just constantly post details about your bar events…engage with your patrons! Create a hashtag that guests can follow and use when they share photos or posts about your bar events. Always respond to any questions that your followers may post on your page. According to a recent Forbes article, 71% of users say they would recommend a business that responds quickly to them on social media.
Be Consistent: When it comes to posting about your bar events, one-and-done isn't going to cut it. You'll need to post several times in order to ensure that your message will appear on your followers' newsfeeds. And it might take a couple of views before followers decide to take action – according to the Sprout Social Index, about 60% of people need to see a post 2-4 times before making a purchase.
Step 4: Promote Your Bar Events In-House
The best place to advertise your bar events is inside your actual bar! First-time guests may see details about your super-cool bar events, which could prompt them to return for a second or third visit. So, put your walls – and TVs – to work with these in-house promotion possibilities:
Your Specials Board: Your specials board is for advertising more than just your menu and cocktails. Use it to promote any of your upcoming bar events.
Well-Placed Flyers: Pick out a few high traffic areas of your bar and post up flyers for your bar events. This includes your front door, behind the bar, and even the bathrooms.
Digital Signage: A TV is prime real estate in any bar and will usually be right in your customers' line of vision no matter where they're sitting. So, use your screens to spread the message and post details for your bar events using digital signage software. In a few clicks, you can create custom ads that rotate throughout the day.
[fl_builder_insert_layout slug="whitepaper-signup-module-supreme-guide-live-events"]
The Prep
Step 5: Prep Your Bar
Now that you have your bar events scheduled and started spreading the word, it's time to get your venue ready for action.
Man your bar: The point of bar events is to draw a crowd and encourage everyone to have fun. Unfortunately, that won't happen if everyone is waiting around for food and drinks. Make sure you schedule enough people to adequately handle your estimated crowd and be sure your inventory is sufficiently stocked.
Craft your specials: Themed specials are another chance to add a stroke of creativity to your bar events. Plan out a few special menu items or cocktails that match the theme of your event or add special pricing for an extra incentive to draw in customers.
Decorate your space: If your bar events call for an extra element of something special, add some decorations to go along with your theme. For example, deck out the place in gold, silver, and bronze for a bar triathlon or add some puppy flare with bones, dog bowls, and courtesy leashes for yappy hour.
Need more tips for preparing for your next event? Check out this event checklist.
Step 6: Loop in Your Team
Your team is the frontline of defense on the nights of your big bar events. They are the ones sharing the details with your guests, answering questions, pouring the drinks, and ensuring that everyone is having a good time. So, it's pretty important that they know what's going on.
Even if they helped you come up with ideas for your bar events, it's essential that you make sure the entire team is on the same page before the big night. Set up a special staff meeting to discuss the details of any upcoming bar events and important details they need to know. Stress special menu items or pricing they should be aware of and even go through how they should introduce the bar events to your patrons.
The Execution
Step 7: Make the Announcement
This is a small but super important step for your bar events. Shortly before the event is set to start, make a quick announcement to your patrons and give them any details they may need to participate. You may need more than one announcement to ensure that everyone from early birds to stragglers hears about your event, so set up a mini-schedule to follow the night of:
Thirty Minutes Before: Make an announcement about your event and all the details your patrons should be aware of. For example, let them know that they need to sign up with the host if they'd like to participate in your live trivia or open mic night – which starts in 30 minutes.
Twenty Minutes: Make another announcement sharing the details and encouraging participants to sign up. Also, announce any specials that you have going on with your menu items, and encourage guests to put their orders in now so they'll have their food by the time the event starts.
Five Minutes Before: Do the last call for participants to sign up and encourage guests to place their drink orders before the event starts, so they don't miss any questions or acts once it begins.
Step 8: Evaluate Your Bar Events
Your bar events may be over, but your work isn't done. Whether it's a weekly promotion or one-night event, you need to evaluate how the event performed to make sure you hit your ROI.
Fortunately, there are several resources to determine the success rate of your bar events:
Poll Your Patrons: Set up a poll on Facebook or Survey Monkey to see what the participants' enjoyed or what they would like to improve for future bar events.
Review with Your Team: It's not just about patrons having a good time – you need to ensure that operations are running smoothly during your bar events. Touch base with your team afterward to see how they fared during the rush. Did everything run smoothly, or could they have used some extra staff members to handle the business? Did they run out of anything? What would they like to see for future bar events?
Check Your Bottom Line: The biggest tell-tale sign of successful bar events is how much it increased your business on a regularly slow night. Go back and compare the evening of your bar events with sales from the same day in previous weeks to see how much your sales increased. If there's a significant difference, then you may just have a keeper for regular bar events.
Successful bar events could be the key for turning your slow nights into some of your busiest yet. So follow the steps above and get ready to party this Tuesday…like it's Saturday night.