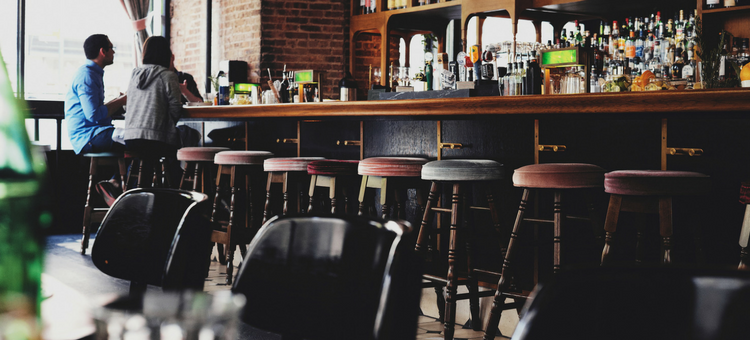 Imagine. There's not an empty seat in your bar – and it's Tuesday. If your goal is to see Friday-size crowds (and check sizes) on any given weekday, try one of these 8 strategies to boost midweek bar business. Then watch what happens…
1) Plan Happier Hours for Healthier Bar Business
Everyone loves a 2-for-1 pitcher special. But after a while, it's just not that…special. Mix up your happy hour promotions. Stir up more bar business.
Stay Focused on Food
Drink specials are a given, but don't forget food. Research firm Technomic found that while 46% of guests seek out bars with awesome deals on drinks, 41% are craving great food.
Serve up the best of both worlds with a happy hour pairing menu:
Taps and Apps – Whip up a menu of slider burgers and sandwiches paired with on-trend craft brews.
Bottles and Bites – Ideal for big groups (see the next tip to boost happy hour bar business), create a menu of unexpected wine pairings. Offer pricing by the bottle, half bottle, and individual glasses. Try different rosé wines with Mexican street food like empanadas.
Group Think
The same Technomic study revealed that for 61% of guests, happy hour is a social hour. They want to meet up with friends (38%) and bond with their work crew (23%). To do a brisk bar business with big groups, create a menu meant for sharing. Think pitchers of sangria and Spanish-style tapas served on a large cutting board.
Buffet Your Way to More Bar Business
Take a cue from some of the most popular hot spots in NYC that offer complimentary happy hour buffets.
2) Up Your Social Media Game
Nice work. You post on Facebook on the regular. Now, up your social media game to see a jump in midweek bar business.
Social Media for Beer Lovers
Tap into the craft beer craze by getting listed on apps like Untappd and TapHunter. Drinkers "check in" at bars that carry their favorite booze.
Try Snapchat
If you're aiming to draw millennials to your bar business, get on Snapchat…ASAP. According to the February 2018 Pew Research Report, 68% of Americans under 29 are on this photo-sharing app. It's truly a snap to learn (pun intended).
Social Influencer Marketing
Here's another on-trend strategy to build your bar business…Pay an influencer to promote your bar on social media. An influencer is someone with a large following on social media. To find the influencers in your area, check out www.buzzsumo.com.
Go Live
Live video. It's now streaming on a social media platform near you. Jump into the stream and show off your bar's atmosphere by recording video using Facebook Live. Learn how to live stream in 6 steps and see 12 ideas for what to stream.
3) Put Fun on Repeat: Recurring Events
Just as live video is on the rise, live events are trending in the bar business. For the best ROI, run your events on a recurring basis.
It's also a good idea to host events that encourage crowd interaction. Check out these 9 super-social events to boost profits for your bar.
Live Trivia Night
Give guests an escape from a case of the Mondays, or Tuesdays, or – you get the picture. Run live bar trivia night at your place.
Thousands of bar business managers use Buzztime live bar trivia because it empowers their staff to run the event (no expensive, outside host needed). Scoring is automatic and fast on handheld tablets. JR's Pub in South Carolina launched a Wednesday bar trivia night and enjoyed a 30% increase in bar business.
Teach Guests a Lesson
From planting a terrarium to painting a masterpiece, guests are eager to get crafty. Host a paint n' sip night or a Plant Nite to grow your bar business. Or run your own lessons like mixology 101 where your bartender shows guests how to craft the perfect cocktail.
4) Become an Upselling Pro to Boost Bar Business
Increasing bar business isn't just about getting more bodies through the door. Upsell current guests to see bigger bar tabs. Get the research behind these 3 strategies (and many more) by downloading the free Golden Book of Upselling Secrets.
What to Say for Bigger Sales
"Would you like to try our whiskey flight? Because it's a great way to find your favorite."
Harvard researcher Ellen Langer found that people will say yes to a request 94% of the time if the word "because" is used. Without it? You'll only hear yes 60% of the time.
A Taste for Free
This one is a bar business secret of the pros. Give guests a taste of a top-shelf booze…for free. Studies show that it increases the chances the guest will spring for the full pour by 2000%. (Nope, not a type, two thousand percent.)
Put Your Menu to Work
Let your silent seller (that's your menu) do the upselling for you. Cornell University research suggests that vividly describing your drinks and menu items can result in 27% more sales of the item. Oh, and guests are willing to spend 10% more for that well-described cocktail.
5) Up Your PR Game
Attract media attention to build your bar business without spending a dime…
Buzzworthy Promotions
Tie your bar promotions into a newsworthy event – or even the weather. Offer 70 cent beers on the first 70 degree day. Got a big sports team in the area? Reward fans with freebies or discounts after weeknight games when the home team wins.
So Extra: "Ultimate" Menu Items
Carry a crazy expensive menu item. Only a handful of people will order it, but it will draw the media's attention to your bar business. For example, the media went wild over the $199 a bottle Sam Adams Utopia Beer. Just a few bars got their hands on it, but the ones who did earned serious press coverage.
6) Cause for Celebration
Use an offbeat holiday to turn an average weeknight into one big party.
Crazy Holidays for the Win
Every day is a holiday in the bar business. There are endless wild and weird holidays, just waiting for your bar to turn into a must-attend weeknight event. From a Halfway to St. Patty's Day Party (September 16th) to a Grilled Cheese Day celebration (April 12th), go ahead and get creative.
Party Like It's Your Birthday (or Theirs)
Celebrate the "birthday" of your bar business first opening. If the date falls on a weekend, just move it to the nearest weeknight.
Then, give patrons a reason to party at your place for their birthday. Each month, throw a zodiac party for that month's sign – complete with themed zodiac cocktails.
7) Go Digital to Raise the Bar on Your Bar Business
We're living in a digital world. And guests want to get their hands on the latest technology at your bar business. In fact, a Toast POS study found that 73% of bar and restaurant guests believe tech enhances their visit with you.
Free Wi-Fi Done Right
Charge for wi-fi. You wouldn't do that, would you?
Free and fast wi-fi is a must in the bar business. It can draw in customers during slower dayparts, like midweek afternoons. Some bars even invite offices and non-profits to hold meetings at their bar. The promise of free, speedy wi-fi draws them in.
"Put it on My Tablet"
The same tablets used for bar trivia can also function as a customer-facing POS system – complete with a digital menu, order, and payment system.
Bar tablets bring your menu to life with beautiful pictures and those vivid descriptions that result in up to 27% more sales.
(Digital) Signs of Success
Beyond bar trivia and digital menus, bar tablets can even turn your TVs into customizable digital billboards. Thousands of bars use this digital signage to highlight promotions and special events. Use it to spotlight your midweek event calendar.
8) Partner for Profit
Last but not least, a great way to up your bar business is to support other organizations.
Show Your Heart
Good vibes pay off. An Edelman Good Purpose study found that 72% of people recommend businesses that show love for causes they care about.
Host a midweek bar trivia event for charities. The winning non-profit receives a donation as the prize. Or, ask a charity to send in guest bartenders to your bar business one weeknight a month. They keep the tips. You get exposure to all their supporters.
A League of Your Own
Sponsor an adult sports team like a softball or kickball crew. After the games (which are usually held on weeknights), invite everyone to your place with a complimentary round of apps. Offer to cover the t-shirt fees. After all, they'll be sporting your bar business logo.
Pop Up Shops
The latest trend in retail involves the retailer setting up a "mini" shop everywhere from street corners to bars. Each month, your bar business could host a different pop up shop. Talk to local retailers like jewelers, clothing boutiques, and sports memorabilia shops.
When it comes to the bar business, weeknights can be rough. But if you can provide guests with an entertaining atmosphere and great specials, you'll be their go-to spot – even on a Tuesday.