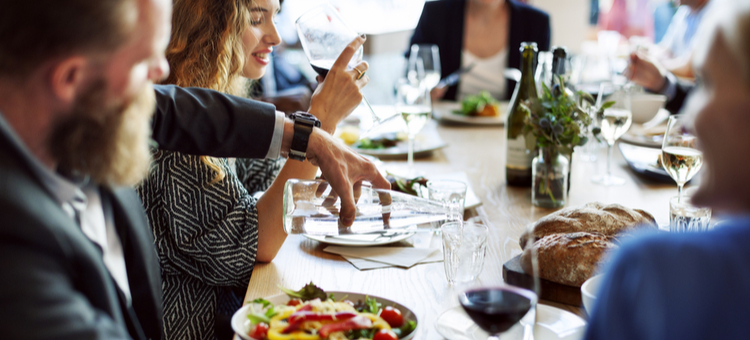 Booking private groups at your restaurant is a fantastic way to increase revenues and build your customer base. If you haven't explored the possibility of booking large groups or corporate events, here are some tips to get you started.
1. Make it Easy on the Organizer
When an office manager calls, asking if you can host a business luncheon for 25 employees, you can win them offer with 5 simple words: "Sure! We can handle it all!"
You can be the go-to restaurant for booking large groups if you can make life easier for the organizer. Be prepared with everything from menu options meant for big groups (covered in #4) to essential amenities like free, fast wi-fi and a large screen or projector for presentations (see #5).
If you really want to boost booking large groups, provide complimentary event planning services. You could delegate this role to one of your existing servers or hosts and pay them a little extra per event they help to plan. Have your "event planner" review best practices for event planning and they'll be good to go.
2. Market Your Catering Services
Even if you don't have a dedicated private space for large groups, you can still appeal to them by offering catering to local businesses. For example, nearby companies are always looking for a convenient lunchtime catering option. Use these 10 tips for catering corporate lunches to get started!
Beyond providing details on your catering menu and prices on your website, go door-to-door in your immediate community. Introduce yourself and your restaurant, and offer special "neighbor discounts" to encourage local businesses to order from you.
Another great way to go about booking large groups is to offer referral incentives to your staff: like a $50 bonus for any event or catering job they line up.
Think about it. Their friends and family members have birthdays, work for local businesses, are celebrating baby or wedding showers, you name it!
To get the most out of this method for booking large groups, provide each employee with flyers or brochures promoting your event and catering services.
3. Pick a Slow Night
Likely, one or more weeknights are slow for your restaurant. These are the days you need to pump up for booking large groups. Create discounted packages with built-in menus for those nights, as well as add-ons like decorations and music.
The cost for these weeknight events should be significantly less than what you charge for weekends so that people will be compelled to book then.
[fl_builder_insert_layout slug="whitepaper-signup-module-supreme-guide-live-events"]
4. Optimize Your Menu for Booking Large Groups
Restaurants that are regularly booking large groups often have a separate menu, specifically crafted for big parties. In fact, the latest trend in big cities from Miami to NYC is offering a "family style" menu.
Typically, the organizer will select from a few options for each course provided by the restaurant. Then, dishes are served "family-style" meaning large plates and bowls that can be passed around the table. The only thing customized when guests arrive are their drinks. The beauty of this method for booking large groups is that your restaurant can time everything perfectly, and prepare exact quantities of food beforehand.
After all, when booking large groups, it's even more imperative than usual that you be in stock for all supplies you need. You'll need to rely on inventory management software and your planning skills.
Tempted to let guests go wild and order off the menu? Beware! Opening up the entire menu puts you at risk of running out of some dishes, which can almost guarantee you won't be booking large groups with that customer in the future…
5. Get Tech Ready
When it comes to booking large groups, a major draw is having audio-visual support for events. For example, it's common for a photo or video montage to be shown at a bridal or baby shower. Your corporate clients will want speedy and secure wi-fi along with a large screen or projector.
It's not enough to simply purchase the equipment, your designated event planner should be prepared to set everything up for your clients with confidence and ease. An office manager does not want to see your team member fumbling with cords and wires 10 minutes before their big event at your restaurant. Use this guide to get started on how to set up a projector and laptop like a champ.
If you can go the extra mile on the tech side of things, you'll be booking large groups in no time!
6. Market to Corporations and Specific Demographics for Events
If you stay tapped into what's happening in your community, you can find lots of opportunities for group bookings. A restaurant in New Orleans could market to Krewes celebrating Mardi Gras. One near a sporting arena could promote team celebrations. And then, of course, there are holiday parties to leverage.
Make sure you reach out to corporations months before their planning gets underway so you make it easy for them to celebrate their special events at your location.
7. Consider Closing…for the Right Event
Not every restaurant has the luxury of a dedicated space for larger events, but that doesn't mean you can't still host them. While you don't want to make a habit of closing your doors to regular patrons, you can do so on slower nights if the price is right. Set your price and minimum number of guests so that you're ensured to make more than the restaurant would on a normal night. Follow these 10 tips for hosting private parties at your restaurant.
When booking large groups – and shutting your doors for the event – be sure to let your other patrons know well in advance on social media and with signage in your restaurant.
Another tactic for booking large groups but not icing out your current customers is to host events during times you are typically closed – like Monday evenings or mid-afternoons.
8. Send a Reminder
If a group booked your restaurant for its event last year, put it on your calendar to check in this year to see if they want to come back. A simple handwritten card in the mail can work wonders at securing annual business from companies who want an easy and memorable venue for their regular events.
Spending a little energy on securing corporate and group bookings can have a fantastic effect on your bottom line. So now's the time to indulge in some "group think" and attract the parties to your place!