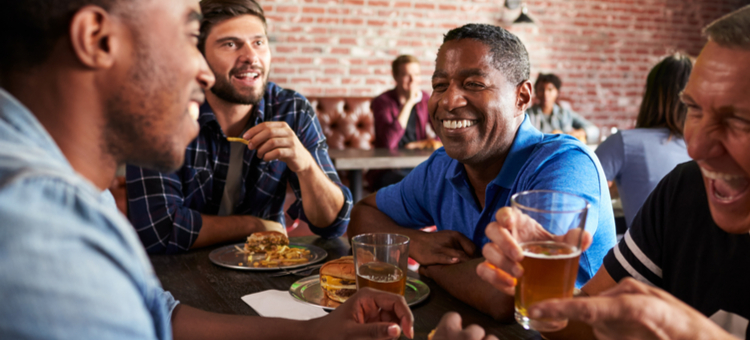 Get ready to strike out the competition. These 9 baseball promotions for bars will make your place every fan's home base for gameday action…and beyond. But don't wait until the bottom of the 9th. Start planning your winning promotions now. Just steal our ideas: from a relief pitcher special to a secret social media deal. Let's play ball!
1) Step Up to the Plate: Food-First Baseball Promotions for Bars
Put a gourmet twist on your baseball promotions for bars. These recipes and menu concepts will appeal to the foodiest of fans…
House-made "Slacker" Jacks: Sweeten up your baseball promotions for bars with complimentary "slacker" jacks during the game (recipe compliments of Alton Brown). Or, top a ballpark sundae with the cracker jacks along with crushed peanuts.
DIY Gourmet Hot Dog Bar: Watch fans go wild for a hot dog buffet featuring gourmet mustards, house-made pickles, hot homemade chili, and other upscale toppings.
Need more culinary baseball promotions for bars? Turn to this list of 43 famous eats at baseball stadiums across North America.
2) The Relief Pitcher + 3 MVP Cocktails
No list of baseball promotions for bars is complete without a grand slam drink list. Start with a "relief pitcher" special: instead of specials on domestics (like those other bars), offer great deals on pitchers of craft brews. Then turn to these cocktail baseball promotions for bars:
The Golden Glove: Want a little history with your baseball promotions for bars? Serve up this classic, daiquiri-like cocktail, which originated in Havana in the 1930s.
The Mickey Mantle: Celebrate the legend himself with this spirited concoction of whiskey, club soda, and bitters.
Cooperstown Cocktail: This minty and orange martini gets its name from Cooperstown, New York…home to the National Baseball Hall of Fame.
3) Baseball Promotions for Bars That Get Fans Into the Game
Honestly, fans can catch the game at home – or that bar down the street. Give them a reason to head straight for your place with these gamified baseball promotions for bars.
Baseball Bean Bag Toss: This one works indoors or out. Set up a few of these $20 baseball bean bag toss boards and let guests toss to score a deal on drinks.
Buzztime Sports: If you're already a Buzztime location, sweet! You've got Buzztime Sports trivia all lined up to run daily. Featuring questions pulled from the hottest sports headlines, Buzztime Sports is the ideal game-watching companion. With trivia that runs 7 days a week / 15 hours a day, Buzztime brings millions of fans together at bars for a little friendly competition.
Swing Batter, Batter: Purchase a baseball pinata. (Bonus points if it's the rival team's logo). Clear the area so patrons can take a swing at the pinata with a whiffle bat. The first one to break the pinata scores a gift card. And of course, everyone gets to grab that candy on the floor. Don't forget safety with your baseball promotions for bars…assign a bartender to keep patrons away from the designated hitter!
4) Grand Slam Contest
No, we're not suggesting you let fans swing for the fences in your bar. But a high-stakes contest is one of the best baseball promotions for bars. Try a $10,000 Winning Pitch contest where fans attempt to "pitch" a whiffle ball into a bucket from across the room.
Think that's way outta the ballpark when it comes to your budget? Think again. Look into securing prize indemnity insurance. If someone actually makes that winning pitch, the insurer pays the $10,000 – and charges you between 3-10% of the total prize. So yes, you'll be paying up to $1,000 to run the contest, but you'll likely score serious media coverage and bring in tons of business with attention-grabbing contests and baseball promotions for bars.
[fl_builder_insert_layout slug="whitepaper-signup-module-26-bar-promotions-that-work"]
5) Show Your Team Spirit
Successful baseball promotions for bars reward fans for doing what they love best: supporting their team! Offer discounts for anyone who sports baseball apparel. Your employees should get into the game, too. Invite them to wear a baseball cap for their favorite team. If baseball is a really big deal in your area, invest in custom baseball jerseys with the employee's last name on the back.
6) Social Media All-Star Baseball Promotions for Bars
Give 'em a Sign: Coaches and catchers aren't the only ones who can give secret signs. Record a short video giving a "secret sign" to your followers on social media. If they come in and give the sign to your bartender or server? They'll score a free order of fries or a small discount.
Biggest Fan Contest: Run a biggest fan contest on social media. Invite them to share why they're baseball's biggest fan. Announce the winner at your watch party (see #9 on this list of baseball promotions for bars).
Selfie Dugout: No matter what baseball promotions for bars you decide to run on social media, don't forget to encourage fans to get social…while they're in your bar! Create a "selfie dugout" with baseball props: giant foam fingers, batting helmuts, an umpire mask, catcher's mitt…get creative. Don't forget the selfie stick! Tell fans to share their photo to social media using a hashtag that you designate. Select a few hash-tagged photos to win gift cards to your bar.
7) Local Legends
Baseball promotions for bars can always use a little star power. Pay for a local baseball celebrity to make an appearance at your bar. Ok, so hiring Hank Aaron or Cal Ripken Junior is probably out of your budget. But what about a retired player or coach in the region? Is there a minor league team nearby? Celebrity appearances make great baseball promotions for bars, because fans want pics with the star. When they post their photos on social media, your bar gets the homefield advantage.
8) Round the Bases with a Bar Crawl
Show good sportsmanship and everybody can win with collaborative baseball promotions for bars. Organize a bar crawl where the crowd moves from bar to bar every two innings. Each bar can treat fans to a different specialty cocktail and signature small plate.
9) Watch Parties for the Win
If you turn it on, they will come. (We had to sneak a Field of Dreams quote into this list of bar promotions for bars). Turning your TVs to the game and expecting fans to show up isn't enough. Instead, create watch parties for playoffs or World Series games. It elevates the experience of just watching the game, making it a can't-miss event. Here's how to rock watch party baseball promotions for bars:
Make it Facebook Official: Set up a Facebook Event for your watch party. Once people begin to RSVP, Facebook will automatically suggest your event to their friends. Go the extra mile with baseball promotions for bars on Facebook: "boost" your event for $50-$100 and target it to baseball fans within a 10 mile radius.
Create a Game Plan: What else will you have going on besides the game? Pull from this list of baseball promotions for bars. It could be a contest, food and drink specials, or even live music after the game. Use this popular (and free) guide to hosting live bar events.
And that's a wrap on the 9 best baseball promotions for bars. Now you're ready to score a home run with baseball fans – from opening day through the World Series. We're cheering you on from the Buzztime dugout!