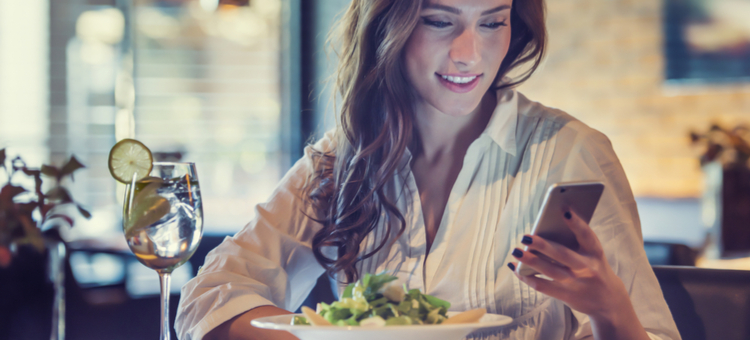 Behind the scenes, bars and restaurants are embracing the latest tech: from inventory apps to digital POS systems. Now, the tech trend is moving to the front of the house. The result is a digitally enhanced dining experience that's…more personal?
Yes. Customer facing technology is friendly, fun, and has each guest feeling like "it's all about me." It's also delivering bottom-line benefits to bar and restaurant owners. Here's the proof…
1) Free Wi-Fi with Benefits
Customers expect bars and restaurants to have free, fast, and secure wi-fi. But what's in it for you? Everything, if you use the right customer facing technology.
Third-party gateway software – like Yelp Wi-Fi – requires something of value from the guest in exchange for wi-fi access. You call the shots with this customer facing technology: ask for a guest's email address, a "like" on social media, a quick review or survey…anything. As an added bonus, Yelp Wi-Fi claims that venues see up to an 80% boost in customer engagement and loyalty.
2) "I, Robot, Will Serve Your Drinks Now"
What does a karaoke joint in Cincinnati and a hipster-approved Brooklyn bar have in common? Customer facing technology of the robotic variety.
Meet Bbot, the robot who serves drinks. No worries, Bbot isn't plotting world (or bar) domination. It doesn't even look remotely human. Instead, this customer facing technology is more of a pulley system that lets bartenders load up drinks and smoothly deliver them across the room.
3) Trivia Night with a Techy Twist
Trivia buffs are pretty geeked about this next type of customer facing technology. Thousands of bars and restaurants are running trivia night using touchscreen tablets as opposed to the old-school pen and paper method.
This trivia platform includes access to up-to-date questions, answers, and an automated scoring system. It's so easy to use that many businesses aren't even hiring professional trivia hosts. They're using their own staff as hosts – and saving serious cash.
4) The Magic Touch
The same trivia tablets can also double as digital menus, tapping into one of the biggest customer facing technology trends: touchscreen ordering. The goal isn't to replace waitstaff. It's to free them up to cover more tables (and chat up guests…hello, bigger tips).
Here's how this customer facing technology works: guests browse a digital version of your menu, complete with photos and longer dish titles and descriptions shown to increase sales by up to 27%. Along the way, most restaurant tablets automatically prompt guests to consider extras (more cheese please?) and add-ons (sweet idea: side of sweet potato fries?). Unlike paper menus, tablet menus are meant to stay at the table so guests can send instant reorders to the kitchen.
[fl_builder_insert_layout slug="whitepaper-signup-module-33-customer-loyalty"]
5) "Put It On My Tab…let": Tableside Payment
Tablets make one more appearance on this list of top customer facing technology. When guests are finished with their meal, they can securely pay right on these bar and restaurant tablets. An integrated mag strip and EMV ("chip") card reader instantly processes their payment.
If you're considering just one type of customer facing technology, prioritize tableside payment. Why? A January 2019 study by TSYS found that an astounding 79% of today's customers want restaurants to offer tableside payment. These patrons believe the pay-at-the-table method is more convenient and secure – which it is.
When guests use tableside customer facing technology, their credit card never leaves the table. This reduces the chances that an unsavory employee will take their credit card numbers (yes, it does happen). Many tablets even accept NFC or "mobile" payments like ApplePay and SamsungPay.
6) Chatbots for the Win
Another robot on this list of customer facing technology? Yes, chatbots have proven their worth in 2018 and are showing up everywhere from Facebook to bar and restaurant websites.
Chatbots can save valuable time that would otherwise be spent answering simple questions online like "what are your hours?" or "do you take reservations?".  On Facebook, you can always jump in and respond to a message personally. The benefit of chatbots for customers is an instant answer to a question – and most people know it's a bot. It's another example of how customer facing technology delivers a win for guests, and for you. Check out this easy how-to manual for setting up a chatbot on Facebook Messenger.
7) Best Seat in the House!
Customer facing technology can deliver a better guest experience, before patrons even walk through your doors. Turn to reservation software like SevenRooms. With this intelligent guest and table management tool, you can offer online reservations directly from your website. Guests are prompted to provide wants and needs when making their reservation – from food allergies to picking the best available seat in the house!
8) The Necessary Evil: Delivery Apps
It's the most controversial customer facing technology for bars and restaurants (see exhibit A). Apps like DoorDash, GrubHub, and UberEats can take up to a 30% cut of each meal sold. Unfortunately, consumers just love 'em. In fact, thanks to the rise in these apps, a 2018 study by the NPD Group found that over 50% of restaurant meals are now eaten at home.
Some restaurants are taking matters into their own hands – launching customer facing technology for delivery right from their website or mobile app. If you want to explore your options, use this guide to offering restaurant delivery in 7 steps.
9) 3D Burgers and Never-Empty Drinks: AR-Based Customer Facing Technology
For now, the restaurant biz is just testing the waters of augmented reality (AR). But a big wave of AR is coming. Forbes predicts that AR tech will soon be used to alert restaurant staff when a patron's drink is empty and needs a refill.
If that feels too Big Brother for you, can you get behind a 3D burger? The Bareburger chain of restaurants in New York has created a 3D menu. Using Snapchat, customers concoct their "dream burger" which appears as a very realistic 3D image. The chain is planning to swap out all their printed menus with this 3D customer facing technology.
The Future of Customer Facing Technology is Now
Consumer research firm Mintel recently released their top 4 2019 foodservice trends. Trend #4 was "tech in balance" and Mintel sums it up best: "Restaurants will utilize technology to heighten customer experiences and provide value through more personalized service."
So, you can stop panicking. Robots won't take over your restaurant (they just might serve the drinks). The best customer facing technology is enhancing – not eliminating – the human factor. See for yourself by giving one of these 9 types of tech a try…