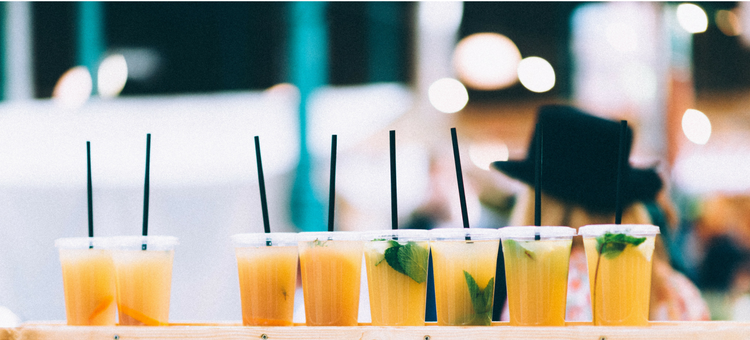 Many bars have signature drinks. But how many of them are truly unique? Let's be honest, adding the adjective 'extreme' doesn't actually make your Manhattan extreme.
Actually putting some thought into an inventive mixed drink is something that can create a ripple with your bar marketing efforts. Whether it's an off-the-wall idea appealing to thrill seekers or a delicious re-imagining of a classic that works with your bar's personality, fresh cocktails peak the interest of potential customers.
With that in mind, we've rounded up nine of the craziest cocktails we could find:
1. Peanut Butter and Jealous Cocktail
This sweet concoction from Cooking Channel hosts Alie Ward and Georgie Hardstark will make you reminisce about the brown paper bag lunches from your childhood. A combination of raspberries, raspberry vodka, raspberry liqueur and cranberry juice is served over ice in a glass rimmed with a mixture of peanut butter and honey and garnished with a quarter of a PB&J.
2. Summer
The first few ingredients of this drink are normal enough; a mixture of milk, coconut and creme caramel make a rich, decadent after dinner drink. However, the final touch, grasshoppers, earns this White & Church original a spot on the list. White & Church, a New York bar, is known for its extensive assortment of outlandish drink choices.
3. Bacon and Egg Martini
A bacon and egg martini from London Cocktail Club is a complete breakfast in a glass. This bacon flavored Jack Daniels-based cocktail is mixed with lemon juice, maple syrup, Angostura bitters, Peychaud's bitters and egg whites. Complete with a bacon garnish, what more could you want from a liquid breakfast?
4. Violet Royale
This trendy drink, originally available at Hotel Costes, is prepared by mixing champagne with Creme de Violette, a French or Austrian liqueur which has only recently become available in the United States. The liqueur, which is made using violets from the Alps, has a distinct, refreshing taste perfect for summer.
5. Pizza Beer
Pizza and beer, you say? What's so unique about that? Mamma Mia, the taste of which resembles that of margherita pizza, is brewed using tomatoes and garlic and aims to complement a variety of food choices. "The world's first culinary beer," which is home brewed by Tom and Athena Seefurth in Chicago, is available in a variety of locations as well as online.
[fl_builder_insert_layout slug="whitepaper-signup-module-37-trending-happy-hour-menu-ideas"]
6. Butter and Anchovies Martini
The name of this interesting drink by White & Church says it all. This martini is made from a combination of vodka, liquid butter and anchovies. Cheers!
7. Liquid Steak
Put this one in the category of Drinks That Could Win You A Bet. If going out for a juicy filet mignon doesn't fit into your budget, try a liquid steak, No. 9 on ugo.com list of The Grossest Mixed Drinks. In fact, if your budget is extra tight, mix up this savory concoction at home using Bacardi 151 and Worcestershire sauce. Bottoms up!
8. Beer Float
Park Hyatt in Beaver Creek, Colorado, offers many trendy cocktails, including a beer float, to skiers coming off the slopes. By using locally made ice creams and locally brewed beers, the grown-up spin on a childhood favorite is unique to the area.
9. The Big Dirty
In 2011, Dirty Martini released their signature Big Dirty; For $79.99, you can purchase 48 ounces of any cocktail on their menu. The three pound drink, made to share with friends, is served in a monstrous martini glass that was originally delivered to the bar by mistake.
Do you have any unique signature drinks of your own? Would you serve any of these drinks at your bar? Sound off in the comments below!