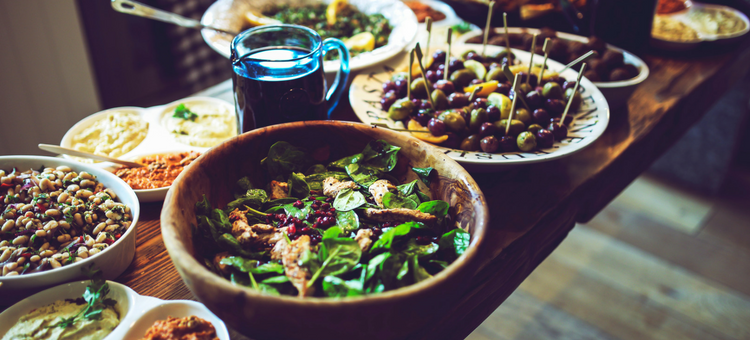 The 2019 beverage and food trends have been released! We've scoured the lists, looking for the most buzzworthy – yet realistic – innovations in food. From fermented everything to anything-but-average rotisserie chicken, see what will be making waves in 2019.
1) Meat Alternatives Go Mainstream
Up first on our list of beverage and food trends? The meatless revolution is underway. No, it's not just diehard vegans and vegetarians opting for meat-free eats. Eight in 10 millennials regularly consume meatless alternatives.
Even more surprising, taste is the top reason that Americans are ordering more plant-based proteins. So, it's time to swap out that premade, frozen veggie burger and up your game. To embrace meatless food trends, start with the foodie-approved Beyond Meat® line of products. The Beyond Burger® "cooks, looks, and tastes" like meat.
2) Fermentation Nation
When it comes to food trends, go with your gut. Literally. Fermented foods and beverages topped Benchmark Hospitality's 2019 Food Trends report. Consumer demand for items like Korean kimchi and sauerkraut started in the wellness world, where nutritionists praised the good bacteria in fermented products for promoting a "healthy gut.
Find a place on your menu for fermented food trends. It could be starting the meal with a bowl of house-made pickles. Or add a healthy-ish fermented concoction on your drinks list: one of these 6 kombucha cocktail recipes.
3) Sweet n' Sour Beer
Now, let's shift focus to the most popular fermented drink of all…beer. No list of beverage and food trends is complete without a look at what's new in brews.
Yes, craft beer is still cool – and the IPA remains the most popular style (accounting for 36.8% of craft sales according to the Brewers Association). But beer drinkers are getting more adventurous, seeking out "milkshake IPAs" which get a sweet, creamy kick from added lactose sugars. On the other end of the spectrum, sour beers like goses, lambics, and wild ales are in high demand by the snobbiest of craft beer snobs.
When seeking out beverage and food trends, it's helpful to hear what tradeshow and festival attendees are raving about on the showroom floor. At the 2018 Great American Beer Festival held in Denver, everyone wanted to try…spaghetti beer? Yes, Weldwerks Brewing's Spaghetti Gose was a huge hit. Brewed with roasted tomatoes, basil, oregano and pasta, this sour and savory beer may hint at wild beer and food trends to come in 2019…
4) Takeout Cools Down
Phew! For a minute there, we thought dining out would be a thing of the past. In 2018, it was all Grubhub this – and DoorDash that. Restaurants raced to get listed on these delivery and takeout apps. While to-go food trends will continue to blossom in 2019, Benchmark Hospitality predicts a renewed interest in a good old-fashioned meal…at the restaurant.
Why the change of heart? Benchmark believes diners will "again recognize that restaurant dining offers more compelling and satisfying experiences that truly nurture the soul." It sounds lofty, but the real-life application for these food trends is this: look for ways to enhance the in-venue experience.
Think beyond food (because that can be delivered). What can't be brought to a customer's doorstep? Entertainment and events. Host a bartending 101 demo during happy hour. Or, run a live trivia event to bring everyone together with fun in mind. Use this list of interactive restaurant events to spark ideas.
[fl_builder_insert_layout slug="whitepaper-signup-module-create-menu"]
5) Sophisticated Snacks
Snacks are growing up in 2019. When hunger strikes between meals, customers aren't reaching in their bag for a granola bar – they're stopping by a restaurant. According to research by The Coca-Cola Company's DINE360, snacks account for 11% of all visits to restaurants and stores. This is one of the easiest 2019 food trends to try now. Just create a menu of snacks and small plates that are available anytime your restaurant is open. Need inspiration? Try these 9 tips for snack menu success.
6) Global
You can thank Generation Z for the rise in international food trends. To these young, adventurous eaters, international cuisine doesn't mean conventional Italian, Mexican, or Chinese. Instead, they're hungry for Indian (36%), Middle Eastern (38%), and African (27%) eats according to recent food trends research by Mintel.
To bring these faraway flavors to your menu, look to spices first. In 2018, the North African za'atar spice was the "it" seasoning. Sprinkle it on a salad or hummus with a little olive oil. Instead of paprika sprinkled over deviled eggs or roast chicken, try sumac (one of the ingredients in the za'atar spice blend). Sumac has a peppery, lemony taste and a brilliant red color.
7) Flipping the Bird: Rotisserie Chicken Goes Bold
When Nation's Restaurant News reports on food trends, take note. In the fall of 2018, the venerable foodservice publication reported that "Rotisserie Chicken Catches Fire." No, we're not talking about Costco rotisserie here (although those are pretty delicious). Restaurant chefs are putting creative twists on the classic bird: adding notice-me spices, international flavors, savory dipping sauces, and locally sourced ingredients. Think of the humble whole chicken as a blank canvas for applying the latest food trends.
8) Bring Farmers to the Table
Why not source whole chickens from a local farm? That way you'll tap into two food trends at once. Benchmark Hospitality predicts that one of the top 2019 food trends will be "Farm to Table 2.0." Restaurants are bringing farmers to the table, involving them in menu creation and even asking them to plant specific crops just for their menus. If you want to take farm-to-table food trends to the next level in 2019, use these 11 best sources for local ingredients.
9) Butter Me Up!
Move over almond butter. Things are about to get seedy on this list of 2019 food trends. At the 2019 Trend Hunter Future Festival held in the fall of 2018, watermelon seed butter had attendees buzzing – and was noted as one of the top 11 food trends for 2019.
Ask your chef to whip up a trio of house-made nut and seed butters. From hazelnuts to sunflower seeds, cashews to pepitas (pumpkin seeds), almost any seed or nut can be turned into an unconventional butter. Serve with toast for brunch, and impress guests with your mastery of 2019 food trends.
There's only one rule related to food trends: don't go overboard. Stay true to your concept, but keep things fresh by integrating a trend or two. If your guests want more? That trend could turn into a perennial favorite. So, experiment. Play. Have fun and try a little trendiness in 2019.