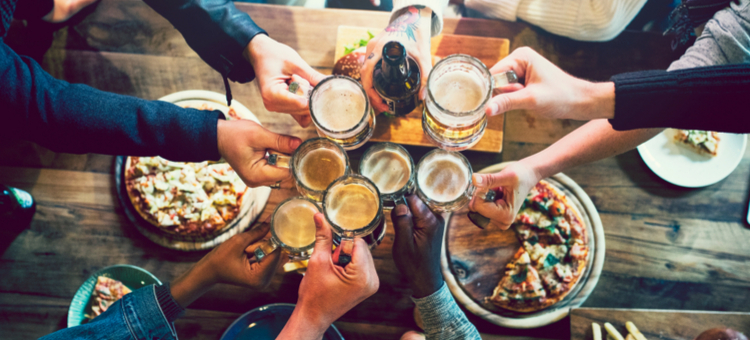 Say hello to Jack. He's meeting friends at the bar for a quick beer after work. Dinner will be on the table in an hour at home. But Jack's stomach is growling like a creature from Stranger Things. What's a hangry guest like Jack to do? Be his hero and hand him a bar snack menu based on these 9 secrets.
1) Pre-Prep Makes Perfect
Snacking is all about instant gratification. Don't make guests wait 30 minutes for a flat bread pizza. Otherwise they might change their mind and skip the snack.
When planning your bar snack menu, focus on items that can go from kitchen to bar…fast. Think pre-made meatballs or hand-breaded chicken tenders that just need a quick dip in the fryer.
The real all-stars of your bar snack menu won't require any kitchen prep at all once the order is placed. (Hello, labor savings.) Your bartender just runs to the kitchen or back of the house, grabs the item from your bar snack menu…and boom. Snack time.
Try charcuterie boards with artisan cheese and house-made pickles – all pre-cut and stored in the cooler right on the board. See tip #4 for more instantly gratifying bar snack menu bites.
2) Open for Snacking!
We're officially a nation of snackers. According to Mintel, 94% of Americans graze and munch throughout the day (and night). But no one snacks on a schedule. So, the golden rule is to keep your bar snack menu available for guests all the time – from open till close.
Worried that an awesome bar snack menu will cut into your main dish sales? You'll like the next bar snack menu secret…
3) Pass the Salt
Turns out Kramer from Seinfeld was wrong when he said "these pretzels are making me thirsty." The latest research shows that salty food increases appetite, not thirst. If you want your bar snack menu items to encourage patrons to stick around for dinner, get salty. In honor of Kramer, how about soft pretzels with a trio of dipping sauces?
4) Go Bite Size for Big Profits
Let's be honest. People don't trust those free nuts or chips sitting out at the bar. (Yes, America is also a nation of germaphobes.)
But you can still keep the tradition of snacking on bar nuts alive – and turn a profit along the way. Just add these bowls of bite-size delights to your bar snack menu. Prep big batches in advance to be ready for a snack attack:
Bacon Brittle: Don't save this sweet and savory treat for the holidays. Put this 5-star piggy brittle on your bar snack menu…STAT.
Coconut Jerky: Plant-based everything is topping the food trend charts, like coconut jerky with a texture and taste that's surprisingly meaty.
People are Nuts for Energy Balls: You couldn't walk into an NYC café in 2018 without seeing these golf-ball sized treats by the register. Energy balls are healthy-ish snacks made with high fat, low carb ingredients like nuts, nut butters, coconut oil, and natural sweeteners like dates. Get in on the energy ball craze by keeping them in jars behind the bar – and on your bar snack menu.
House Rules: From hand-cut fries to house-made sweet n' salty nuts, patrons are happy to shell out more cash for bar snack menu bites made from scratch…
[fl_builder_insert_layout slug="whitepaper-signup-module-37-trending-happy-hour-menu-ideas"]
5) Keep Snacks Within Sight
In addition to creating a bar snack menu, let the items themselves do the selling by putting them on display.
Candy Store Vibes: In addition to those trendy energy balls, put a few more ready-to-eat bites in clear jars at the bar.
Have Snack, Will Travel: Take a cue from Starbucks, where packaged snacks are conveniently placed near the register. When patrons close out their tab, they can grab something from your bar snack menu for the ride or walk home.
Digital Signage: Promote your highest margin bar snack menu items on your own TVs. How? With digital signage software. Easy to set up, the best digital signage software includes templates you can customize in a few clicks. As opposed to table tents or posters, digital signage is a straight up selling machine that can increase revenue of promoted items by 33% according to a DOOH study by Nielsen.
6) Theme Your Bar Snack Menu
Snacking is never a serious affair. So have fun and encourage social snacking with these themed bar snack menu ideas
Global Street Food Sampler: Street food is handheld and meant for easy eating. It's ideal for happy hour, when you want patrons to mix and mingle. Here's a little inspo for your street food bar snack menu:
Italian Arancini – rice balls dipped in bread crumbs and deep-fried
Mexican Elote – corn on the cob slathered in butter, cheese, chili powder, and lime juice
Indian Samosa – triangle-shaped turnovers filled with potatoes or meat
Vietnamese Bahn Mi – try mini baguettes filled with matchstick vegetables plus chicken or pork
Canadian Poutine – fries topped with gravy and cheese curds
Eastern European Knish – baked turnovers stuffed with potatoes and/or ground beef
Swiss Malakoff – fried cheese balls (um, yes please)
English (and Midwestern U.S.) Pasties – meat, potatoes, and carrots baked inside a crescent-shaped pastry
After School Snacks for Grownups: Who can resist a bar snack menu inspired by after-school eats? Think sweet potato tater tots served with maple syrup for dipping, fried mac n' cheese bites, mini pizza bagel bites (house-made of course), and gourmet PB&J finger sandwiches.
7) Stay Within Season (and Source Local)
Lower your food costs and raise the feel-good factor with your guests. They're hungry for food made with fresh, in-season local ingredients. Use these 11 tips for sourcing local ingredients. Then add these items to your bar snack menu:
Fall: Apple fritters and donuts made with unusual fillings (in the Top 20 trends on the National Restaurant Association's What's Hot Chef Survey)
Winter: Fries made with local heirloom potatoes
Spring: Goat cheese and chive mashed potato balls
Summer: Mini berry crumbles served in ramekins or small skillets (everyone loves "miniature" cookware…it's cute and Instagram-worthy: giving your bar a little extra love on social media)
8) Pop Art
The cake pop trend may have peaked, but the food-on-a-stick concept is sticking around. Get sales poppin' with savory pops and skewers on your bar snack menu: from retro-cool Beef Wellington Pops to chicken satay. Bonus points if you display your pops in a glass cooler.
9) Liquid Profit: Drinks as Snacks
Shake things up on your bar snack menu with filling drinks like smoothies and shakes. But go one step further and tie in another "it" food trend: powders. From brilliant golden yellow turmeric to bright green matcha tea powder, you'll also impress guests looking for snacks with nutrition and health benefits.
The next time a guest is craving a quick bite to eat, you'll be ready with these 9 bar snack menu ideas. Now get your snack on…