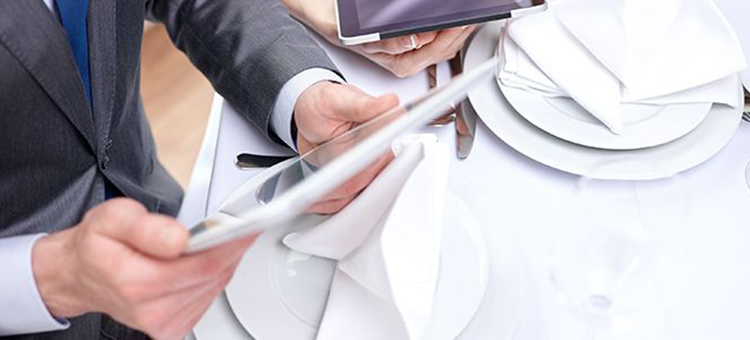 ­
Author: Jeremy Nedelka
Source: CheersOnline

When you walk into Arooga's Grille House and Sports Bar, you're greeted by a host, escorted to a table, and handed a tablet. Powered by Buzztime, these tablets offer guests premium entertainment packages, including games, music, and live events such as trivia tournaments. When the Pennsylvania chain opens its ninth location this fall, it will also use the tablets to pilot a new digital menu program.
Arooga's venture into the digital menu realm is becoming more common. Digital menus offer several advantages to bar and restaurant operators, and they appeal to customers as well. When effectively integrated into the dining and drinking experience, digital menus can improve customer engagement with your brand; which translates to higher sales.
One advantage of digital menus is that they can eliminate the costly need for printed menus altogether. Many restaurants print new menus on a daily basis advertising the latest specials. Even those operators that don't print daily menus still need to revise their listings whenever they add or remove an item.
A digital menu platform enables you to make changes easily and instantly through the program application itself. If, for instance, you run out of a dish one night, you can discreetly remove it from the menu so you won't have to tell your customers that the item they requested is no longer available.
Digital menus come in a variety of formats, but tablet-based systems like Buzztime's are among the most popular. Within that category is a wide range of options, from basic mobile applications that can be customized to programs built to suit each specific operation and include options like games.
Different systems come with different price points, and many of them require monthly or annual subscription fees in addition to initial start-up costs.
Buzztime's initial fee depends upon the size of the operation. Going forward, operators are charged a monthly fee of about $500 for the free entertainment packages, along with a monthly charge to lease the tablets themselves.
Proceeds from all premium entertainment purchases made by customers are split between the operator and Buzztime. The system digital menu option, which will launch at Arooga's and at Buffalo Wild Wings this fall, also incurs an additional cost.
Eye on upselling
Digital menus are generally more engaging and eye-catching than print menus, fans say, and they can showcase more information. Operators are often limited by the space of a traditional paper menu, and many choose not to showcase photos of every drink and entree.
Many digital platforms allow you to include multiple photos of each item, and some menus support animated video as well. By showcasing visually compelling images and using other selling techniques, operators hope that digital menus will ultimately translate into higher sales.
Arooga's president/cofounder Gary Huether Jr. says the games on Buzztime's tablets encourage customers to spend more time at his restaurants, and therefore order an extra beer or two as well. Huether expects to have similar successes with the digital menus.
"Upselling is one main benefit," he says. "Our new menu will have pop-ups of suggested add-on items, such as appetizers and desserts, incentivizing the customer to order more."
Casual dining chain Applebee's plans to roll out Presto digital menu tablets from E la Carte at 100,000 locations nationwide. Several other restaurants now use the tablets, including Charbar Co., a gourmet burger concept in Hilton Head Island, SC. Charbar owner Nick Bergelt has found that digital menu technology is a great way to increase sales.
After selecting E la Carte for his business, Bergelt analyzed the same server waiting on some tables using the Presto tablet menus, and on other tables using paper menus. The results were clear: The tables using the tablets generated 10% to 20% higher sales than the tables that used the paper menus.
"The Presto tablets let us showcase our menu offerings in a two-dimensional format, which just blows people's minds," Bergelt says.
What's more, Bergelt attributes high sales of Charbar's specialty handcrafted cocktails, such as the Bacon Bloody and the Li Hi Mui Margarita, to the visual depictions presented on the tablets. "We have a 70-30 food-to-alcohol ratio, which in my experience is higher than normal for a gourmet burger bar."
Previously, guests would see someone else order a fancy drink, and they'd want to know more about it and try it for themselves, Bergelt says. "Now because of the tablet, everyone has access to the drink photography, and they can browse through it at their leisure. It definitely translates to higher sales."
As a result of the Presto tablets, Bergelt says Charbar customers are more likely to order a cocktail that costs $6 to $11 instead of something more basic, like a Vodka and Soda that would only cost $5. He credits the tablets with increasing sales of premium wines as well.
E la Carte no up-front costs; pricing depends on the number of devices used and the company offers payment plans.
Getting on board
Many restaurants and bars also use larger digital menu boards that are displayed prominently at the point-of-sale area as an alternative to individual menus.
Visual Graphic Systems recently launched a system designed especially with bar operators in mind. The Simplicity Mobile platform integrates with a location's existing AV system, and allows operators to make menu board changes from their mobile devices, which act like a remote. Changes made via mobile device are instantly reflected on the boards.
Simplicity Mobile features a variety of template options, including an "L-wrap." This format promotes menu items on the left side of the screen and along the bottom, enabling the rest of the screen to be used to broadcast television or sporting events—a huge customer draw in bars.
Western Sizzlin', a chain of 82 steakhouse restaurants nationwide, currently uses Simplicity Mobile in 46 of its stores. It hopes to add the system to additional locations in the future.
"Simplicity Mobile has the ability for franchisees to affect content at the store level," says John Constock, an independent marketing consultant who worked with Western Sizzlin' on the implementation of the digital menu boards. "Because Western Sizzlin' has locations in various states, our menus and pricing vary by store. It's much easier for the individual operators to easily be able to control the menu themselves."
Although much of Western Sizzlin's menu is managed by location, Simplicity Mobile makes it easy for the home office to create specific content and push it out to all stores. A current promotion developed in conjunction with PepsiCo features a digital ad on the menu board encouraging customers to purchase a Pepsi for a chance to win a free tablet.
Constock develops the promotional material and submits it to store operators via Dropbox, who then download the promotion and add it to their own menu boards. The VGS Simplicity Mobile player costs $949; an annual subscription package featuring new templates and other enhancements is available for a yearly fee of $199.
Speedier service
Digital menus offer several benefits to customers as well. While not all digital menu options currently integrate with an operation's POS system, many of them do. This tablet-based, credit-card check-out option allows customers to pay their bill at their table whenever they want to.
"The self-payment option will really appeal to customers who are in a rush and don't want to take the time to flag down a server to settle their check," Huether says. "That's where service can easily fall short sometimes, so it's a big upsell for our guests."
Other features allow for a more seamless customer experience as well. E la Carte's digital menu platform offers a "service on demand" button that allows guests to send a signal notifying their server that they are in need of assistance.
"You don't see things like customers tapping their feet impatiently, or scanning the room trying to lock eyes with their server," Bergelt explains. "The on-demand feature reduces error from a management perspective."
BJ's Restaurant and Brewhouse, a casual dining chain with 153 locations across the country, launched an app this past June to speed up customer interactions. Developed internally, the app is available for customers to download to their smartphone or tablet for free, or its features are also available via BJ's website, says BJ's vice president of marketing Tim Hackbardt.
How does the app save time? The wait for a table at BJ's can reach 30 to 60 minutes on weekends, Hackbardt says. Customers can now use the app to check to see how long the wait is at a particular BJ's location. Users can also add their names to the wait list from wherever they are via the app, so they don't have to wait for their table in the front of the restaurant.
What's more, the BJ's app gives customers the option of mobile ordering for dine-in or carry out, and it uses a mobile pay option. Customers can also use the app to check out new and featured items, find a BJ's location, and view their loyalty club reward points.
"We put the technology into the hands of our customers, on their devices, so they continue to engage more and more with our brand," Hackbardt says. "An app is easy to update whenever we add new features, and we haven't invested in expensive hardware that uses a technology that could become outdated at any time."
Hackbardt says that customer feedback on the app has so far been positive. "We realize that not all of our guests are looking to speed up their dining experience, but those who are really love these new features—the business associates who only have half an hour for a quick lunch meeting, or the busy mom who needs to pick up carry-out for her family on the way home from soccer practice," he says.
Improving the customer interaction
Another feature of many digital menus is a customer prompt offering suggested tip amounts when people go to process their payments, which may translate to higher tips for servers. Digital menus can also invite customers to easily sign up for an e-mail distribution list or complete a guest survey.
Some operators may be concerned about how more mature customers will handle such technology as tablet menus. But Bergelt says that most of Charbar's customers, many of whom are over age 50, have adapted easily to the tablets.
Carmel Cafe & Wine Bar, which has eight locations in Florida and Pennsylvania, uses the MenuPad, an iPad-based digital menu application. And the majority of customers have embraced the digital technology, says Carmel Café president Terry Ryan.
"Most guests like the visual cues. Each dish is pictured on the menu, along with the recommended wine pairings for each dish," Ryan says. "They also like the ease of paying their bill right at the table and not having to wait for a server to deliver the check."
MenuPad is a free app available for download in iTunes, but the premium version (which includes payment processing and POS integration) must be purchased directly from the company; pricing was not available.
Will digital menu technology reduce or even eliminate the need for waitstaff? Not likely—in fact, some believe it will enhance the server/customer interaction.
"On busy nights, our servers will have better interactions with tables, translating to higher tips for them and also more of them, since they'll be able to handle more tables," Hackbardt says. "Also, our restaurant volume will go up because we'll be able to service more guests." The average BJ's location grosses $5.7 million annually.
Huether, for one, stresses that servers are still a key part of the Arooga's experience. "We don't want to eliminate servers," he says. "We're in the hospitality industry, and service is a huge part of that. We just want to enhance the overall experience for our customers."
Let Us Entertain You
Certain digital menus, like Buzztime's, offer additional components designed to keep customers engaged. The company uses its gaming and entertainment platforms to bring more fun into the restaurant and bar scene.
Through the use of its own tablets, Buzztime incorporates music, games, and live entertainment into the overall dining experience. Customers can access free content and are able to purchase premium entertainment from the tablets at their tables (premium entertainment pricing varies by location).
E la Carte's Presto tablets also offer entertainment options, such as couple's trivia and games designed for kids. Like Buzztime, E la Carte allows operators to customize their entertainment package, making it free for guests or offering premium entertainment at an additional cost.
At Arooga's Grille House and Sports Bar, president/ cofounder Gary Huether, Jr. says that some customers seek out the restaurant because they enjoy Buzztime's tablet-based interactive aspect. The customers become more engaged in their visit as a result, and are more likely to stay put, ordering more food and drink as they enjoy playing trivia games.
Other entertainment features are designed specifically to appeal to children, making the tablets a big hit with parents: Mom and Dad can enjoy a meal while the games keep their kids quiet and occupied.
[fl_builder_insert_layout slug="whitepaper-signup-module-top-ten-pos"]