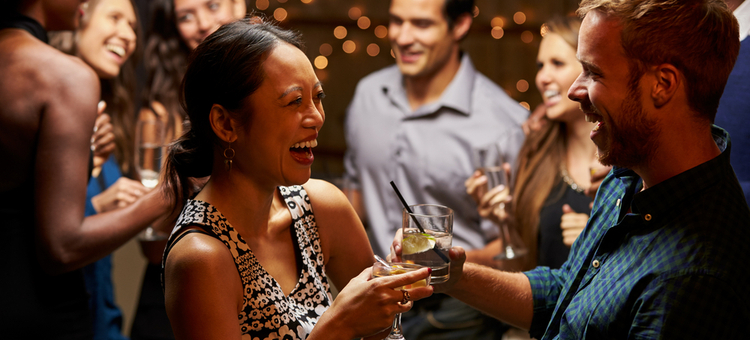 No matter how many numbers you crunch, promotions you push, and discounts you email out to regulars, nothing is better for business than word-of-mouth and good old-fashioned bar entertainment. Live music and karaoke are sure to draw a crowd, but the jukebox is a trope of beloved small bars for a reason.
Take a moment and simply ensure the following drinking songs are readily available on the jukebox at your bar to guarantee a good time. Having "crowd favorite" bar songs that you play reliably (perhaps even at a set time on certain days) is a terrific way to revitalize the crowd and encourage further spending.
"Gin And Juice" – Snoop Dogg. This funky ode to the laidback lifestyle is perfect for turning any venue into a happy-go-lucky, easy-going singles bar. Snoop Dogg's celebration of a simple but reliable concoction is sure to get a bit more gin in the glasses of patrons as customers seek to capitalize on the anything-goes nature of the song.
"Tequila" – The Champs. If the atmosphere of your bar is a little sloshier yet attracts an older crowd, "Tequila" is the perfect drunk sing-a-long chant song. Bar entertainment should cultivate a community, and this track does the trick and then some. The singular lyric ("Tequila!") is very simple to remember, and can serve as the segue into a late night happy hour or dance party event.
"40oz. to Freedom" – Sublime. Listen. If you know your demographic is late 80s/early 90s babies that hoot and holler when a ska classic is cranked up, go for it. There's no shame in giving your crowd what they want. Put on "40oz. to Freedom" and watch the profits launch as your patrons relive their college days of debauchery.
"Gin House Blues" – Nina Simone. Gin and the blues go hand in hand. You can keep a sophisticated timeless vibe to your jukebox and still encourage another round of drinks with "Gin House Blues." If your bar is styled like a speakeasy, omitting this crowd-pleaser from your jukebox would be an oversight.
"DnF (eSenTRIK Remix)" – P Reign ft. Drake & Future. Before you scratch your head, have it known that this is strictly a millennial anthem. If your small bar is considered hip and frequented by the college scene, this trap ode proclaiming, "We should just get drunk and [explicit]" is currently a magical drunken chart-topper. Ride it for a year on Thursday nights for considerable profits.
Depending on the niche of your bar, one of these songs is guaranteed to be a staple of your playlist for entertainment on crowded nights and slow afternoons alike.
[fl_builder_insert_layout slug="whitepaper-signup-module-29-tactics-busiest-bars"]