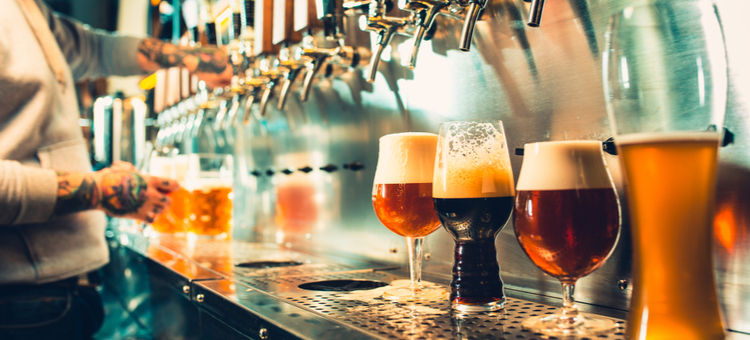 Tapped out when it comes to brewery promotion ideas? No worries, we got you. Check out what America's coolest breweries are doing to attract customers with events, deals, and seriously creative marketing tactics.
Contests: One of the Best Brewery Promotion Ideas
Giveaways and contests generate hype on social media – and just might earn free press coverage in the news.
1) Beer Name Contest
Today, the hottest brews have quirky names. Case in point: Other Half Brewing's "Cream Get the Honey" IPA was inspired by the Wu-Tang Clan.
As one of your brewery promotion ideas, hold a beer naming contest. To draw a crowd, host a beer release for your brew with no name. Then, let attendees submit names for a chance to win bragging rights (and a prize). You can run a naming contest for anything: Fibonacci Brewing in Cincinnati held a goat naming contest.
2) Can You Even Design?
You got the name, now you need a design for the can. These brewery promotion ideas may not be best if you're known for a certain beer can style. But a can contest could attract your next (awesome) graphic designer.
Want more brewery promotion ideas for design contests? Turn a blank wall – indoors or out – into a mural. Invite local artists to submit design ideas. For inspiration, check out the amazing graffiti walls of Wynwood in Miami.
3) Brewmaster's Challenge
Turn to your customers for brewery promotion ideas and crowdsource your next great beer. Invite them to submit odd ingredient ideas for a beer. Experiment. Test. Repeat…until you find a winning beer.
After all, weird ingredient combinations can create cult followings. The "it" beer at the 2018 Great American Beer Festival was a Spaghetti Gose from Weldwerks Brewing Co. out of Colorado.
Deal or No Deal? (Deal)
Unless your taproom is always packed, it can pay off to hook up patrons with a good deal.
4) Gamify the Deals
Your brewery is likely listed on beer finder apps like Untappd and TapHunter. Go a step further and look into paid brewery promotion ideas on these apps. For example, on Untappd, avid beer drinkers can unlock deals and specials after visiting your brewery a certain amount of times. Night Shift Brewing in Everett, Massachusetts gained 226 new customers and sold over a 1,000 additional beers through a marketing program on Untappd.
Beer apps are just one example of cutting-edge technology taking over today's best breweries. Feeling techy? Geek out on the 10 latest brewery tools and tech.
5) Tap Out Special
Some beer connoisseurs only want the freshest brews. Others aren't so picky – and would love brewery promotion ideas like this: When a keg is close to being tapped, put pints on special (you'll be sure to profit from every last drop).
6) In Da Club
Want to boost repeat business and make patrons feel like VIPs? Include a growler club on your list of brewery promotion ideas. It's like a loyalty program for the craft brew crowd. Kirkwood Station Brewing Co. in St. Louis offers a 1-year membership in their growler club. Perks include 10% off food purchases, a personalized growler with "whatever you want" etched on it, and more.
Turn to Interactive Events for Brewery Promotion Ideas
Breweries and live music go hand in hand. But you can create a better social scene with events and brewery promotion ideas the encourage interaction.
7) Let's Get Live!
It's called the pub quiz for a good reason. Beer and trivia go together like malt and hops. Brew up more business by turning to trivial brewery promotion ideas. Host live trivia night on a weekly basis to draw a crowd – and keep them coming back. For the best ROI, opt for trivia played on handheld brewery tablets. Scoring is automatic so players can spend more time sipping – instead of running answers to the host. About that host? Your staff can rock the mic, bonding with guests and saving on host fees.
8) Arts and Crafts
Another winner for midweek brewery promotion ideas? DIY projects at your place. RipTide Brewing Co. in Naples, Florida ran a series of Plant Nites in their taproom. The Plant Nite host brings all the supplies so guests can get their grow on – and pot a terrarium to take home.
Or, why not stay on theme with your events and brewery promotion ideas? If you're in the Northeast, host a Pimp My Pint night like WT Brews in Baldwinsville, NY. Folks can get artsy and paint a pint or growler.
9) Yoga, Mystery Theater, and More
The more creative your brewery promotion ideas, the better. Bring in a yoga teacher for a "stretch and sip" event. Host a "Buried Alive" mystery theater event like Buried Acorn in Syracuse, NY.
[fl_builder_insert_layout slug="whitepaper-signup-module-supreme-guide-live-events"]
Partner Up on Brewery Promotion Ideas
Play well with others – and your brewery promotion ideas become more powerful.
10) Get Things Popping
You already know about tap takeover brewery promotion ideas. You bring your brews to a local bar – or even another brewery – and make an event out of it. It's time to pop up in more unexpected places. It could be selling merch at the farmers market or in a local retailer. Aslin Beer Co. in Herndon, Virginia, even hosted a series of pop-ups at a nearby barbershop. Men could stop in for a trim, a shave, and a beer. Awesome.
11) Farm-to-Fermentation
Team up with a local farm to source ingredients as one of your brewery promotion ideas. That basic pumpkin beer becomes something special with an heirloom variety sourced from a nearby farm.
Foam Brewery in Burlington, Vermont teamed up with local Three Chimney Farm. Folks order veggies from the farm online, then come and pick up their haul at the brewery, aptly dubbed the Foamers Market. Genius.
12) Keep on Truckin'
Don't have food on the menu? Use it to your advantage. Take a cue from Cigar City Brewing in Tampa, Florida whose brilliant brewery promotion ideas included food trucks. Each day of the week, a different food truck rolls up to the brewery. As an added bonus, the food truck alerts their followers that they'll be at Cigar City – bringing new patrons right to the brewery.
13) Flannel for the Win
A basic brewery event? Nah. Get creative when partnering up on brewery promotion ideas. Inspiration is everywhere, even in your closet.
Ten breweries joined together in Traverse City, Michigan, to host a Flapjack and Flannel Festival in the fall of 2018. Guests were invited to sport their best flannel shirt while enjoying beer-pancake pairings.
Over on the east coast, Maine Beer Co. had similar brewery promotion ideas. Their Fall Flannel Fest started in the morning with donuts and a pop-up tasting from a local roaster.
Pour Your Heart Out: Charitable Brewery Promotion Ideas
Now more than ever, people are seeking businesses that show love to causes they care about.
14) Tap Into a Good Cause
Want a simple way to show you care about local causes with your brewery promotion ideas? Each month, dedicate one tap handle to a good cause – like Denver Bicycle Café and Mockery Brewing did. Let your patrons vote on the charity of the month. The chosen charity will likely summon their volunteers and supporters to your brewery.
15) Power to the Pooches
(Bow) wow the animal lovers with brewery promotion ideas that help out local shelters. Ithaca Beer Company in New York hosts an annual event called Pints for Paws. The brewery donates $1 from every beer sold and hosts a pet food drive. Or, invite a local rescue group to bring their adoptable pooches to your brewery.
Of course, you never want to copy someone else's brewery promotion ideas. But take time to explore what other breweries are doing. Then, put your own unique spin on the concept – and brew up a winning promotion. Cheers to your success!