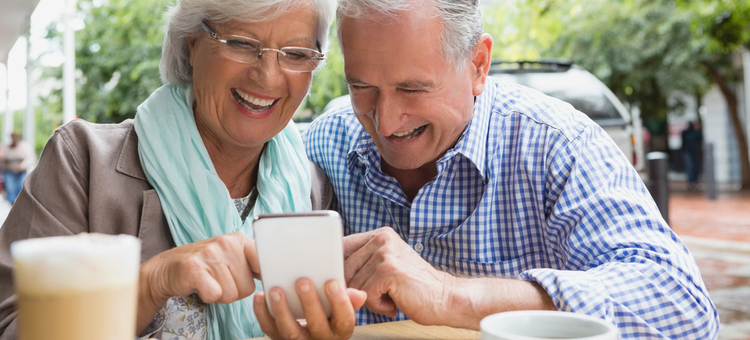 Imagine showing your grandparents the newest gaming app. Instead of asking you to put your phone or tablet away, they might want to play next! Today's seniors are embracing mobile apps, especially gaming apps – and that's good news. Apps for seniors can improve their quality of life, social functioning, and even cognitive wellbeing.
Studies have shown that gaming apps for seniors increase confidence and stimulate mental activity – both of which come with some serious advantages. In fact, many senior living facilities incorporate digital gaming and tablet technology into their programs.
While digital gaming apps for seniors provide key health and wellness benefits, other apps are making life better in other ways. From easily tracking blood pressure to creating alerts for a lost phone, we share 12 of the must-have mobile apps for seniors:
Apps for Health Care
As seniors age, they may be faced with an increase in medical conditions that require self-monitoring. Even healthy seniors can benefit from tracking their health, as variances in otherwise normal vital signs could alert them it's time to see the doctor. These apps for seniors can help ease the process. Whether it's monitoring blood pressure or remembering medication, check out these health-related apps for seniors:
Pillboxie: For seniors living a busy life or dealing with memory loss, tracking daily medication can be difficult. This is one of many apps for seniors that puts them in control of tracking their medication with reminders and a "virtual" pillbox.
Heartwise Blood Pressure Tracker: This app allows users to record their blood pressure, weight and resting heart rate on their phone. Measurements can be taken daily, so changes can be detected over time. This app also provides seniors with useful information for their next doctor's visit.
WebMD: This is one of many medical information apps for seniors, and is useful to anyone trying to diagnose themselves before making a call to their doctor's office. Just listing your symptoms will give you a comprehensive list of possible ailments and cures. If anything too serious pops up on the results, you'll also be advised to speak with your doctor.
Apps for Cognitive Well Being
Digital gaming does more than just entertain, it also enhances important cognitive functions. Studies have shown that games aiming to stimulate mental activity may even ward off dementia. These gaming apps for seniors are also powerful tools they can use to socialize while improving their memory and stimulating mental activity.
Words with Friends: Easily recognizable due to its Scrabble resemblance, this is a wildly popular game that pits players against each other in a war of words. The social element as well as wordplay puts this on the list for exceptionally entertaining apps for seniors.
Lumosity: Puzzles and trivia games are a great way for seniors to keep their minds sharp. Lumosity is one of many great gaming apps for seniors looking to entertain themselves while also testing their knowledge and critical thinking skills.
Sudoku: A traditional Japanese puzzle, there are many variations of sudoku apps for seniors looking to try their hand at this numbers game. Some versions engage players in a friendly competition, others have them race to solve the puzzle against a clock. There are also plenty of leisurely versions of Sudoku that start off easy and level up as players advance. Gaming apps for seniors with levels are a great way to build senior confidence as they build up their skillset and move ahead in the game.
Apps for Social Activity
Many apps for seniors help keep them connected with friends and family – and that's important. Seniors are at a high risk for loneliness and depression. There are essential steps you should take to prevent senior isolation, and these apps for seniors may help, too:
Skype: While distance may make the heart grow fonder, it is important for seniors to keep in touch with loved ones. Skype allows face time with friends and family members, no matter how far away they may be. With its user-friendly interface, this is one of the easier communication apps for seniors trying to stay in touch with long-distance relatives.
Easy Facebook for Seniors: This simplified version of the mobile Facebook app gives seniors and new users the social media experience without the distracting clutter. Streamlined processes and easier viewing (perfect for seniors struggling with eyesight) makes this one of the best social media apps for seniors.
NPR: While many seniors grew up reading the daily paper, most local newspapers have either gone out of business or only publish once or twice a week. A digital news app is a great way for seniors to stay current with the news and feel connected to the world. NPR offers a free, easy-to-use app and can be configured to offer both local and national news. Almost every newspaper now has a digital app, so the NPR app is just the beginning!
Apps for Easy Living
Part of the appeal of mobile apps for seniors is the convenience they bring to their daily lives with just a simple touch of the screen. The following apps are great for seniors as well as anyone looking
The Weather Channel: It's pays to be prepared, and knowing the weather is always a step in the right direction. If seniors are planning on taking a trip or just spending the day outside, having one of the weather apps for seniors is a great way to plan ahead.
Find My Phone: It happens to all of us. You can't remember where you put your phone! Many seniors rely on their smartphones for medical tracking and to stay in touch with loved ones, so a lost phone can be extra stressful for seniors. With its easy setup up on both Android and iPhones, Find My Phone is one of many apps for seniors that help with peace of mind.
Park N' Forget: Along with knowing where you put your phone, remembering parking can be just as much of a mind hurdle. Park N' Forget is a great tool for users of any age who frequent crowded parking lots and may not recall where they left their vehicle.
With digital gaming and apps for seniors on the rise, it's no surprise that we are now seeing more digital devices – from gaming tablets to smartphones – in senior living facilities. Whether it's connecting with family or staying on top of their health, these apps for seniors empower them to live life to the fullest! To get more ideas of apps for seniors, just check out your Android or iPhone app stores today.