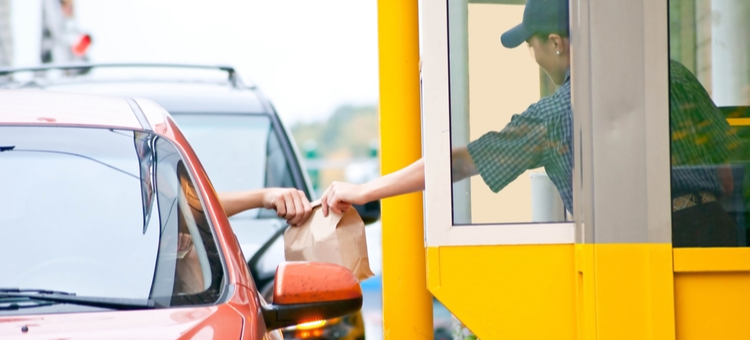 After the world's hottest July on record, you might think we'd see a cooldown in August – but things just keep heating up. The same is true when it comes to bar and restaurant news for the month.
Could Taco Bell get any hotter? The QSR giant made international headlines with its pop-up hotel…we share 3 lessons any bar or restaurant owner can take away from their giant PR success.
The debate over minimum wage has folks heated on both sides, although bar and restaurant news out of NYC now shows an overall positive impact on the industry.
From not-so-eco-friendly bowls, to AI at the drive-thru, let's take a closer look at the 7 pieces of bar and restaurant news everyone is buzzing about this August…
1. Checking In: Taco Bell Hotel Pulls Off Massive QSR Fan Experience
One of the nation's largest QSRs shook up bar and restaurant news with the ultimate brand experience for their fans: a Taco Bell-themed hotel (dubbed 'The Bell'). The Bell featured synchronized swimmers, pool-side fast food service, hot sauce-packet décor, and more quirky extras.
Jennifer Arnoldt, the senior director of retail engagement and experience for Taco Bell, sat down with National Restaurant News to discuss what went into the planning of this extraordinary brand event. While creating an entire hotel experience may not be a viable option for most bars and restaurants, here are some key takeaways you can apply to your marketing efforts:
Know your audience: Arnoldt notes that The Bell did so well because it was a direct reflection of their fans. "They're social. They're fun," said Arnoldt. "We wanted to have a moment where we can get our fans together and really just give them the most amazing hospitality experience, in the most amazing location, in rooms and decor that are just completely over the top."
Don't overbook yourself: Despite its massive fan base, Taco Bell only invited 70 fans to attend the hotel experience. When asked why the limit, Arnoldt pointed out that this was their first rodeo — and they wanted to do it right. 
Stay true to your brand: Taco Bell is all about one thing — value. Which is why Arnoldt notes in bar and restaurant news that the value of the hotel rooms and experience was one of the most important aspects of this marketing effort.
2. Raising HOPES: New Partnership Creates Opportunity for Inmates in Food Industry
In national bar and restaurant news, the U.S. Department of Labor recently awarded a $4.5 million grant to the National Restaurant Association Educational Foundation (NRAEF). The NRAEF will develop a program for formerly incarcerated individuals entering the workforce, by preparing them to work in foodservice.  
The program is called HOPES (Hospitality Opportunities for People (re)Entering Society) and will provide job placement, training, and apprenticeship opportunities for inmates entering the workforce.
And there's more than enough opportunity in bar and restaurant news. According to the NRAEF, the industry has nearly one million unfilled jobs just waiting for a good fit.
[fl_builder_insert_layout slug="whitepaper-signup-module-coffeehouses"]
3. New Testing Exposes "Molded Fiber Bowls" As More Health Frenemy Than Earth Friendly
In recent years, molded fiber bowls were the biggest thing to hit bar and restaurant news. They were marketed as biodegradable, earth-friendly, and a convenient way to safely send home leftovers or takeout.
But according to testing reported by The New Food Economy, the bowls contained a dirty (as in, harmful) secret ingredient: PFAS (per- and poly-fluoroalkyl substances).
In addition to being difficult to pronounce, PFAS are not great for the Earth — or our health. Essentially, it's a "troubling class of chemicals with no known half-life, even when they're certified compostable."
Although the health implications of this bar and restaurant news aren't completely clear yet, PFAS has been linked to "a range of serious health outcomes."
It's surprising that this bar and restaurant news has only recently been discovered, given the popularity of molded fiber bowls. But it will be interesting to see how the industry reacts to the findings — and what will be used as a replacement.
4. More Than Security: How Restaurants Are Preparing for Active Shooter Threats
Mass shootings are now making headlines in bar and restaurant news: Security Today reported that deadly shootings have taken place at three different fast food locations this year alone.
With the risk of active shooters becoming a serious threat in bar and restaurant news, Security Today shared ways that restaurants can prepare for a life or death situation…today:
Implementing Training Procedures: In addition to regular employee training, industry titans like McDonald's are adding active shooter training to their workplace safety programs.
Employees Making Preparations: According to bar and restaurant news, most workers report that they've come up with a personal plan if faced with an active shooter.
Impacting Annual Reports: As shootings become more common in bar and restaurant news, some companies are noting that it is also a potential hazard for business. Del Taco Restaurants and Dave & Buster's reportedly included language about active shooter situations in their annual investor reports.
5. Study Shows NYC Restaurant Industry Thriving with $15 Minimum Wage Increase
The war over minimum wage continues to rage on in bar and restaurant news. A new study this month showed that it's possible for the restaurant industry to thrive — even with the increase to $15 per hour.
The Center for New York City Affairs at the New School and the National Employment Law Project released the "first assessment of restaurant employment and earnings over the entire period of New York City's historic minimum wage increases."
The research tracked local industry trends as the minimum wage increased in stages from 2013 to 2018. And this bar and restaurant news found that NYC had some of the strongest restaurant growth across the board, compared to other major cities without the wage increase.
While it's noted the wage increase may not be directly responsible for the strong restaurant market in NYC, it is something to keep in mind as bar and restaurant news continues covering pros and cons of raised wages. 
6. Sustainability and Social Justice: A Recipe for A Better Restaurant Industry
Mental health, social responsibility, and sustainability have been hot topics for a while now in bar and restaurant news. As more issues come to light, the industry has shown a willingness to face its demons and learn from the best.
That's what led to a recent conversation during the Eater Young Guns Summit in July, featuring Martha Hoover of Patachou restaurant group and Devita Davison of Detroit's Food Lab.
The two industry pioneers sat down to discuss ways the industry can improve moving forward and how to face the future with a healthier, more sustainable work environment. Read their key takeaways in bar and restaurant news for some inspiration to bring more positive practices to your restaurant.
7. McDonald's Changes the Game with New Drive-Through Technology
Soon, McDonald's drive-through menus are going to know what you want to order before you do. QSR Magazine reports that the company started testing machine-learning technology at around 700 of its drive-through menus. And after massive success, it will expand the technology to another 8,000 locations in bar and restaurant news.
Even if you don't operate a QSR restaurant, have you explored options for integrating artificial intelligence or machine learning into your business? Here's why it's working at McDonald's:
Keeping on Trend: The technology is at the forefront of consumer trends in bar and restaurant news, by offering a convenient, customized, and integrated dining experience (all from the comfort of your vehicle).
Streamlining Operations: Employees are also benefiting from the new technology. The drive-thru menu automatically takes over the upsell, giving workers one less thing to worry about as they fill out orders.
Building Loyalty: Customers appreciate a customized experience, which is exactly what this "smarter" drive-through delivers. And it may just be enough to have them coming back for more.