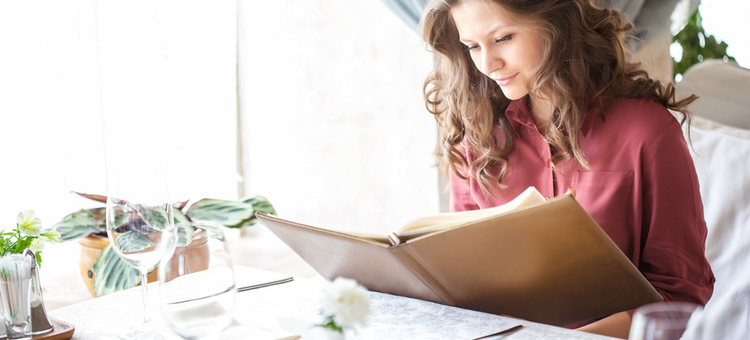 Designing the perfect menu is incredibly tricky. When a customer visits a new restaurant, the most important factor in determining if they return isn't the atmosphere or the cost: it's the menu. When you imagine your menu as a roadmap to a successful sale, you realize that every design and layout decision will affect your monthly profits.
However, with so many moving pieces in play, it's easy to overlook the details of your menu or simply put together a slapdash first draft and never update it. But a menu half-heartedly designed is a menu destined to fail. Here are some of the most common issues with modern menus, and how you can avoid them.
Tiny Font
Yes, it's tempting to go for the economical option and make your menus smaller if possible. But you should consider how much copy you're trying to cram onto the menu, and how effective it will be in generating a sale. Small font and lots of words will overwhelm and frustrate customers, leading to impulsive and unsatisfying purchases.
To solve this dilemma, get rid of some of your menu items that routinely aren't purchased. Free up room on your menu so you can use adequately sized font. Bold particular words that you want customers to focus on. Another solution is to utilize a digital menu, where space isn't limited and font can be as large as possible.
Dim Lighting
One common issue with menus has nothing to do with the menu itself, in a sense. Many restaurants dim the lighting significantly in the evening to create a more intimate atmosphere. While it's great for the dining experience, it's terrible for ordering. Couple that with a menu lacking bright, bold colors and fonts, and you have another recipe for disaster.
Always check the lighting in your dining area and make sure you can read the menu on your smartphone with the brightness turned all the way down. If you cannot, your customers can also not read your menu. Install focus lighting in booths and above tables so your menu isn't a chore to read. Alternatively, install digital tablets that contain menus so light can emit from the menu itself.
Lack of Appeal
Your menu should be visually stimulating and exciting. Bold designs, colorful layouts, and bright pictures are great for family restaurants and chains, but if that doesn't match your ambiance you can use active font choices and structure your layout to appeal to the senses. Don't settle for a forgettable menu.
Incorporate some images of your highest gross margin menu items to stimulate customers, or design an active menu that's engaging to look at. Again, one of the most economical decisions is to forgo a printed menu in lieu of a digital menu. The brightness and customizable color can match your branding, and you can incorporate as many images as you like.
A menu that entices readers and draws their focus to key items with legible, bold font is a menu that will generate more business. A digital menu solves many common menu problems and can be adjusted at a moment's notice without the added cost of printing new menus. Digital menus lead to a 28% increase in ROI – invest in your future by going digital.
[fl_builder_insert_layout slug="whitepaper-signup-module-create-menu"]