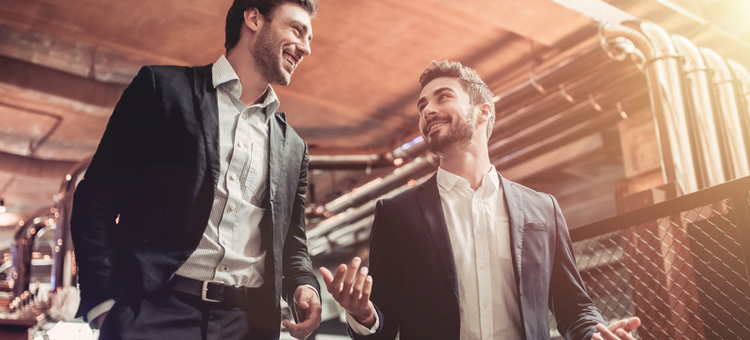 Hey there, bar manager. You probably rock at running the bar. But just in case, we talked to bartenders who shared 9 bar management tips for avoiding "epic fails."
Epic Fail #1: Serving That Drunk Guy
Win: Call a Party Foul (Bar Management Tips 101)
Someone is chanting "shots, shots, shots." Yup, you've got a drunk guy or gal to deal with. Torrey, a bartender in Los Angeles, shares his bar management tips for avoiding a pour decision (pun intended):
"First, try cajoling them into behaving. Keep it lighthearted. Offer water and stop serving them alcohol. Call a cab or ask their friends to get an Uber."
Torrey's bar management tips are on point. This is a serious issue. According to the alcohol laws in some states, if a patron gets hurt or in an accident, your bar could be held liable. If things keep escalating? Take the intoxicated guest outside and call the police.
Epic Fail #2: Going H.A.M. on a Negative Review
Win: H.A.L.T. Instead
H.A.M. refers to going "hard" as a…(Google it). It's the anger you feel when a guest bashes your bar on Yelp or Facebook. Resist the urge to write back until you are no longer H (hungry), A (angry), L (lonely), or T (tired).
Then, use these expert bar management tips for responding to negative reviews. If you ace your response, studies show that 34% of customers will delete their harsh review – and 33% will leave a positive one. Now that's a win.
Side note: The H.A.L.T strategy is one of the best bar management tips in general. Whether it's confronting an employee, or talking to a disgruntled patron – wait until you're in the right state of mind.
Epic Fail #3: Playing Hard to Get
Win: Give 'Em a Sign
When the bar is packed, it's tempting to keep your head down. But that comes across rude to patrons. They think you're just serving the "pretty people." Adam, a bar manager in Madison, Wisconsin with 26 years of experience trains his staff using these bar management tips:
"Customers want a sign that they're on your radar. Give them a nod or smile. When you eventually take their order, thank them for their patience."
The best bar management tips make every patron feel like a VIP.
Double Bonus! Epic Fail #4 and #5: Rocking Your Personal Spotify Playlist
Win: Bar Management Tips to Chill Out and Play it Safe
Of course, you've curated a sweet playlist on Spotify. But before pressing play at your bar, beware! Unless you subscribe to Soundtrack Your Business by Spotify, it's illegal.
One of the best bar management tips is to learn about bar music licensing. Performing rights organizations (PROs) like BMI and ASCAP regularly sue bars for thousands of dollars for playing CDs, streaming music, or even allowing cover bands to perform without the right license.
Once you've got your licenses all set, use bar management tips for background music. For example, when business is slow? Play relaxed, slow-tempo music. Research shows it encourages patrons to stick around and spend up to 40% more on drinks and dessert.
Epic Fail #6: Letting Staff Booze on the Job
Win: Lay Down the Law
Let's go back to the top of the bar management tips list. That drunk guy is back. He insists on buying shots for your bartenders. At this point, your team should be empowered to say "our house rules don't allow us to drink on the job."
Yes, some bars are more lenient. But state laws come into play again. Your liquor license could be suspended or revoked if an employee is caught drinking on premises.
Epic Fail #7: Hiring on Instinct
Win: Use Bar Management Tips for Better Interviews
Go with your gut! Follow your heart. Those are Instagram quotes, not bar management tips for smart staffing. Instead, Brittany – who started as a bartender then moved into an assistant GM role – suggests using these interview questions:
Where did you work last? What was the volume like? (A classy wine bar and rowdy sports bar are 2 different things.)
Can you share 3 previous employer references? (Ask for the restaurant/bar name, not just a phone number. Brittany caught a few potential hires using "friends" as fake references.)
Tell me a joke (It shows if the bartender can be entertaining and think on the fly.)
What's your favorite drink and why? (See if the bartender can tell a good story and keep up the conversation. Bonus points if the bartender asks YOU about your favorite drink.)
Don't wait until it's time to hire. Be proactive with these bar management tips and create a list of 10 interview questions now.
Epic Fail #8: Scrolling the 'Gram
Win: Bust a Move
Picture this. It's a slow night. There are just a few patrons chilling at the bar. So your bartender sneaks his phone out to scroll Instagram and her Facebook newsfeed. Put one of the simplest bar management tips into play: a smartphone free zone (in front of customers).
"I never let my staff use their phones in the front of the house. It sends a message that we don't care about our patrons," said Adam.
Adam's go to bar management tips include the ABC principle of "Always Be Cleaning." Because yeah, those bottles really do gather dust.
Plus, there's nothing more welcoming to a guest than the bartender wiping down the bar – then setting down a coaster. It's a ritual that shows guests you care (a key aspect of most bar management tips).
If your bar faces the street, a bartender moving around catches the eye and shows activity. It gives the illusion that the bar is in fact, bustling.
Epic Fail #9: Getting Sloppy with Inventory
Win: Use Beverage Inventory Software
No list of bar management tips would be complete without addressing inventory. The task you love to hate. But the latest tech makes it less painful.
From Bluetooth scales that send data to your smartphone (TavernTrak software), to digital flow meters (Bevcheck software), you have no excuse not to measure. every. pour. Your staff can even take a "weightless inventory" using a smartphone app like Partender (featured on Bar Rescue).
We could keep going with bar management tips – like ditching paper menus and upgrading to tablet menus like thousands of bars. Instead, pick one winning strategy and put it into practice now. Cheers to raising the bar – at your bar!
[fl_builder_insert_layout slug="whitepaper-signup-module-26-bar-promotions-that-work"]