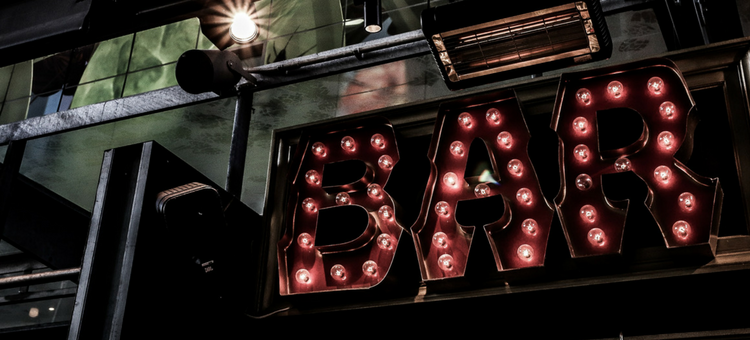 To run a college bar is to ride a year-long rollercoaster. The upsides? A captive audience, high-volume sales, and non-stop action. The Debbie downer stuff? Fake IDs, binge drinkers, and seasonal slumps when school's out.
So, it's no surprise that running promotions and events comes with a unique set of challenges. That's why we put together this guide to college bar promotions. Get ready to ace this course – and pack the house.
1. DO Show Your Team Spirit with Creative Sports-Focused College Bar Promotions
Once August rolls around, be ready to show returning students that your place is THE place where fans gather…
Throwback Games: Want to draw a crowd of fans, even when the game isn't on? Play epic games from the past, like bowl game victories. That's exactly what Star Bar in Austin does to kick off the University of Texas football season.
Tailgate Style: Attract big groups of students before and after they trek to the stadium. How? Run college bar promotions and events with a backyard house party vibe. That means loud music, flip cup or beer pong tournaments, and maybe even singing a few rounds of the fight song?
Show a Little Team Spirit: That's what they do in the Tampa Bay area! Local bars come together each year for a College Football Kickoff Bar Crawl.
2. DON'T Forget the Townies
Don't get too focused on wooing students with college bar promotions, that you forget about local residents. They're the ones who can keep business going steady when students are on break – or still asleep. Why not host a weekly brunch at the bar like Barrell 21 Distillery and Restaurant?
Located in the heart of College Park, which is home to Penn State University, Barrell 21 has mastered the art of launching college bar promotions for both students AND townies. After all, locals want to feel like they're a part of the "campus" – especially during big sports events.
Barrell 21 also runs another brilliant college bar promotion…giving customers free truffle fries if they flash a Penn State ticket to any game that day: from hockey to basketball.
3. DON'T Overlook Freebies
Most college kids aren't exactly flush with cash. So create college bar promotions that appeal to their thrifty nature (but still give you something in return):
How about turning students into free walking billboards? For your college bar promotions, take a cue from Maggie's Neighborhood Bar and Grill in Atlanta. Nearby Emory University students line up on Free T-Shirt Night for a chance to get the "it" shirt on campus. Now, all those students are promoting Maggie's when they sport the shirt.
Other freebies can act as "loss leaders." That means you'll break even or take a loss on sales of that item, but if it brings bodies through the doors, you can still turn a strong profit. That's why Taco Bell gives out free tacos in many college towns if the home basketball team wins by a certain amount. Try something similar with your college bar promotions. 
[fl_builder_insert_layout slug="whitepaper-signup-module-50-best"]
4. DO Play by the Rules
You knew a word of caution was coming…
Many municipalities, counties, and even state legislators are cracking down on college bar promotions. City leaders in Columbia, Missouri, just proposed prohibiting bars from offering two-for-one deals and unlimited drinks for a fixed cover – every night from 9:30pm-1:30am. City officials blamed the "excessive drinking and mobs of kids" taking over the Midwestern college town.
When in doubt, check with your city and state laws before planning college bar promotions. If you're located directly on a university campus, you may have additional rules to contend with.
If you're in an area that regulates on college bar promotions, you can still draw a crowd. And the good news? You won't need to discount your drinks. It's all about running social events…
5. DO Embrace Events as College Bar Promotions
Wouldn't it be nice if you could attract big groups of customers…without severely discounting your food and drinks? Experiment with running free live events as part of your college bar promotions planning.
Dance Parties: You can never go wrong with dance parties, especially if the DJ plays plenty of 1990s hip-hop. Run a #ThrowbackThursday dance party every week. But a little creativity goes a long way…
Zodiac Party: Host a weekly zodiac party to attract anyone celebrating a birthday that aligns with that sign. It's an easy way to attract those massive groups of students ringing in yet another friend's 21st. Run college bar promotions on drinks inspired by the featured zodiac sign.
Trivia Night: After studying all day, most college students are happy to continue applying their minds – as long as they can drink at the same time. That's why trivia-focused college bar promotions and events are so popular across campuses nationwide. Almost always held on weeknights, live trivia is hands down the best way to bring in big groups of students…anytime you want. You can get thematic, like Replay Bar in Chicago. Located near Northwestern University, college students (and townies, too) gather for trivia based on The Office TV show.
Poetry Slams, Open Mic Events, Craft Nights, and Other Niche Events: Not everyone is into college sports. Would your customer base more apt to come in for a weekly "arts and crafts" night? Run specials on craft beer, and hire a Yaymaker host to run a workshop on painting or even potting a terrarium. When in doubt, ask your most loyal customers what college bar promotions they want to see.
6. DO Focus on VIP Experiences
No, it's not your imagination. We keep talking about birthday-related college bar promotions. That's because b-day promos are a key opportunity for your business: everyone goes hard and spends big when celebrating a friend's 21st birthday (or 22nd for that matter).
Attract the revelers with VIP packages and extras. It could be as simple as including party hats and cake for the birthday boy or girl. Why not keep a few fake crowns on hand to "lend" to the birthday queen or king of the night? Make sure the DJ plays a birthday song and shouts out the guests of honor.
Or, consider including this trendy bottle service in your college bar promotions. For a set minimum spend, the VIP bargoers can reserve a special seating area. Because deep down, every girl (and guy) turning 21 wants to live like a Kardashian for the night…
7. DON'T Get Sloppy with IDs
Speaking of birthdays, don't take chances! Card anyone and everyone, whether they look 16 or 61. This involves training your bouncers and bartenders to be polite yet firm in the IDing process. Your liquor license is at stake…so take this seriously.
8. DON'T Wing it with Overserving
You know what else can jeopardize your liquor license? An already-intoxicated patron demanding your bartender serve him. Effective college bar promotions do come with a risk. The more enticing your drink specials, the more you'll attract…well, big drinkers. Be prepared to handle them by following these 7 tactics for managing drunk customers.
9. DO Entice with Late Night Bites and Afternoon Delights (and Deals)
Many college bar promotions revolve around booze specials for weekends. But what if we told you…you could boost revenue in other dayparts? Mind. Blown.
You might benefit from marketing your bar as a place to study during the daytime. That's exactly what Fuzzy's Tacos on the Wichita University campus does with their "study hour" deals on (non-alcoholic) drinks and snacks.   
Or, take a detour with your college bar promotions and serve a different kind of brew…nitro coffee. This smooth brew that looks (and some say, tastes) like Guinness, is made by injecting nitrogen into cold brew coffee as it's tapped. Create an afternoon menu of small plates and desserts, put nitro on tap, and give the campus Starbucks a run for their money.
Another overlooked opportunity for college bar promotions? Late night eats. While every other bar competes over drink specials, you can win over customers with irresistible midnight snacks…priced right, or as we said earlier, straight up free. How about 100 free slices of pizza starting at midnight? Chicken and waffles are a trending late night meal on campuses. In fact, Funk and Waffles on the Syracuse University campus built their entire concept around this odd but crave-worthy pairing.
Now, you're ready to rock this school year with 9 DOs and DON'Ts for effective college bar promotions. Best of luck being the most popular bar on campus…you got this!