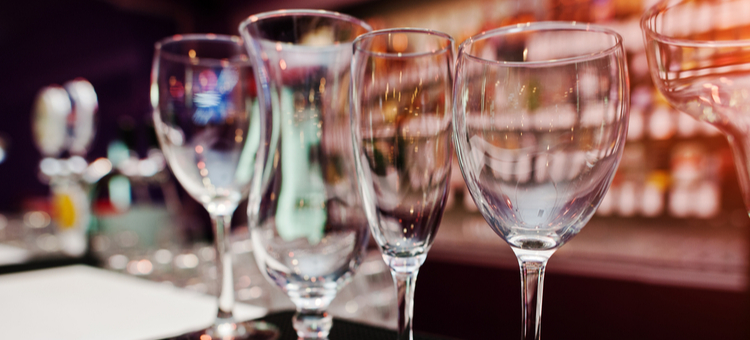 Quick poll for bar management newbies and veterans: how many distinctive types of glassware should be stocked at your bar? Five? Ten? The answer is more than 20, each with a specific purpose and drink type. Some bars and restaurants only serve certain types of drinks and can afford to stock up on less, but you need to be prepared. There are no cutting corners when it comes to bar glassware.
The first hard rule – always buy the best quality. You may imagine that glassware is an area where you can save on your initial investment, but nothing leads to devastated business faster than shattered glasses either at the hand of a skilled bartender or a boozy patron. Each customer will average three glasses a visit, and each one needs to be pristine and durable. Furthermore, you'll need an arsenal of varied glassware to correctly serve your signature drinks and cocktails.
For beers, you'll certainly need to invest in beer mugs with thick bottoms, and a variety of three to four types of basic beer glasses and steins. If you serve specialty frosted drinks, consider investing in a glass chiller for below or behind the bar for that extra touch of class. Bar management is about impressing with the details.
Champagne and wine requires four essential glassware options. Wide-rimmed red wine glasses allow the wine to really open up. White wine glasses should have narrower rims (don't try to cut costs by only using one type, unless you serve very cheap wine). Champagne glasses are much skinnier and work great for mimosas. Finally, fortified wines, sherry, and port should be served in sherry glasses with a more curved rim and lower top.
Liquor is where most of your glassware variety comes into play. Luckily, you'll need to invest in considerably less of these (dependent on your bar's drink specialties) but having every type readily available is paramount for a smooth operation. For shots, invest in basic shot glasses, shooter glasses for larger, more diluted shots (up to five ounces), and whiskey glasses with thick bottoms to prevent glass breakage.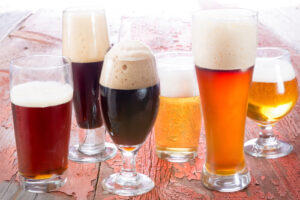 For "on the rocks" drinks, you'll need short, iconic rock tumblers. You'll also need Old Fashioned glasses to serve that eponymous drink, which also work well for White Russians and many other mid-level cocktails. Highball glasses are important for drinks that are more mixer than liquor, as they're taller than Old Fashioned glasses. You can also serve water in highball glasses if your bartender runs out of beverage glasses. For more substantial mix drinks like Tom Collins cocktails you'll be using tall, narrow Collins glasses.
Moving on to margaritas and frozen drinks, you'll need four basic glass types for these super popular drinks as well. Most obviously, invest in a fair amount of martini glasses, and if you favor tropical drinks at your location margarita glasses are essential. You can also buy cosmopolitan glasses for stemless cocktails and other fun mixtures. In addition, don't overlook investing in hurricane glasses. Their short stem and curved body are perfect for frozen daiquiris and other festive drinks.
Tired yet? You'll still need brandy snifters for optimal opening of brandy when served. These glasses have a wide body and narrow top to keep the aroma inside the glass. With the advent of coffee cocktails, you'll also want to buy coffee glasses ideal for serving dessert-y alcoholic coffee drinks. Last but not least in the liquor lineup, you'll need narrow and tall cordial glasses for sweeter liquors. Beer samples can also work flawlessly in a cordial glass and don't necessitate divvying out too much free beer.
Also, when purchasing glassware you should also invest in many beverage glasses for those designated drivers and non-alcohol drinkers that want a soda or water. In total you're looking at more than twenty glassware variants that your bar should be stocked with. You can certainly cut out a few by narrowing your drink selection, but don't skimp on glassware when outfitting your bar. Above all, glassware should be durable and distinctive so you can get the most out of your investment. Bar management is about maximizing potential, and a necessary step is securing the glassware needed to fully bring your original and staple drinks to life.
[fl_builder_insert_layout slug="whitepaper-signup-module-29-tactics-busiest-bars"]