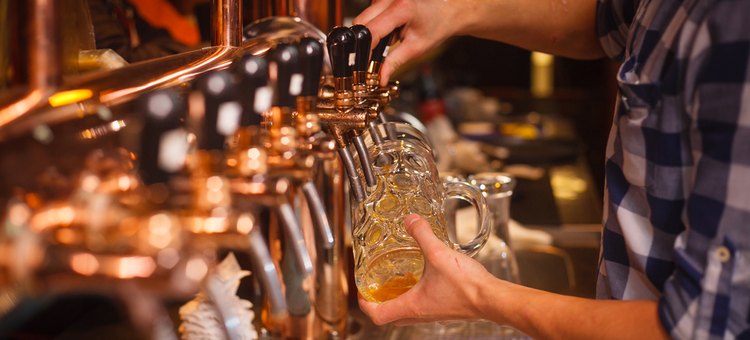 It's too late for summer parties; too soon for Halloween-themed fun. What's a bar to do? Run Oktoberfest bar promotions and events to jump start the fall season. To help you out, we gathered up 9 ideas based on traditions borrowed from the iconic Oktoberfest celebration held annually in Munich, Germany…
The Tradition: The mayor of Munich taps the first keg in mid-September to officially kick off Oktoberfest.
The Twist: Ask your town's mayor or another VIP to do the honors.
Contrary to its name, Oktoberfest doesn't actually start in October – it kicks off around September 20th each year and runs for a few weeks. Why not get ahead of the competition and begin your Oktoberfest bar promotions and events in late September?
To keep your Oktoberfest bar promotions true to tradition, invite the mayor of your town or a local celeb to tap the keg and shout "O'zapft is!" which is German for "it is tapped." That's exactly what Short Fuse Brewing Company in Schiller Park, Illinois does during their Stein-tober Fest event. Having the mayor on site is also an awesome public relations opportunity for your bar (hello free media coverage).
Keep it local and team up with a nearby brewing company for the ceremonial keg tapping. Bonus points if it's an Oktoberfest beer or another traditional German brew.
The Tradition: The name…Oktoberfest.
The Twist: Incorporate your bar's name or event theme into Oktoberfest.
Organizing a pub crawl? Call it Blocktoberfest. Debuting new brews? OctoBEERfest is your event name. Or, incorporate your bar name into Oktoberfest. The point is to stick out from the other Oktoberfest bar promotions in town, and a unique name will help you do just that.
The Tradition: Crazy fun dances, drinking song sing-a-longs, and other social activities
The Twist: Add a competitive twist to group fun.
It's not officially Oktoberfest in Munich until an entire beer tent is doing the Chicken Dance. (Yes, it's that song played at weddings that even gets Grandma on the dance floor.) But everyone at Oktoberfest is also singing along because there are words to the Chicken Dance, who knew? Sing-a-longs and non-stop dancing are the hallmarks of a great Oktoberfest party.
You could go authentic with your Oktoberfest bar promotions and hire a polka band to play traditional German drinking songs. Ask them to print out lyrics with translations so folks can sing along. Or add a little friendly competition to those Oktoberfest bar promotions and do a polka karaoke competition. Ok, skip the polka, and just do a karaoke competition.
Other ideas for competitive and social Oktoberfest bar promotions? How about a stein hoisting contest like the one Harpoon Brewery ran during Oktoberfest 2017 in Burlington, Vermont. See who can hold up those heavy mugs for the longest and award a prize. Yodeling contests are also an option.
You can never go wrong with the most popular of social competitions…a live trivia night hosted by your own staff. Between rounds of general trivia, throw in bonus questions about Oktoberfest.
The Tradition: Kids are totally welcome at Oktoberfest.
The Twist: Whip up your own kid-friendly Oktoberfest bar promotions and events!
You can thank Brooklyn for the fact it's totally acceptable these days to bring babies, toddlers, and tweens to the bar. Over in Munich, kids are also welcome at Oktoberfest. In fact, the Augustiner-Festhalle tent is famous for being a mecca for families (at least during the day).
Why not create a family-friendly vibe with your Oktoberfest bar promotions and events? Zoiglhaus Brewing Company in Portland, Oregon, runs a 2-day celebration that goes from 10am-10pm. Kids are treated to a craft corner and puppet show.
The Tradition: Indulging in Bavarian cuisine from Haxn (pig knuckles) to Steckerlfisch (fish on a stick).
The Twist: Offering more crowd-pleasing – yet still traditional – Oktoberfest menu items like giant soft pretzels.
It's probably best to skip the strange stuff. Or you could make it a challenge – with a nice reward. One bar in Sydney, Australia hands out free drinks to whomever can finish an entire pig knuckle.
Speaking of eating with rewards, one of your Oktoberfest bar promotions could be an eating contest like the bratwurst eating competition held at Cincinnati's Oktoberfest celebration…yes, someone ate 67 bratwursts in 10 minutes.
If you just want some ideas to inspire your Oktoberfest bar promotions and menu, turn to this complete guide to Bavarian recipes. From cucumber salad with mustard dressing, to single-serving Bavarian sausage hot pots, you can get thematic without getting too weird…
As for booze, German beer is the way to go. But don't forget German wines like Gewürztraminer and Riesling. There's not much in the way of Oktoberfest bar promotions for cocktails, however September 23rd is the start of fall…
You could coincide the launch of a fall cocktail menu with Oktoberfest like Luke's Kitchen and Bar in the Orlando. They'll be offering 3 small portions of their new cocktails for $18, and will be running "last call" specials on their summer beer and cocktails.
The Tradition: The Munich Oktoberfest action goes down in 14 massive tents.
The Twist: Indoors or out, set the scene for your Oktoberfest bar promotions…even on a budget.
Take your Oktoberfest bar promotions and events to the next level by setting a fall-inspired scene. Head to your nearest farm and buy hay bales, corn husks, and pumpkins (bonus: you can use these until Halloween).
Stock up on all blue and white everything from banners to disposable tablecloths and any of these decorations. Designate one area of your bar to be an Oktoberfest photo booth and set out props like mustaches on a stick, hats, lederhosen, aprons, you get it. Don't forget the selfie stick.
Got space outdoors and a solid budget? Rent a big tent and picnic tables to create an authentic vibe for your Oktoberfest bar promotions and events. Call it a biergarten, of course!
[fl_builder_insert_layout slug="whitepaper-signup-module-26-bar-promotions-that-work"]
The Tradition: Guys sport lederhosen, the ladies rock the traditional "dirndl" dress.
The Twist: A matchmaking event and other fashionably fun Oktoberfest bar promotions and events.
Halloween is weeks away, but everyone loves an excuse to put on a costume and that's where these Oktoberfest bar promotions and events come in. Host an Oktoberfest Ball, where guests in costume – think lederhosen and the beer maid getups – get free admission or a complimentary drink.
Go a step further and turn it into a matchmaking event. In Germany, where a woman ties the bow on her "dirndl" apron reveals her relationship status. If she ties it on her left side, she's single. On the right? Sorry, she's taken. Don't leave the guys out of your matchmaking Oktoberfest bar promotions. Give the single lads a button, sticker, or small bow to show they're on the market.
The Tradition: Buying a souvenir Oktoberfest stein to take home.
The Twist: Design your own stein, and hand out other giveaways as Oktoberfest bar promotions.
Many Munich tourists are tempted to steal an official stein from one of the 14 Oktoberfest tents. Best not to do that, as fines can be hundreds – even thousands – of dollars. Instead, visitors are encouraged to splurge on a commemorative stein that costs $50-$75.
As one of your Oktoberfest bar promotions, work with a graphic designer to create a classy stein (either ceramic or glass) and offer it for sale, or included with the price of admission. Brush up on your knowledge of traditional German beer glassware before forging ahead.
If you plan to make your Oktoberfest bar promotions and events an annual thing, ask the graphic designer to create a custom, frame-worthy poster. You can never go wrong with giving away branded bottle opener keychains, t-shirts, and koozies. Check with your beer distributor: beer brands might have Oktoberfest themed swag you can give away for free.
The Tradition: Getting very drunk.
The Twist: Getting your patrons home safely.
After you've impressed guests with your awesome Oktoberfest bar promotions, your work isn't done. It's on you to ensure revelers get home safely. Set up a custom LYFT rideshare code, giving attendees a discount or even covering their ride home.
And that's a wrap on this list of the best, traditional-with-a-twist Oktoberfest bar promotions and events. We're raising a stein, shouting Prost! and wishing you a successful autumn season…and beyond.