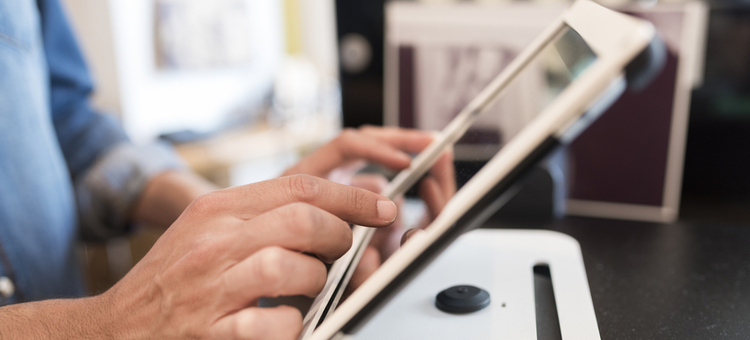 Expect to see guest-facing technology offered in more and more bars and restaurants, from tablets to mobile apps that enhance the customer experience. Industry analysts predict guest-facing technology in restaurants will continually become the norm as consumers get more comfortable using it and bar and restaurant owners work to reduce their labor costs and increase efficiency.
For instance, Chili's now offers guests tabletop tablets to order, pay their bill and play $.99 video games, which so far, have been very well-received by guests at its nationwide test locations. In a Nation's Restaurant News article, executives of the casual-dining chain said that after a five-month test of various tabletop devices in 28 Chili's restaurants, sales increased as much as 20 percent and sales of items like coffee saw sizable jumps.
Buffalo Wild Wings is also continuing to rollout guest-interfacing tablets at all of its North America locations, featuring Buzztime's social, mobile and entertainment platform. Using the tablets, guests can order food, request songs or watch TV programs, play games, and pay their bill. In a Nation's Restaurant News article, Buffalo Wild Wings invests in growth for 2014, Buffalo Wild Wing's Chief Executive Sally Smith, said she expects the tablets could further mitigate labor costs by enabling fewer servers to cover more tables, while at the same time enhance the customer experience.
Research by the National Restaurant Association further reinforces consumers' growing acceptance of guest-facing technology finding that 63 percent of adults have used restaurant-related technology in the past month (based on research findings from October 2013) and are interested in other tech options, such as placing orders and making reservations and payments via smart phone apps. The research also reveals that half of consumers (ages 18-34) have used a computer to order food or make reservations and 35 percent of them have placed takeout/delivery orders on a smartphone or tablet.
[fl_builder_insert_layout slug="whitepaper-signup-module-top-ten-pos"]
As far as specific guest-facing technology trends we can expect to see in the near future, here are some of the biggest ones, according to a recent Forbes article:
Touchscreen kiosks for guests to place and customize their orders
Mobile app ordering capabilities that allow customers to conveniently place orders right from their mobile devices, saving them time
Tabletop tablets for placing orders and paying the tab
Digital gaming and entertainment platforms, such as Buzztime BEOND, which are designed to enhance the customer experience by offering fun digital games
Restaurant mobile apps that reward consumers for their loyalty while encouraging social media interaction
Mobile-pay apps allowing customers to pay right from their smart phones
Mobile app-based loyalty and reward programs such as Punchcard enabling consumers to go virtual with their loyalty cards
Virtual giving and donation tools like LivnGiv that donates 20 percent of the customer's bill for free to participating non-profit organizations
How has technology helped your bar or restaurant to better serve your customers? We'd love to hear about your experience. Drop us a comment in the comment box below.