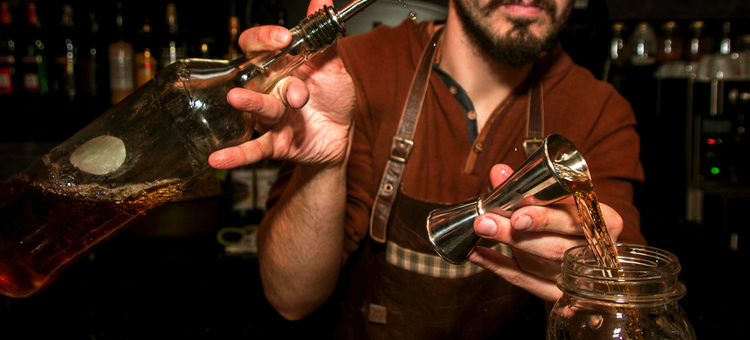 A bartender needs to be a diplomat when it comes to customers, efficient as a worker and the ambassador for your business. With that in mind, here are some important Dos and Don'ts for you to pass on to your bartenders:
DO

Make Friends: Make your customers a loyal "fan" base. Your tip hinders on their experience, even the perspective of their experience. So, get to know them and give them a reason to come back time and again. Learn their preferences and facilitate engagement by asking questions about their families, job, pets, etc., but be sure not to pry too much.
Be Knowledgeable: Know the conventional go-to drink staples, the bar's most popular drink concoctions, beer selections on tap and any local or seasonal beverages you may offer. Here is a list of drinks every bartender should know. In addition, be aware of local and customer favorites. Don't be afraid to suggest a new drink to an indecisive consumer. You are the expert, after all, and they are likely to be receptive of any recommendation you may make.
Be Able to Mold into Multiple Roles: You may think you are merely the conductor of the drink train, but you are more than just that! You play the role of a server, entertainer, confidant, psychiatrist, and so much more. Own this responsibility and capitalize on it.
Be Sure This is the Right Fit for You: So, you have mastered the art of creating the perfect cocktail, but you cannot seem to get into the groove of things. Consider if this is the right profession for your particular tastes. Here are a few things to consider when contemplating your job as a bartender. If you are certain this is the correct career path, these tips are helpful to become a better bartender.
Know When to Cut Someone Off: Although the situation can be awkward to confront, bars face major liabilities. As a bartender, you are aware of the behaviors that allude to a patron exceeding their alcohol tolerance. Here are a few tips on when and how to cut off customers who may have had too much to drink.
[fl_builder_insert_layout slug="whitepaper-signup-module-29-tactics-busiest-bars"]
DON'T
Obsess Over Tips: Don't fixate yourself on receiving a gargantuan tip. The rule-of-thumb tip guideline tends to be $1 per drink. All difficult math equations set aside, the more your customers drink, the money you make. However, your attitude toward poor tippers is easily exuded and can influence other patrons. The perspective from the other side of the bar is drastically different than your own. This article sheds light onto both sides of the equation. If you understand the way your customers think, you can match your behavior and achieve desired tips.
Play Favorites: This concept pairs with the preoccupation of collecting tips. Customers notice when they are not being served or recognized and will act accordingly. Survey the needs of customers on both ends of the bar and treat each patron equally, no matter how hard it may be.
Serve Beverages to Minors: This one probably goes without saying, but it's one of the most important (if not the most important) don'ts. You may not be the "cool parent" in their eyes, but there are severe consequences that surmount coming home at 9 p.m. after the high school football game. ID all patrons, especially ones who appear to be underage. Although this seems annoying and tedious, it will save you any legality issues in the long run.
Think Your Skills Are Impeccable: There is always room for improvement or a new and exciting way of completing a task. Art of Drink lists 50 signs that your bartending skills may not be up to par. Give yourself room for growth and be open to new drinks or presentations to awe your audience. You do not want your job to be a monotonous chore.
Forget to Clean Up: Customers notice the environment of your establishment. Simple actions like wiping down the bar, clearing unused glasses and using tongs to pick up any fruit that may be utilized in drinks will go a long way. A clean bar is a must.
What are some of Dos and Don'ts that are a part of your Bartender Commandments?