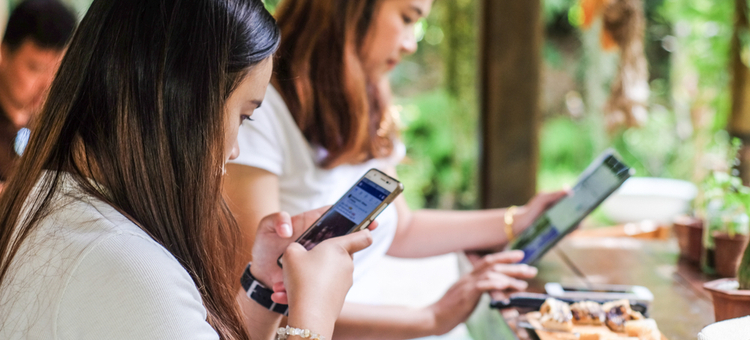 Embracing technology is an imperative for successful businesses. Whether to cut costs, increase production, go green, or take pressure off of staff, incorporating new technology into the customer and server experience will undoubtedly carry more benefits than drawbacks.
One of the hottest technological upgrades many restaurants are incorporating is the self-service point-of-sale (POS) tablet, through which customers can order and check out without even interacting with a server. Beyond cutting a few steps out of the process, what tangible benefits exist with these tablets? Are they worth the investment?
For restaurants with consistent business, these tableside ordering tablets are a financial blessing. Here are some of the top reasons to invest in self-service dining tablets:
Bigger Profits
With a self-service tablet at their table, customers are a few taps of the screen away from any of the food items on your menu. No effort is expended flagging down a busy server, and customers can act upon the impulse to order another appetizer or round of drinks immediately. This leads to a notable jump in sales per party.
Adding tantalizing pictures of your signature dishes to the digital menu is also correlated with increased sales. A tablet interface offers more flexibility for the layout and design of your menu. Take advantage of the customization of a digital menu to focus diner's eyes on scrumptious menu items that have the largest profit margin.
Higher Customer Satisfaction
With a tablet that allows customers to pay at their table payment is more secure, in actuality and in the minds of the customers. Since their card and cash are never out of sight, the payment is perceived as a more secure transaction. Customers also feel less anxious when paying, as their server won't necessarily see the tip amount the customer decides upon. Often, this will lead to higher tips because the customer feels empowered to act without social obligation.
In addition, tablets like Buzztime's digital dining system offer more flexibility with the order customization and with the method of payment. Customizing orders to their liking is easy with the tablet, and when they're ready to check out customers can split the bill evenly or by item with multiple payment methods.
Better Service
Contrary to current speculation, self-service dining tablets won't outmode servers – simply allow them to do their jobs more efficiently. Without the need to check in on each party for orders and for checking out, waiters and waitresses can focus on getting food to customers faster and ensuring every part of their meal is satisfactory.
When customers can check out at their table they can leave faster, which means table turnover rate is significantly higher. Transitively, the wait time before customers are seated is significantly lower, and customers feel like service is swifter and more accommodating. Being seated and served faster gives customers a better impression of your restaurant, and they'll be more likely to rate it favorably on important crowd-sourced review sites like Yelp.
For restaurants and bars that want to be positioned for success investing in self-service POS systems is worth the up-front.
[fl_builder_insert_layout slug="whitepaper-signup-module-top-ten-pos"]