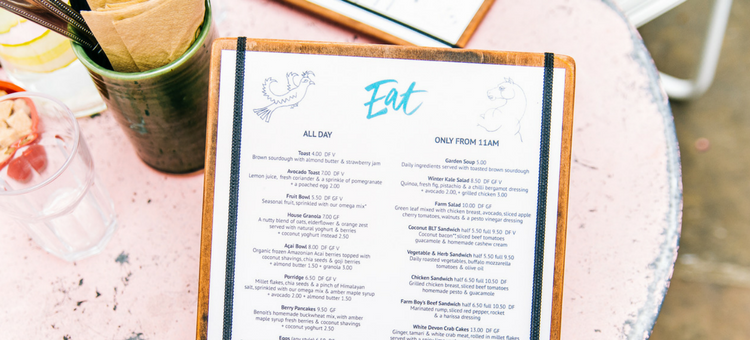 According to a Gallop poll, customers spend an average of 109 seconds looking at restaurant menus. You've got less than two minutes to make an impression! So what does this mean for you? It means that your menu's design is incredibly important—you need to impress customers and let them know about your offerings in an extremely short amount of time. Put simply, the design of your restaurant's menu can have some huge benefits!
It makes you look more professional.
We're not saying that the menus you printed out in your office aren't good, but think about things from your customers' point of view. Which is more impressive…a home-printed menu, or one that was professionally printed and laminated? Your menu is one of your first chances to show customers that you take your business seriously. Stay away from blacked-out prices, handwritten corrections, and typos. A perfect menu will show your customers that you can pay attention to details.
You can point customers toward the right dishes.
Chances are, you have some entrees that bring in more money than others, right? These are the dishes you'd love all of your customers to order. With a little time and research, you can design your menu so that these items get the most attention. Research shows that customers start reading on the upper right quadrant of the menu first, so it makes sense to put your most profitable entrees there. And remember that you can use things like boxes, bold lines, and graphics to direct customers towards the items you want them to notice.
[fl_builder_insert_layout slug="whitepaper-signup-module-create-menu"]
It helps brand your restaurant.
If a potential customer sees your menu online or in your window, what will they think? A well-designed menu should give your customers an idea of what your restaurant is like. Think about what message you're sending by using black and white versus color or one font instead of another.  Your menu is just another extension of your brand.
It's easy to read.
Part of a great menu design involves making your menu easy on the eyes. Is the font you chose easy to read? Is it big enough? Are your descriptions too long or too short? Is everything jumbled together, or is there enough space for your customers to focus on every menu item? If customers can't read or focus on your menu, then it isn't well-designed and it won't be effective.
It can grab customers' interests.
A well-designed menu might include pictures, which gives you a great opportunity to encourage customers to order your most profitable dishes. By choosing well-lit, appetizing photos, you can present your food so that customers won't be able to resist it.
Your menu is a lot more than just a list of dishes…it's a way to show your customers who you are. It can even increase your profits! If you focus on making sure your menu is designed well, you'll see benefits at your restaurant.