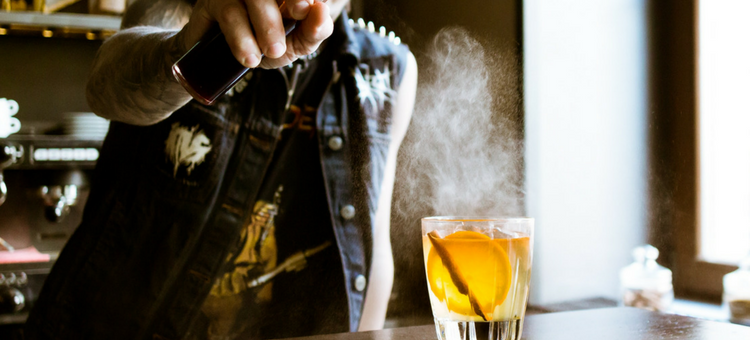 Bartending has to be one of the most challenging, exciting and demanding jobs around. It can also one of the most social and fun workplaces. This is assuming you get the right atmosphere and mix of people.
If you hit the sweet spot of getting it right, every staff member will happily give great customer service without fail. Ultimately, this will help to keep building a solid relationship with your customers, and keep your customers happy.
Spirited Training have put together some fundamental best practices of how bartenders can give great customer service.
1. Make eye contact
As Dale DeGeoff states when asked about giving the best bartending service possible. "The most important thing—the thing that needs to happen immediately—is eye contact." This really is true and will help you connect with your customers to hopefully build up to a strong relationship.
This initial contact is non-verbal. The key is to give the customer a good feeling straight off the bat that they are welcome in your venue. Add in a smile, a nod or wave (if you can't speak to them straight away) and it'll set you up for when you can serve them.
2. Have a friendly tone
After you've consciously acknowledged the customer from afar, the next point of contact is how you greet someone. It's always great when the tone of the bartender or server is happy.
This again is easier to emphasise when you have a smile on your face. So try your best to leave any outside matters that may be affecting your mood at the door, and greet every customer the way you'd want to be greeted.
3. Reading the room
This is not really a rule or a skill that has a tangible thing that can be set out by the venue or management. Reading the room means to analyze the customers, you'll need to know how to act, and when.
For example, if a bachelorette party comes to your venue, maybe you're encouraged to join in and be loud and jokey with them. Or if there's a group of business people in for a meeting, you'll need to tailor how you interact with them to suit their needs.
Reading facial expressions, attitude, emotions and drinking habits is not an easy one to quantify, but you'll need to master it. It's something that really can only come with experience. So, if you're new to bartending, watch how the more experienced bartenders handle situations. And as always, your venue will dictate how "involved" you can get with your customers enjoyment. (E.g. Maybe even if you want to, you should not get involved in a bachelorette celebration)
4. Thanking your customers.
It's not a big thing, it doesn't take a lot of time, and it means the world to a customer, so why wouldn't you?
A polite (not overly enthusiastic or sarcastic) "thank you" goes a long way. In todays bar experience, it's the little things that make your customer service stand out. A parting phrase, whether it's just a quick "thanks" after you've served them, or "have a great night" if they're leaving your bar, will stick in their memories.
5. Know your stuff
It's not easy to know everything about everything, but if you can master the background and some knowledge of the products your bar stocks, you're on to a winner. Some guests will undoubtedly ask "what do you recommend?", where you'll need to ask, "what kind of thing do you like?". You'll need to be armed and ready with your go-to staples, like what you have on draught, and what kind of wines you offer.
If they reply with "vodka cocktails, but nothing too fruity." You should have some great cocktails that fit that description to hand or know where to find them in your menu. Clue yourself up on what vodkas you stock, and a little about each so the customer can choose what they most like the sound of. This will get you another step closer to excellent customer service and repeat customers (and probably more tips).
Though keep rule 3 in mind. If the customer just wants to be served and not a display of your knowledge, then adapt what you tell them. You'll get the hang of it.
6. Go beyond expectations
This is a point that will vary from venue to venue. For example, if you work in a hotel bar, you may offer to carry someone's luggage to their room. Or at the end of the night, offer to call a taxi cab for a regular when you see them putting on their jacket.
You could strike up a conversation with a regular about a subject they're interested in (that may not be your ideal choice) such as shopping or sports teams. You could even entertain your guests with bar tricks or some flair bartending.
However, if you see an opportunity to go that bit further to help a customer (and you're able to do it) then why wouldn't you? This really epitomizes the meaning of great customer service.
7. Cleanliness
It goes without saying that (almost) everyone is put off by unclean people and places. If you walked into a bar to see someone picking their nose and ignoring a big spillage, then its safe to say that customer won't be back in a hurry.
So, keep this in mind. Turn up to your shift in a clean shirt and trousers (or whatever your uniform is). During any time when you're not serving, try to keep yourself and your bar tidy and clean. This can be especially important when serving food, as no one wants to sit down to a table which is sticky with last night's beer spills.
Let's keep the standards high and keep you and your bar presentable.
So, what does it mean to give excellent customer service as a bartender?
Be friendly, approachable, respectful and gracious
Keep yourself and your bar clean
Understand your customers' needs
Adapt how you interact with customers to give them the best experience
Go beyond expectations
And lastly, try to have fun. If you have fun, you'll keep a smile on your face easier, and it wont seem forced. It'll help you be naturally friendly and everyone benefits from that, especially the ability to give great customer service.
Bartending can be so much fun, and although these "rules" may seem like you must toe the line, most are common sense. If you remember to think "how would I like to be treated" and treat your guests like that, then customer service will come naturally.
[fl_builder_insert_layout slug="whitepaper-signup-module-33-customer-loyalty"]
About Author: 
Spirited Training offers online courses for the bartending industry.