December 5, 2018
32 Winter Bar Promotions with No Chill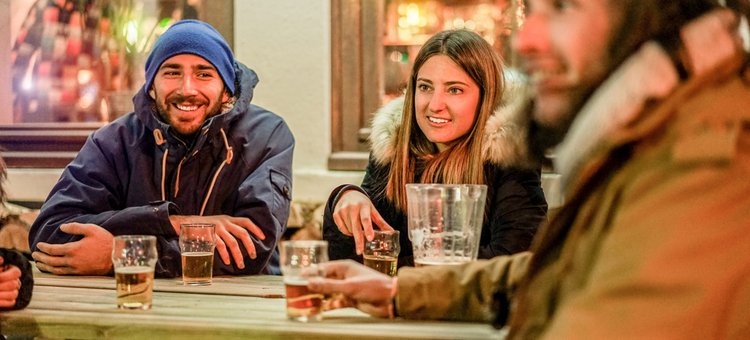 It may be freezing outside, but things are about to heat up at your bar. These 32 winter bar promotions give customers a reason to get out of their PJs and into your place for good times…all winter long.
Build Winter Bar Promotions Around Can't-Miss Events
1) Bartender Mini Demos
For the best ROI, kick off best winter bar promotions and events that repeat on a weekly basis. Start with a series of bartender 101 "classes."
Bartenders show guests how to whip up different classic cocktails each week while sharing interesting facts like yes, a true whiskey sour is always made with a raw egg. And no, the author of the James Bond books didn't invent the martini (but he did create the Vesper).
2) Resolution Ruiner Party
Your winter bar promotions can capitalize on the fact that only 8% percent of people keep their New Year's resolutions. Invite guests to indulge in an evening of high-calorie eats and top-shelf drinks.
3) Open Mic Night
Why pay for a band when your patrons can rock the mic? For a twist, try an open mic comedy night.
4) Live Trivia Night Tournament
Question: what's the best way to boost midwinter, midweek business? Answer: Host a weekly live trivia night. JR's Pub in Goose Creek, South Carolina ran an 8-week trivia digital live trivia event on Tuesdays and increased sales by 30%.
5) Bar Games Tournament
Darts. Flip cup. Indoor corn hole. Create an ongoing tournament as one of your winter bar promotions so customers can battle it out each week.
6) Throwback Thursdays
#TBT is still one of Instagram's most popular hashtags. Get in on the action with #TBT winter bar promotions. Each Thursday, play music from a particular decade. Or, just stick with 1990s rap – beloved by just about everyone.
7) Bust a Move
Millennials may know how to do that floss dance, but can they even salsa? Hire a local dance instructor to teach guests some new moves. Include awesome winter bar promotions on drinks and apps meant for sharing.
8) Boozy Book Club
Give book worms a choice. Do they want to meet in Karen's living room, or discuss Tolstoy over tequila at your bar?
9) Customer Appreciation Nights
Show your customers some love with a recurring customer appreciation event on a weeknight. Line up special deals and winter bar promotions just for your most loyal customers.
Sports-Focused Winter Bar Promotions
10) Be a Big Shot
In January and February, college basketball is in full swing. Invite guests to hoop it up with a trick shot contest a lá Lebron. All you need is an over-the-door hoop and mini basketball. Check out 13 more slam-dunk winter bar promotions focused on basketball.
11) Football Playoffs Pay Off
That big professional football game arrives in early February, but don't forget the playoff games. Create winter bar promotions for each playoff: like "progressive" wing specials. During the first quarter, wings are a quarter…second quarter, they're 50 cents each…you get it.
12) Be Ready for the Big Game
Start planning your big game winter bar promotions now. You could offer VIP seating with prime viewing and a round of free appetizers for large groups that book in advance.
13) Play Along with Winter Bar Promotions
If you're in a town with a big sports team, offer specials based on how the team performs. One bar in Upstate New York offers free pizza slices for an hour after the home basketball team wins. The line is always out the door…
26 Bar Promotions That Work
The ultimate guide for owners & managers.
Unsung Heroes: 10 Winter Holidays Worth Celebrating
14) January 4th: National Trivia Day
If you're one of the 2,700+ bars and restaurants in the Buzztime network, you'll already have trivia on tap for guests all day long. At the very least, launch winter bar promotions that require guests to correctly answer trivia to unlock special deals.
15) January 17th: National Hot Buttered Rum Day
This deliciously old school drink gets a day of its own. Run winter bar promotions on house-made hot buttered rum during happy hour.
16) January 20th: National Cheese Lovers Day
Get cheesy with your winter bar promotions. Host a wine and cheese tasting. Ask your distributor if they can send in a wine rep. Bonus points if you can source local cheese, too.
17) January 24th: Canned Beer Appreciation Day
Host an open mic night and require participants to switch out lyrics to focus on beer. Example: "My Girl" by the Temptations becomes "My Beer." Awww. Obviously, offer winter bar promotions on canned beer to celebrate this very special holiday.
18) February 2nd: Groundhog's Day
Keep 'em guessing…In the days leading up to February 2nd, tease these winter bar promotions on social media. If the groundhog sees his shadow, wines by the glass are half off. If he doesn't? Draught beer is half off. Either way, everybody wins.
19) February 9th: National Pizza Day
Take a cue from popular NYC bars who attract crowds with free food during happy hour. Try out this concept on National Pizza Day by offering complimentary pizza slices. See if drink sales increase…
20) February 14th: Valentine's Day
Oh look! A big holiday in the dead of winter! Use these 14 Valentine's Day bar specials and events to rock your winter bar promotions.
21) February 18th: National Drink Wine Day
Send guests around the world with global wine tasting winter bar promotions. Serve wine paired with small plates inspired by the region of origin: Spanish Tempranillo red wine with serrano ham, French Chardonnay with brie, and slightly sweet New York Finger Lakes Riesling tames the heat of Buffalo wings.
22) February 22nd: National Margarita Day
Warm up your winter bar promotions with great deals on margs (and bottomless chips and salsa).
23) End of February through Early March: Carnival
Bring the insanity of Mardi Gras and carnival celebrations to your winter bar promotions. Host a mini masquerade ball at the bar and give discounts to anyone wearing a mask. Serve Cajun-inspired eats from jambalaya to shrimp and grits.
Menu-Focused Winter Bar Promotions
24) Brews + Stews
Create a pairing menu of winter beers and hearty, house-made stews. Stews are one of the best high-margin menu items: lesser (and cheaper) cuts of beef are transformed into a savory meal after simmering.
25) Talk Tiki to Me
Paper umbrellas. Ceramic tiki glasses. And fruity flavors. Yes, tiki cocktails are cool again. From hot spots in Miami to posh Chicago clubs, guests are saying "make mine a Mai Tai." Give guests a tropical escape with winter bar promotions on classic tiki cocktails.
26) Meatless Eats
The plant-based revolution is underway. Get in on the action by adding some meatless appetizers to your menu. Try falafel patties with a hummus trio, crispy tofu fingers, or wheat berry "wheat balls" with marinara.
27) Bar Snacks Makeover
Build winter bar promotions around a new snack menu: from baked chickpeas dusted with pepper and parmesan to bacon brittle.
Team Up on Winter Bar Promotions
28) No Brrrrr, Just Bar Crawl
Partner up on winter bar promotions and organize a bar crawl. You could even create a series. One week it could be a different hot alcoholic beverage at each bar: from hot toddies to Irish coffee. Another week? It's a chicken wing walk-off, and participants vote on the best wings in town. You could do the same with chili (a "Chilly" chili walk…get it?).
29) MLK Day of Service
Most people have the Monday of Martin Luther King Day off, and many restaurants and bars are closed on Mondays. There's also a new trend of people volunteering on MLK day. So why not organize a volunteer event? Your staff and patrons could work on a Habitat for Humanity house or take a shift at a soup kitchen.
On top of supporting your community, charitable winter bar promotions and events can help boost business. According to the Edelman Good Purpose study, 72% of people recommend businesses that support for causes they care about.
30) Walk with Heart
Keep the collaborative spirit going in February, which is heart health month. The American Heart Association hosts Heart Walk fundraisers in towns across America. Create a team on behalf of your bar and get your walk on! Invite both patrons and staff to join your team, and host a wrap-up party at your bar after the walk.
31) On and Poppin'
A little retail therapy can help with the winter blues. Invite a different local retailer to set up a pop-up shop in your bar each week.
32) Brew Up More Business
Reach out to your nearest craft brewery or distillery to brew up a partnership. Don't stop at putting their booze on tap. See if the brew master would like to host a monthly tasting event, or collaborate with your chef on a midwinter pairing menu.
These 32 winter bar promotions will give customers a reason to bundle up and out to your business. Cheers to a successful winter season…with no chill.