April 23, 2019
8 Ways Restaurants Can Boost Corporate & Group Bookings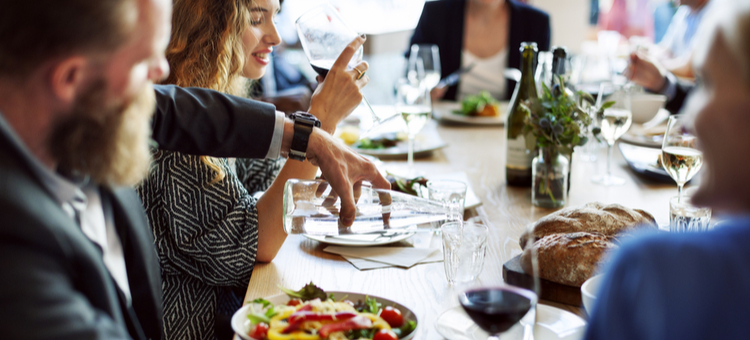 Booking private groups at your restaurant is a fantastic way to increase revenues and build your customer base. If you haven't explored the possibility of booking large groups or corporate events, here are some tips to get you started.
1. Have a Dedicated Event Manager
People planning special events, like receptions or work dinners, may not be well-versed in planning them. Rather than simply taking a reservation for a party of 18 and then letting your wait staff sweat it out the night of the event, have a staff member responsible for assisting people with these bookings. Review best practices for event planning at restaurants and you'll be a pro in no time…
That assistance might include designing a limited menu or prix fixe menu to streamline orders in the kitchen and eliminate some of the analysis paralysis that comes with ordering. It might include arranging your private room to accommodate the group's needs. Or, help with planning a surprise for the birthday girl at a party. This extra help will go a long way to fostering a positive customer experience.
2. Market Your Catering Services
Even if you don't have a dedicated private space for large groups, you can still appeal to them by offering catering to local businesses. For example, nearby companies are always looking for a convenient lunchtime catering option. Use these 10 tips for catering corporate lunches to get started!
Beyond providing details on your catering menu and prices on your website, go door-to-door in your immediate community. Introduce yourself and your restaurant, and offer special "neighbor discounts" to encourage local businesses to order from you.
3. Pick a Slow Night
Likely, one or more weeknights are slow for your restaurant. These are the days you need to pump up for corporate and group events. Create discounted packages with built-in menus for those nights, as well as add-ons like decorations and music.
The cost for these weeknight events should be significantly less than what you charge for weekends so that people will be compelled to book then.
The Supreme Guide to Throwing Live Events at Your Bar
The ultimate guide for owners & managers.
4. Plan Your Ingredient Needs Accordingly
It's even more imperative than usual that you be in stock for all supplies you need for larger groups. That means you need to rely on both your inventory management software and your planning skills.
Offering groups a limited menu means you can have at least a general idea of how many of a particular dish your chef will need to prepare that night. Opening up the entire menu puts you at risk of running out of some dishes, which will leave a negative impression in the minds of those diners.
5. Set a Deadline
The further out an event is booked, the better you can prepare and plan to have the ingredients for that event. Give people a cutoff for when an event needs to be booked to ensure that you both have the ingredients as well as the staff ready to exceed their expectations.
6. Market to Corporations for Specific Events
If you stay tapped into what's happening in your community, you can find lots of opportunities for group bookings. A restaurant in New Orleans could market to Krewes celebrating Mardi Gras. One near a sporting arena could promote team celebrations. And then, of course, there are holiday parties to leverage.
Make sure you reach out to corporations months before their planning gets underway so you make it easy for them to celebrate their special events at your location.
7. Consider Closing…for the Right Event
Not every restaurant has the luxury of a dedicated space for larger events, but that doesn't mean you can't still host them. While you don't want to make a habit of closing your doors to regular patrons, you can do so on slower nights if the price is right. Set your price and minimum number of guests so that you're ensured to make more than the restaurant would on a normal night. Follow these 10 tips for hosting private parties at your restaurant.
8. Send a Reminder
If a group booked your restaurant for its event last year, put it on your calendar to check in this year to see if they want to come back. A simple handwritten card in the mail can work wonders at securing annual business from companies who want an easy and memorable venue for their regular events.
Spending a little energy on securing corporate and group bookings can have a fantastic effect on your bottom line.