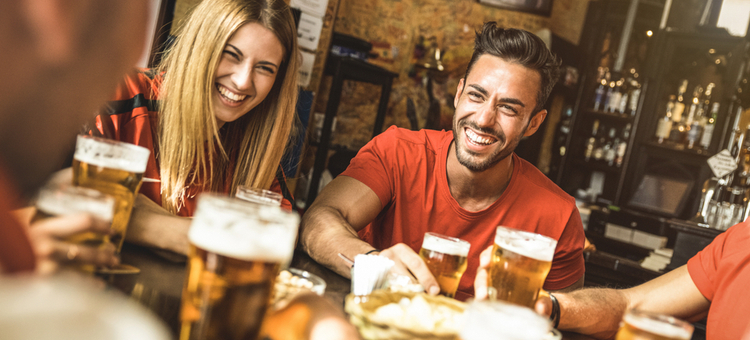 Fermentation tanks that "talk." Machines that imprint images onto beer foam. Smartphone microscopes that perform yeast counts in minutes. When it comes to brewery technology, the future is now. Discover how to tap into the latest tech, all created to help your brewery do business…better.
Customer-Facing Brewery Technology
1) Beer Apps: Get Found, Be Loved
In the craft brew crowd, the only thing better than drinking beer is talking about it. It's not enough to sit back and savor a crushable, juicy IPA. You've got to let your crew know that A) you tasted it, B) where you found it, and C) what you think about it. That's where apps like Untappd and TapHunter come in.
This social media brewery technology can put your place on the map. Users "check in" at bars and breweries, alerting other beer lovers. Your brewery is likely listed on the app, but you can take this brewery technology to the next level with paid advertising. Check out the case studies at Untappd: Spots like Night Shift Brewing in Massachusetts have gained hundreds of new customers with this brewery technology.
2) Beer Foam Art
Why let baristas bask in the glory of Instagram fame with their latte art?
Get in on the action with brewery technology that imprints art onto beer foam. Using dark ink made from malt and a 3D printing device, the Beer Ripples machine can imprint almost any image onto beer foam.
Yes, you could take a selfie, send it to your Beer Ripples machine and boom! This brewery technology puts your mug – in the mug. (Mind blown.)
3) Digital Signage for Breweries
Chalkboards featuring your latest brews look cool, but are a pain to keep up with. That's why breweries like Cigar City in Tampa are using digital signage to spotlight what's on tap. This brewery technology brings your tap list to life with photos, tasting notes, and prices.
If you've already got TVs in your brewery, simple digital signage software can turn them into eye-catching billboards. This brewery technology includes templates you can customize to highlight events or feature a new brew.
Unlike a chalkboard, digital signage drives sales. A study by Nielsen found that sales of items promoted on digital signage increased by 33%.
4) Trivia on Tap
Question) What's the best way to create a lively social scene at your brewery?
Answer) Run a live trivia event.
Take a cue from those neighborhood pubs who enjoy a surge in business whenever they host live trivia night. There's no need to hire a pricey trivia host. Instead, the latest brewery technology gives you everything needed to run a trivia game: from trendy questions to handheld tablets for automatic scoring.
These handheld brewery tablets also connect guests to a nationwide trivia network. Guests can come hang out at your brewery and join in trivia competitions that run 7 days a week, 15 hours a day.
Behind-the-Scenes Brewery Technology
5) Brew a Better Beer
The best things in life really are free. Stop what you're doing and download the free DraughtLab app. This app connects you to the same brewery technology used at big craft breweries like Boston Beer Co. It was created in 2016 by Dr. Nicole Garneau and Lindsay Barr, a sensory specialist at New Belgium Brewing.
DraughtLab is like your very own sensory scientist. Here's how this brewery technology works: You're working on a new gose, but aren't sure it's ready for release. You would ask a few trusted tasters to use the app to rate the beer: its mouthfeel, aroma, and taste. If the tasters select any off-flavors in the gose (like "nutty" or "caramel"), the app red flags the beer.
DraughtLab's brewery technology is based on the Beer Flavor Map, which replaced the outdated Beer Flavor Wheel invented in the 1970s.
[fl_builder_insert_layout slug="whitepaper-signup-module-top-ten-pos"]
6) Yeast Mode: Smartphone Microscope
Brew masters know that consistent, high quality yeast leads to great tasting beer. That's why established breweries send out their yeast for lab analysis or perform a time-consuming yeast count on site.
Now, the Oculyze app puts this sophisticated brewery technology in your hands. How? With a microscope that's attached to your smartphone (seriously). The microscope magnifies yeast 400 times and then automatically counts it and verifies its viability.
7) Brewery Technology to Manage Your Biz
Let's shift from microscopic yeast to the big picture: how you're running your brewery business.
Over 350 breweries are turning to OrchestratedBEER to centralize their operations. OrchestratedBEER promises to "manage every aspect of your brewery, from the back office to the production floor." This single solution can replace spreadsheets and clipboards with easy-to-use software and a mobile app. It acts as a virtual hub, linking all of your systems from accounting to staffing.
8) Capture the Carbon
Looking to run an eco-friendly brewery? Follow the lead of Lolo Peak Brewing Co. in Montana. They're using the CO Brew system to capture – and then reuse – the carbon dioxide produced during the brewing process. This brewery technology has reduced Lolo Peak's carbon footprint by an impressive 90%.
9) Tanks That "Talk"
During the beer fermentation process, ever wish your tanks could talk? The BrewMonitor system has made your brewing dreams come true with real-time fermentation monitoring. No worries, you won't need to replace your tanks. BrewMonitor devices can be retrofitted to your gear.
Once installed, you can access data and manage tank settings from your computer, tablet, or smartphone. BrewMonitor even sends alerts if all is not well within your tanks. From dissolved oxygen to pH levels, temperature to density, this brewery technology keeps watch on everything.
Brewery Technology 2020: What's on the Horizon
10) Would You Go Hopless?
You've heard about meat made in a lab. The same thing is happening in the world of brewery technology. Someday soon you could brew a hopless IPA – that tastes like its loaded with hops.
You can thank (or chastise) a team of biologists at the University of California Berkeley. They genetically modified a strain of brewer's yeast to perform two jobs: ferment beer and deliver a hoppy flavor.
Feeling skeptical that a yeast can produce hop notes? Twenty seven employees from Lagunitas Brewing Co. were given two beers: one made with real hops, the other with the new yeast. The tasters overwhelmingly stated that the beer made with the new yeast was "hoppier."
While genetic modification is controversial, the potential benefits of this new brewery technology can't be ignored. Producing hops is an expensive process and the flavor can vary from year to year. The "hoppy" yeast would offer an affordable, consistent alternative to real hops.
From yeast counting to accounting, brewery technology can optimize almost every aspect of your operation. Adapting the latest tech is also a great way to brew up more sales through beer finder apps, digital signage, and brewery tablets. So, raise your glass and say cheers to putting more tech on tap.