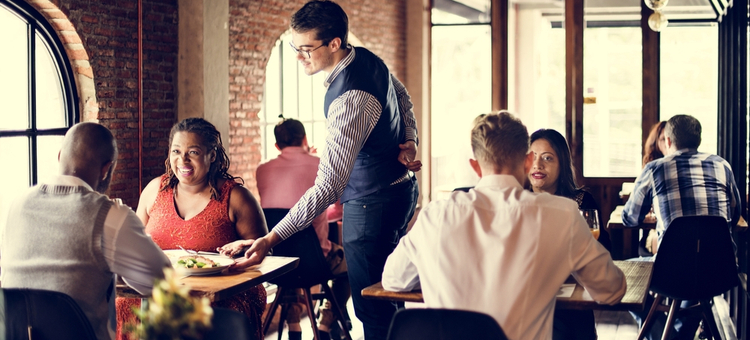 Everyone has dealt with bad servers before. Whether they're rude, inattentive, or forgetful, a bad server can be enough to turn you off of a restaurant forever. Of course, you want your servers to help build business, not scare off customers. But how can you do this? By making sure your servers interact perfectly with customers. Start by treating your servers as the face of your restaurant. Naturally your food is important, but customers don't interact with the cooks! Servers are often the only restaurant employees your customers actually talk to, so think of them as your brand representatives. Make sure your servers know they're an important part of your business strategy, and train them accordingly. Here are a few tips to share with your servers to be sure they're doing everything they can to accommodate guests and boost business:
Be friendly.
It may go without saying, but if your servers mumble and avoid eye contact, customers won't be engaged. Few things are as important as starting out an interaction by making eye contact, smiling, and thanking customers for coming in. Your customers need to feel a personal connection with your restaurant if you want to keep them coming back.
Be knowledgeable.
When customers ask for a recommendation, you don't want your servers to say, "I don't know," or "Everything here is good." Make sure your servers have favorite dishes that they can enthusiastically describe and recommend to customers. And don't forget about wine and beer! Your servers don't have to be master sommeliers, but they should at least know which drink would go best with a customer's steak. Customers want to eat at a restaurant where the servers know what they're talking about and can share their wisdom!
Ask specific questions.
Forget about "How is everything?" or "Do you need anything?" Those questions are vague and not all that helpful. Train your servers to get specific and ask things like, "How's your salmon tonight? Is it cooked the way you like it?" or "Do you need any more ketchup?" This lets your customers know that the server is paying attention, and it ensures that they'll have everything they need.
Put the customer first.
Of course you want your servers to push extra drinks, appetizers, desserts, and all the other little things that can make a bill really add up. But make sure they don't do so at the expense of the customer! Customers don't like being pushed, and if they feel like they're being taken advantage of, they won't become repeat customers. Your servers should be on the customer's side. If they see a way for the customer to save money, they should point it out. When customers feel like the server is looking out for them, they'll feel more comfortable coming back again and again.
By training your employees to be friendly, be knowledgeable, ask specific questions, and put the customer first, you can help boost your business. Remember, your servers are the face of your business, so make sure they represent your restaurant.
How do you train staff to be attentive to detail?
[fl_builder_insert_layout slug="whitepaper-signup-module-rewards-program"]