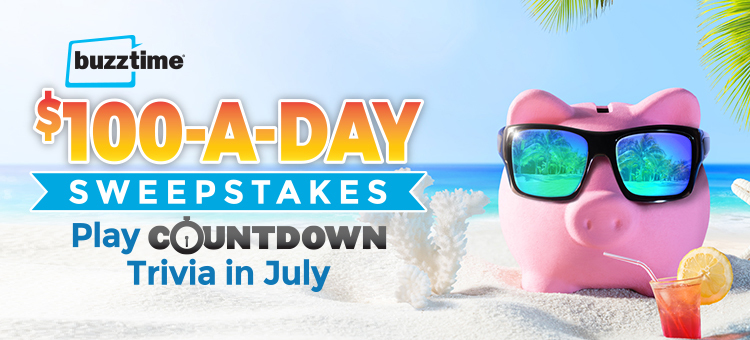 Buzztime is heating up your summer business with an awesome new sweepstakes. Every day in July is a chance for your guests to win $100 – just for playing Buzztime Countdown Trivia. Now, start building a buzz for your venue with this social media toolkit plus 5 promotional tips.
We're also alerting the 10 million registered Buzztime players about the sweeps with a weekly email campaign, social media mentions, and in-venue ads that will run on TVs and tablets.
The Basics: How the $100-a-Day Sweepstakes Works
We built the sweepstakes around Countdown Trivia, one of the most popular Buzztime trivia games. Countdown Trivia runs 7 days a week, starting at 2pm. Use the sweepstakes to bring in guests all day long!
Here's how it works:
Registered Buzztime players can earn one sweepstakes entry per day for playing Countdown Trivia.
One player will win $100 every day in July. Yes, that's 31 chances for each guest to win!
1) Get Social with Us!
Talk up the sweepstakes on social media. Use #Buzztime and #Sweepstakes to let guests know that Buzztime is running the promotion.
"Tag" Buzztime on social media. You'll align your business with this buzzworthy national promotion:
Facebook: @Buzztime
Twitter: @Buzztime
Instagram: @PlayBuzztime
Tell guests to take pics and share them on social media using #Buzztime #Sweepstakes #YourBusinessName
2) Focus on New Registrations
The sweepstakes are the perfect opportunity to build up your Buzztime player base. Invite patrons to take a shot at $100. All they have to do is register first on a Buzztime tablet, then play Countdown to earn their sweeps entry.
Buzztime players are your best customers! They spend an average of 21% more per table check, and come back more often according to an independent Nielsen study.
Reward staff for helping guests register as Buzztime players. Why not hold a competition to see who can get the most players registered?
3) Create Happier Hours and Late Night Wins
Since Countdown Trivia runs from 2pm until 10pm every day, you can integrate the sweepstakes into your current marketing efforts at every daypart.
Taps, Apps, and Trivia Happy Hour: Offer specials on appetizers and beer combined with the chance to win $100. Set out Buzztime tablets at the bar, and invite guests to join in a quick 30-minute round of Countdown.
Late Night Wins: Many bars and restaurants are launching late night happy hour menus. Try out the concept in July, and use the $100-a-Day sweepstakes to kick it off.
4) Go LIVE on Instagram and Facebook
Jump into the live stream and show off the "vibe" at your venue. Live videos on Facebook result in 6x more engagement (according to Mark Zuckerberg himself).
Record a live video on your smartphone of a few patrons playing Countdown Trivia and ask them what they'd do if they won $100. (Just ask their permission before you press record).
Need tips for going live? Use this 6-step guide to live streaming.
5) Start a Conversation Online and IRL
Use the $100-a-Day sweepstakes to engage your followers – both in your venue, and on social media. Whether it's a bartender talking to a patron, or a post on Facebook, use these conversation starters to promote the sweeps in a casual way:
Have you ever won anything? A lottery? A 50-50 raffle? Tell us, then play Countdown Trivia to see if you're today's winner in the @Buzztime $100-a-Day sweepstakes!,/li>
How would you spend $100 if you're this week's winner in the @Buzztime $100-a-Day sweepstakes?
What's your favorite beer? Tell us, then come grab a beer – and play a round of Countdown Trivia for a chance to win in the @Buzztime $100-a-Day sweepstakes.