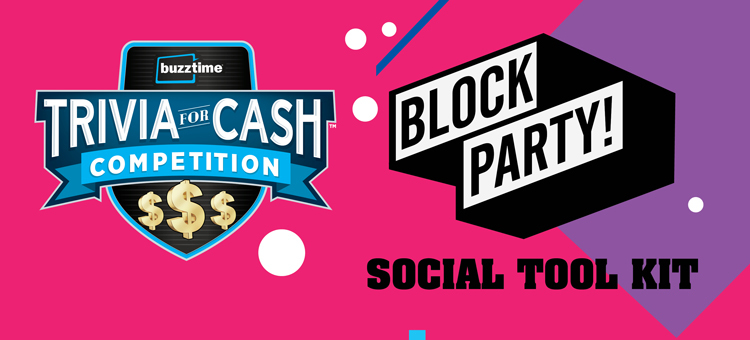 The nation has gone crazy for trivia. So Buzztime is bringing everyone together this May for one big Trivia for Cash Block Party!
Every Saturday evening in May, your customers have a chance to win cash prizes just for playing a little trivia at your location. This toolkit includes graphics and tips to make your place the hottest spot on the block…
Trivia for Cash Block Party Basics: $1,000 in Cash Prizes Up for Grabs Every Saturday Night
Any customer can compete, they just need to register on a Buzztime tablet (it's free and fast)
The Block Party starts every Saturday in May @ 4:30 PT / 5:30 MT / 6:30 CT / 7:30 ET
Players can join in back-to-back games of History Trivia, followed by Movie Night and Pop Culture
Games are just 15 minutes, and the 10 highest scorers in each game win cash.
As always, the Buzztime team is sending emails to all 10 million registered Buzztime players – inviting them to compete in the Trivia for Cash Block Party. Join us and spread the word using these tips…
1) Train Your Team to "Take 3"
Buzztime provides the games and the prizes. All you need to do is take the following 3 steps on Saturday afternoon:
Step #1: Turn Your TVs to Buzztime
Make sure at least one TV is set to the Buzztime Network so players can compete!
Step #2: Set Out Charged Tablets
Place charged Buzztime tablets on bar tops and table tops.
Step #3: Invite Players to Compete
Your servers and staff should invite customers to participate. Help them register, explain the game, and of course…talk up the cash prizes!
2) Always Tag Buzztime
It's a big deal that you're one of the locations hosting the nationwide Trivia for Cash Block Party! Align your business with this big promotion by tagging Buzztime on social media whenever you post about the Block Party:
Facebook: @Buzztime
Twitter: @Buzztime
Instagram: @PlayBuzztime
Tell guests to tag Buzztime in their own photos and videos using #Buzztime #BlockParty and #YourBusinessName.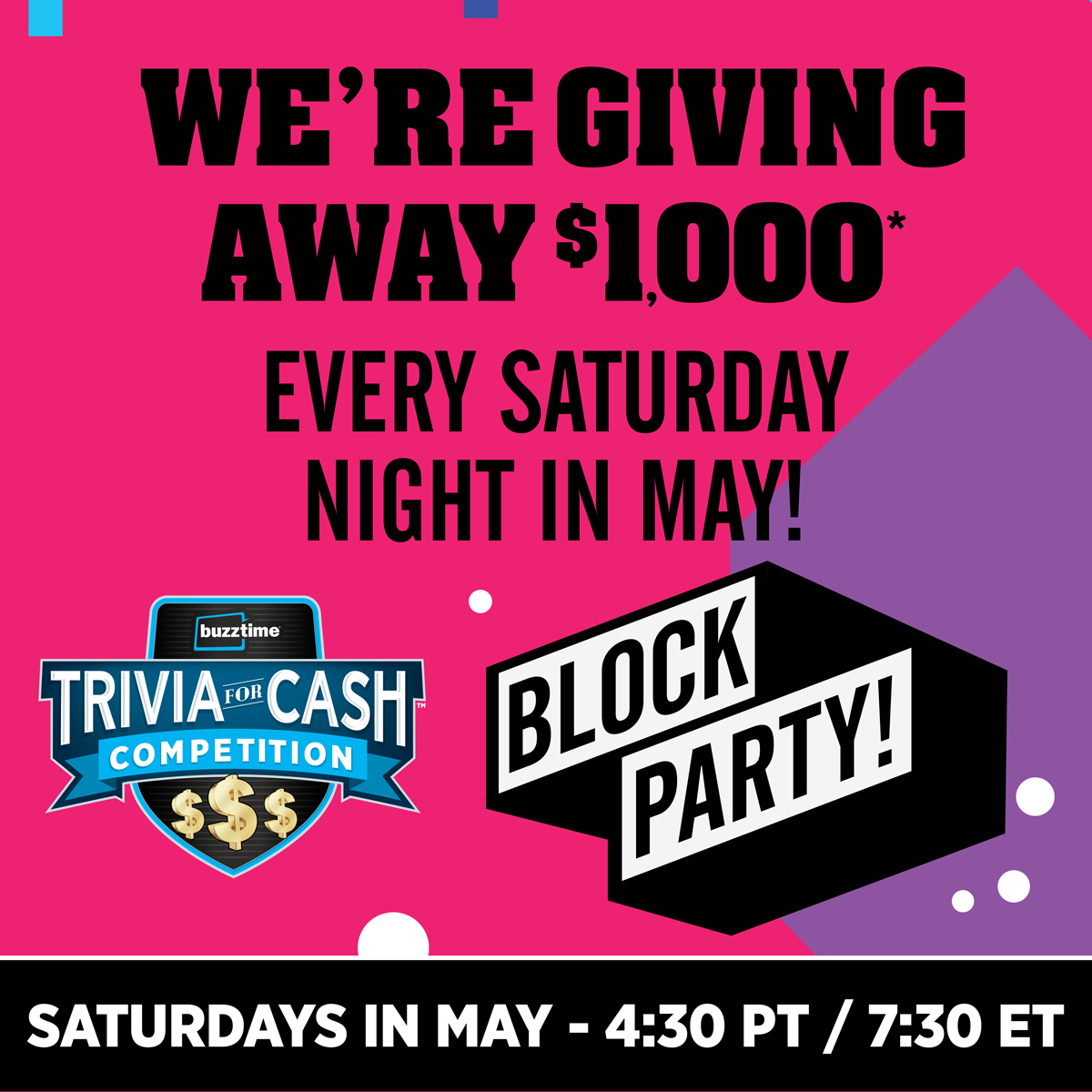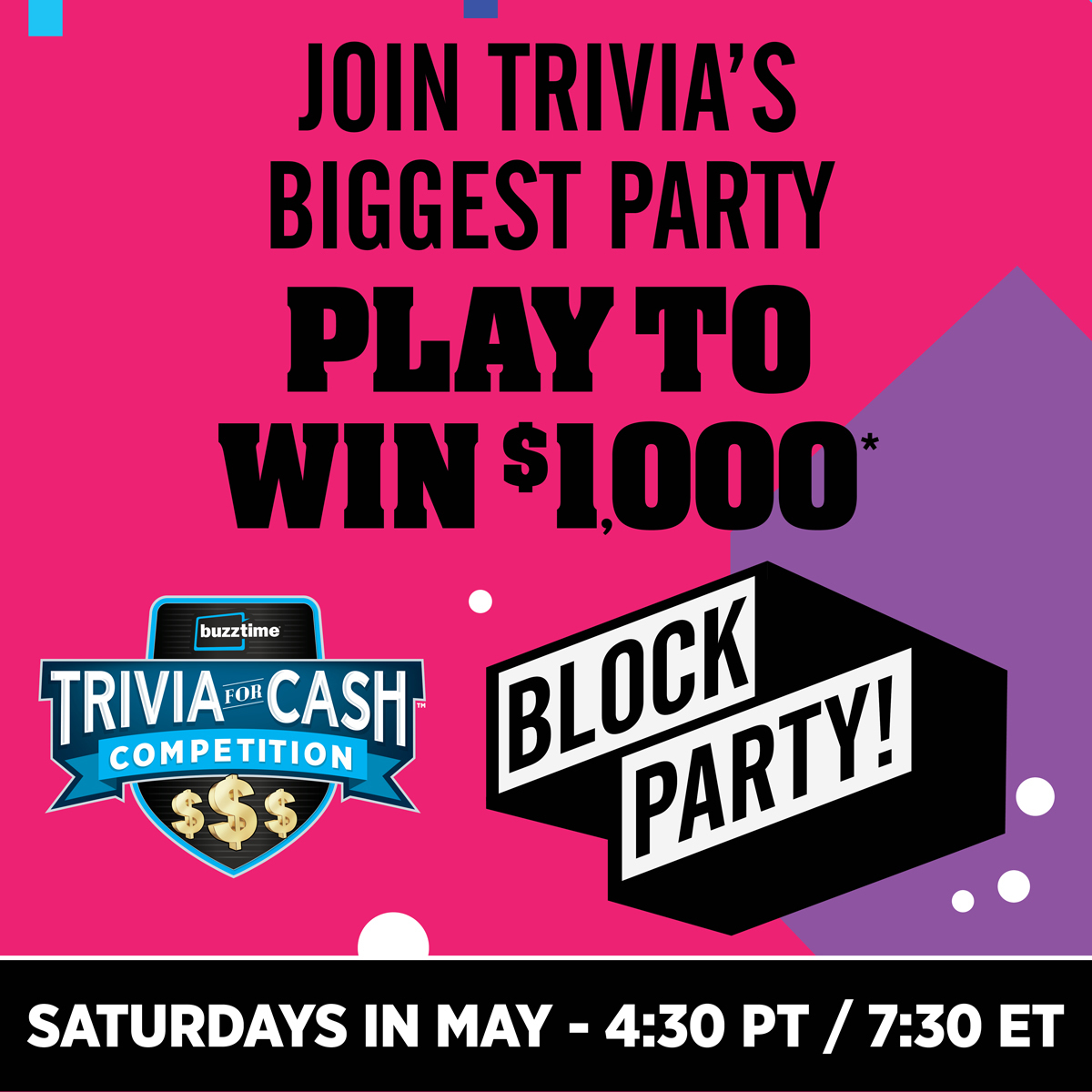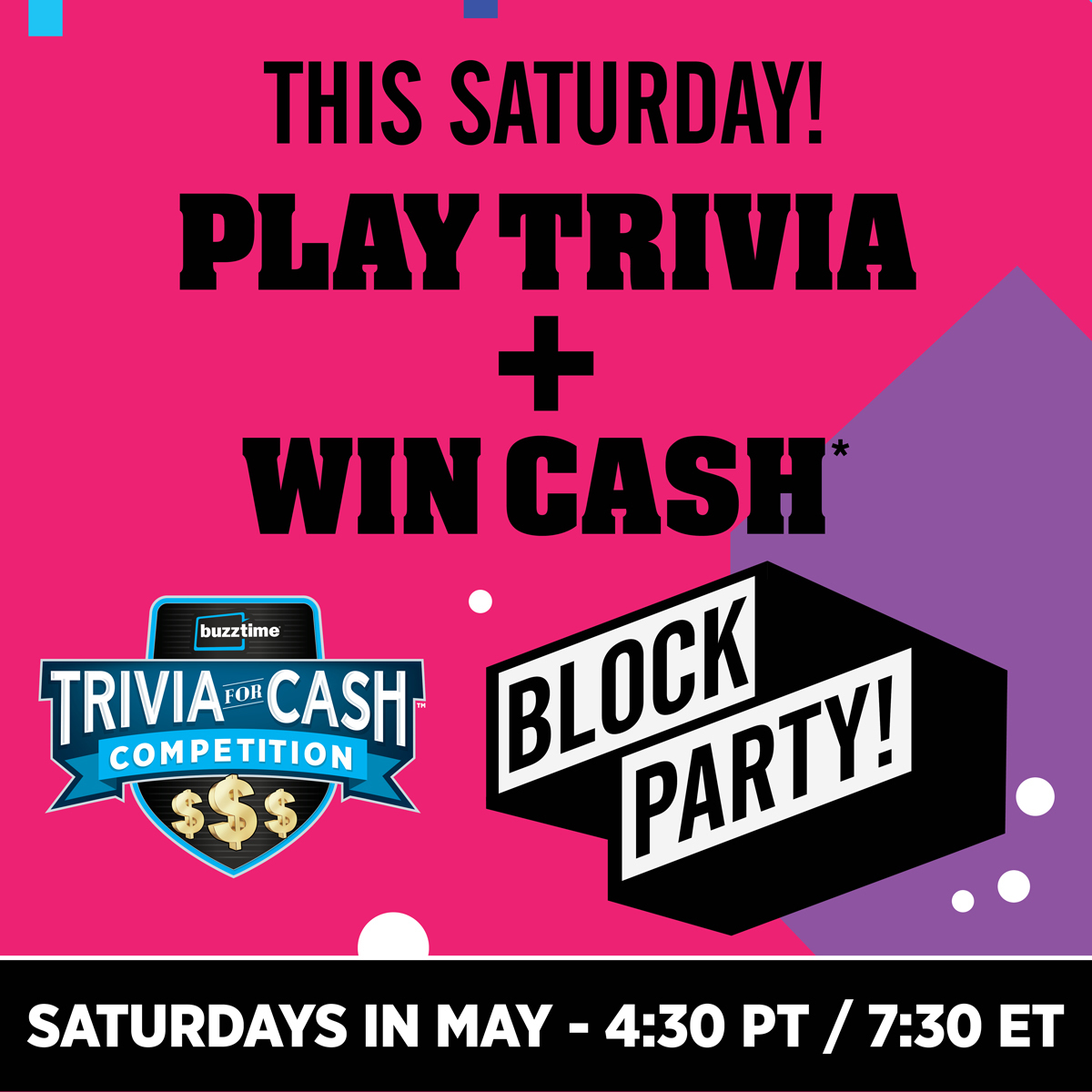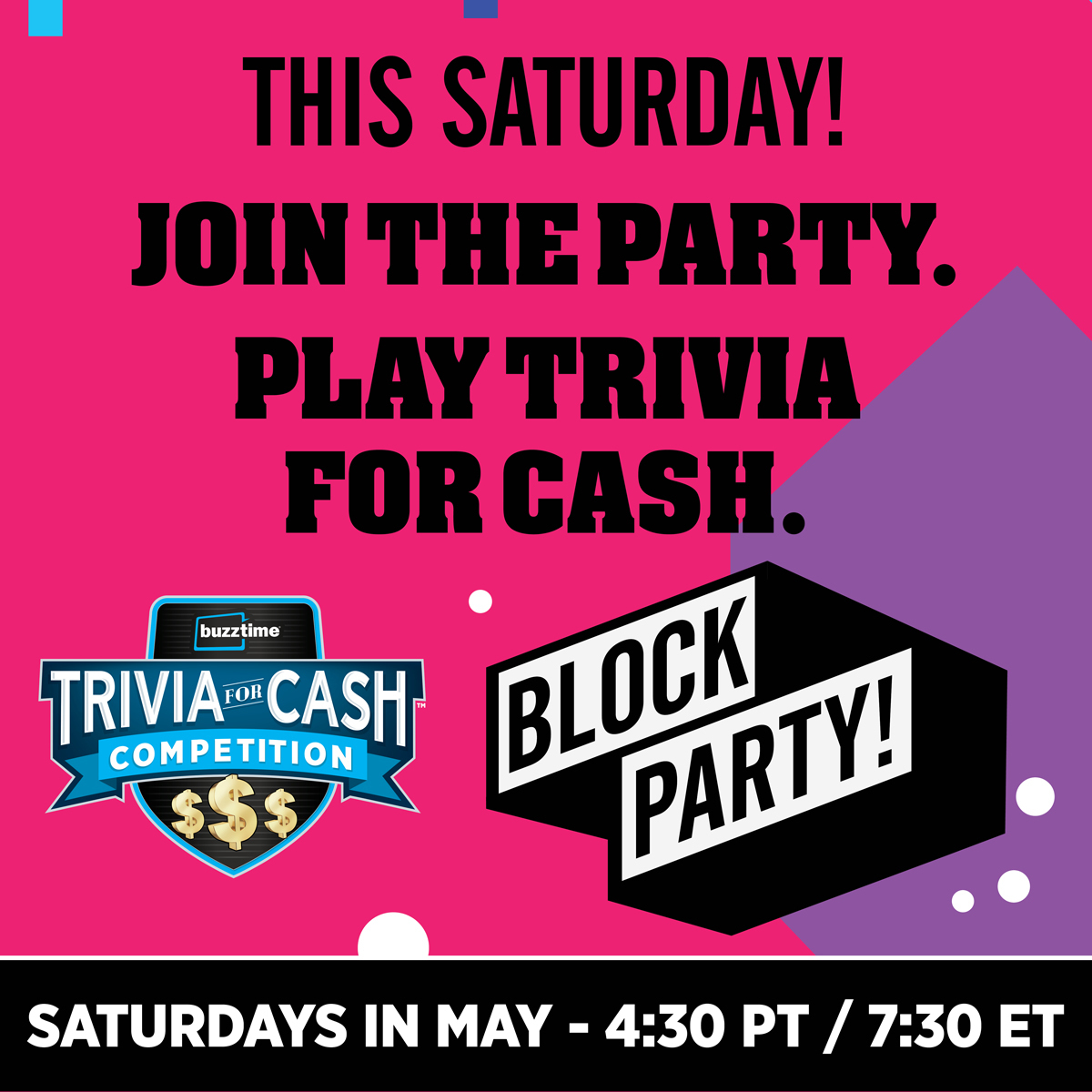 3) Build up Your Roster! Focus on New Player Registrations
With a chance to be 1 of 40 winners every Saturday, the Trivia for Cash Block Party is a great time to build your Buzztime player base. Your existing, registered Buzztime players are all set. But new players need to register so their gameplay can count as a sweepstakes entry.
Getting guests to register will pay off all year long: Buzztime players spend 21% more per table check on average (according to an independent Arbitron study).
Train your crew! Show every server and bartender how to help patrons register on the Buzztime tablets. It takes just a minute or two. Tell your staff to remind customers that once they've registered, they can compete for cash in monthly competitions held throughout the entire year.
4) Create a Facebook Event, Line Up Posts, Send Emails
Make the Trivia for Cash Block Party your own event! Set up a Facebook event for every Saturday in May with a start time that's an hour before the competition begins. Encourage players to arrive early and enjoy specials on drinks and appetizers. This also gives you plenty of time to get new players registered.
You can also use our graphics to pre-schedule social media posts. Use a platform like HootSuite to line up your posts for the entire month of May so everything runs on autopilot!
Send out an email inviting customers to compete for a portion of $1,000 in cash prizes given away every Saturday during the Trivia for Cash Block Party.
5) Use the Trivia for Cash Block Party to Spark Engagement  
Have some fun with your customers on social media and boost engagement by asking questions like:
How would you spend $100 if you're one of the highest scorers in Saturday's @Buzztime Trivia for Cash Block Party?
Now that you have these graphics and 5 easy tips to promote the Trivia for Cash Block Party, you're all set for success. Cheers to an awesome start to your summer season!