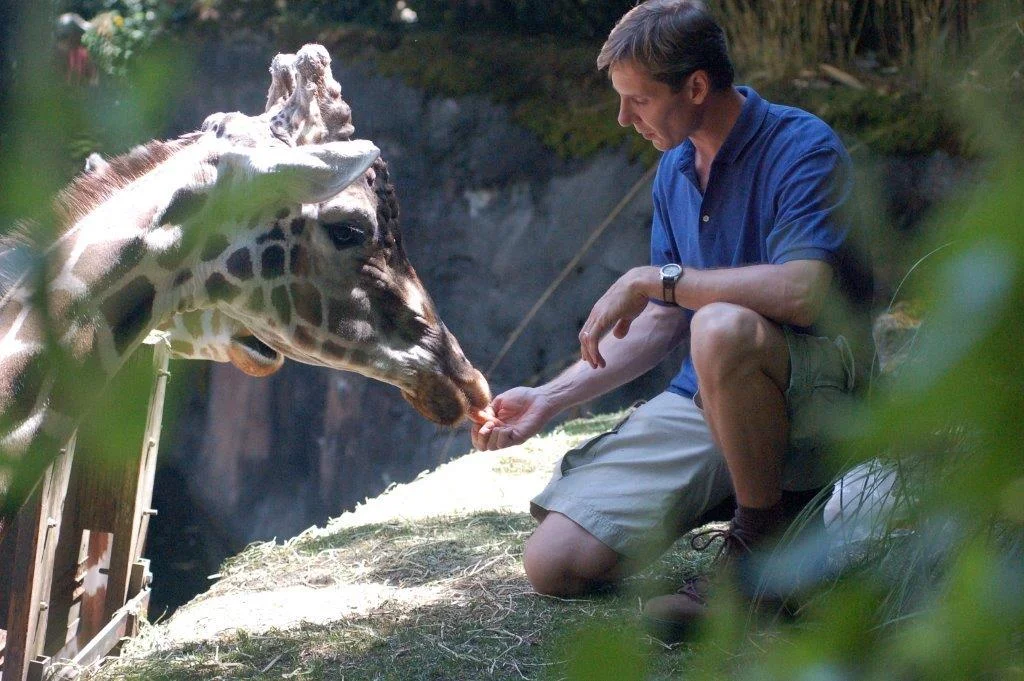 Welcome to the Buzztime Creator Spotlight as we feature a creator that you are going to regularly be seeing on the Buzztime network. This month we are featuring zoologist Jim Knox who you have seen on the Buzztime network with his video series Knox's Nature Kids.
Jim Knox serves as the Curator of Education for Connecticut's Beardsley Zoo where he directs educational programming and conducts field conservation for this AZA-accredited institution.
Before being featured on the Buzztime network Knox has served as an on-camera wildlife expert for The Today Show, as well as The CBS Early Show, and has lectured for The Yale School of The Environment and The Harvard College Conservation Society. Quite the resume! So we decided to sit down to get to know Jim a little bit better.
When did you know you wanted to be a zoologist? What drove you to the zoology field?
Many things led him to the zoology field but the main reason was where he grew up and who he grew up with. Jim grew up near a watershed property and just loved to explore the property, teaching himself about the different wildlife he would find during his exploration.
Jim also grew up around animals and just felt a connection with wildlife, wildlife was always present and welcome in their lives. He also really appreciated the opportunity to travel abroad and bring back knowledge from his travels to share with others, a key component of his passion for being an educator and zoologist.
When he was sixteen he raised $760 to go on a research trip to study the Leatherback Sea Turtle. His parents were extremely supportive of him exploring his passions and were a major contributor to him reaching where he is today.
Another major reason that he was able to pursue his dream of becoming a zoologist was the support of his wife who told him to pursue the career he was passionate about.
What made you want to teach others about zoology/our natural world?
There are two things that drove Jim to being an educator, his personal philosophy and an organic connection to teaching/learning. He is a lifelong learner and while you can learn all these amazing things about our natural world, what good is any of it if you cannot share those learnings with others.
Jim is a father of three and the natural connection between learning and sharing with his own children has created a natural passion for teaching young minds about our natural world.
Why make content for Buzztime?
It is covered above but the major reason he looks to create content around wildlife and animals is because he wants to share what he has learned with future generations. By making content it allows his knowledge to be archived via the technology he records it with but also might inspire one of those kids who watches to want to learn more and much like Knox, follow on to a career in zoology.
At the end of the interview, Jim asked us a question, how many species are discovered yearly? 50? 100? 10,000? No, nearly 20,000 species are found yearly, the world is only just opening up to us.

We would like to thank Jim Knox for sitting down with us and you can check out more of his video work on the Buzztime Youtube channel as well as on Buzztime screens across the country.

If you want to learn more about Jim's work you can check out the links below:
Jim's Personal Website: jimknoxspeaker.com
Connecticut's Beardsley Zoo: Beardsley Zoo's Blog
The Greenwich Sentinel: Conservation Coverage