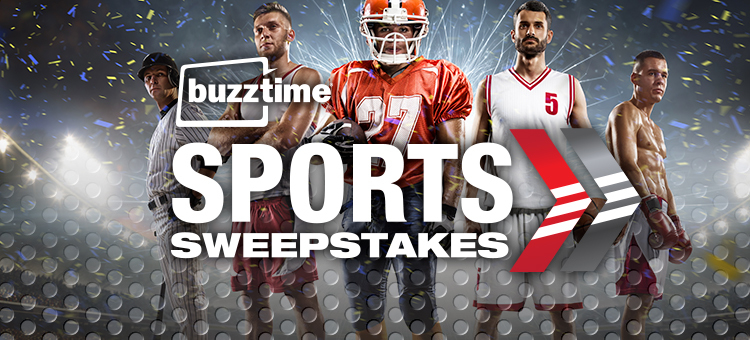 October is for sports lovers. From baseball to football, golf to hockey…it's game on, all month long. Now, your customers have another reason to make your place their homebase for watching the games: a chance to win $100, every day in October.
Here's the play-by-play:
The sweepstakes run from October 1st – October 31st 2018
Every registered Buzztime player who joins a game of Sports Trivia is automatically entered to win the daily $100 prize.
Sports Trivia tackles the latest in sports news: star players, stats, and crazy plays. Games run 7 days a week at 4:30 PT / 5:30 MT / 6:30 CT / 7:30 ET
Our marketing team is sending emails throughout October to the 10 million registered Buzztime players. The call to action is to get their game on – and make their play for $100 at your venue!
Use these 7 pro plays to score even more fans using the Buzztime Sports $100-a-Day Sweepstakes:
1) Recruit Players Now
With a daily chance to win $100, the Buzztime Sports sweepstakes is the ideal time to grow your player base. Current, registered Buzztime players are all set. But new players must register first so their Buzztime Sports gameplay can count as a sweepstakes entry.
Make it a game! Train your team to help guests register. Reward the employees who sign up the most new players. Also, be sure to set out fully charged Buzztime tablets at the bar and offer one to every guest. Mention the sweepstakes, of course.
Pro tip! If a player doesn't win, always remind them to come back tomorrow for another shot at the daily $100 giveaway.
Want even more players? Check out the Sports Bar Marketing Playbook, loaded with 15 creative ideas to attract fans.
2) Tag Up with Buzztime
Make some noise on social media! When posting about Buzztime Sports and the sweepstakes, use #Buzztime and #Sweepstakes so it's clear to guests that the promotion is administered by Buzztime.
"Tag" Buzztime on social media, too! It's a way to align your business with a buzzworthy national sweepstakes.
Facebook: @Buzztime
Twitter: @Buzztime
Instagram: @PlayBuzztime
Tell guests to tag Buzztime in their own photos and videos using #Buzztime #Sweepstakes #YourBusinessName.
3) Preschedule Social Posts
Use a scheduling tool like HootSuite to set up posts on social media in advance. Or, you can go directly into Facebook and preschedule posts. Use our graphics and these next tips to increase engagement with your social media posts about the Buzztime Sports sweepstakes.
4) Pitch a Question
Questions posed on social media are a great way to engage your fanbase. Post a sweepstakes graphic and message like this:
What would you do with an extra $100 if you're today's @Buzztime Sports Sweepstakes winner?
What's your all time favorite baseball play? Who knows, it could show up in tonight's round of @Buzztime Sports Trivia. Come play for YOUR chance to win $100.
5) Make Every Player Feel Like a VIP
Use the sweepstakes to celebrate your players – even if they're not $100 winners. Take photos or videos of players tackling questions in Buzztime Sports, and share it on social media. (Always ask for their permission first.) Better yet, use your Buzztime digital signage to put their name in lights on your TVs and tablets.
6) Liven Things Up: Go Live! on Facebook
Use Facebook Live to record your players enjoying a round of Buzztime Sports…in real time! For free, Facebook will alert your followers that you're live.
Before recording, just ask players if they're ok with live video. It's a great way to show off the friendly competition, camaraderie, and fun atmosphere at your venue.
7) Buzzer Beater
Keep the momentum going strong throughout October, including the last few days. Remind players they have just days left for a chance to win $100.
Now, take the field and start promoting the Buzztime Sports Sweepstakes to grow your fanbase. We'll be cheering you on from the sidelines!