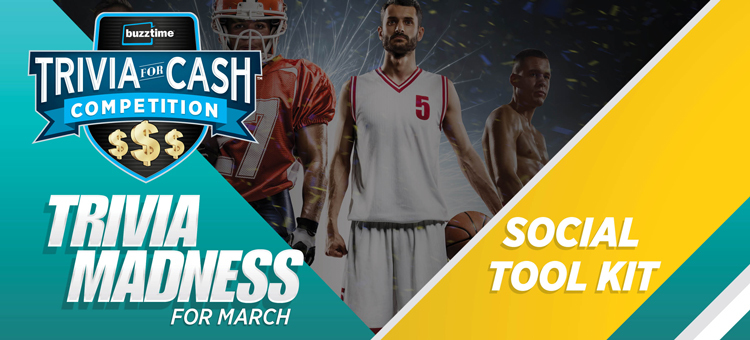 Let the insanity begin…During March's trivia competition, more Buzztime players will score cash and prizes than ever before: 300 will win!
We're making some noise about Trivia Madness on social media, ads on your TVs and tablets, and emails sent to 10 million registered Buzztime players. Now, use this toolkit and 5 strategies to gain the home team advantage and bring in the crowds.
The Game Plan: How Trivia Madness Works
Trivia Madness is part of the Buzztime Trivia for Cash series where the most skilled players are rewarded with cash. Every day in March, we're giving away over $100 in cash and prizes to the 10 highest scorers in Buzztime Sports trivia.
Trivia Madness Qualifying Game Schedule
30-Minute Buzztime Sports Games Start at 4:30 PT / 5:30 MT / 6:30 CT / 7:30 ET
The 3 highest scoring players take home $100, $50, and $25 plus Buzztime prizes. The next 7 players with top scores get Buzztime prizes.
Buzztime Sports isn't just for diehard sports fans. The 30-minute trivia game runs daily and tackles the latest stats, scores, and star athletes. Everyone can play. Anyone can win…any day in March.
1) Get Social with Us!   
Talk up the competition on social media. Use #Buzztime and #Trivia Madness to let guests know that Buzztime is running the promotion.
"Tag" Buzztime on social media. You'll align your business with this buzzworthy national promotion:
Facebook: @Buzztime
Twitter: @Buzztime
Instagram: @PlayBuzztime
Tell guests to take pics and share them on social media using #Buzztime #TriviaMadness #YourBusinessName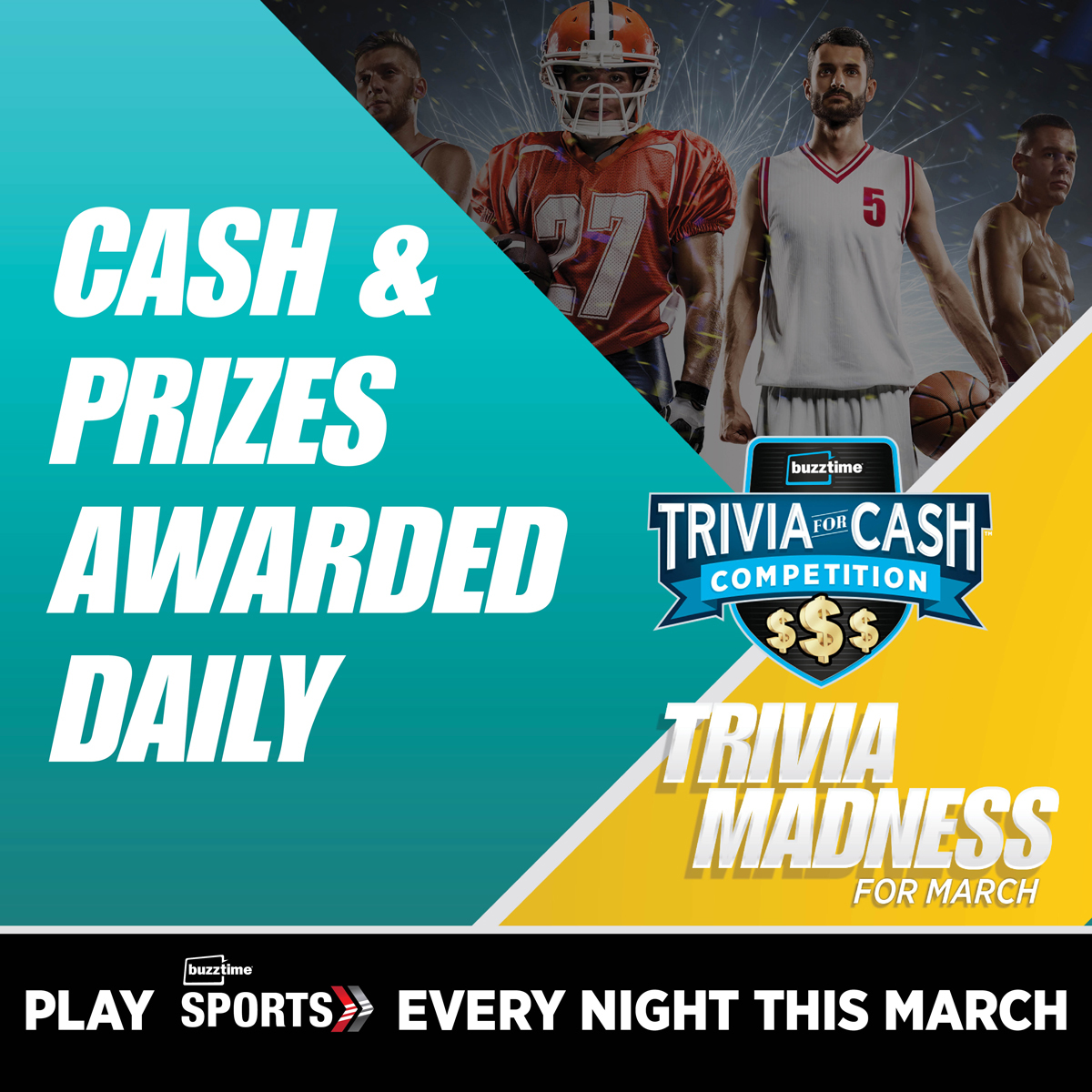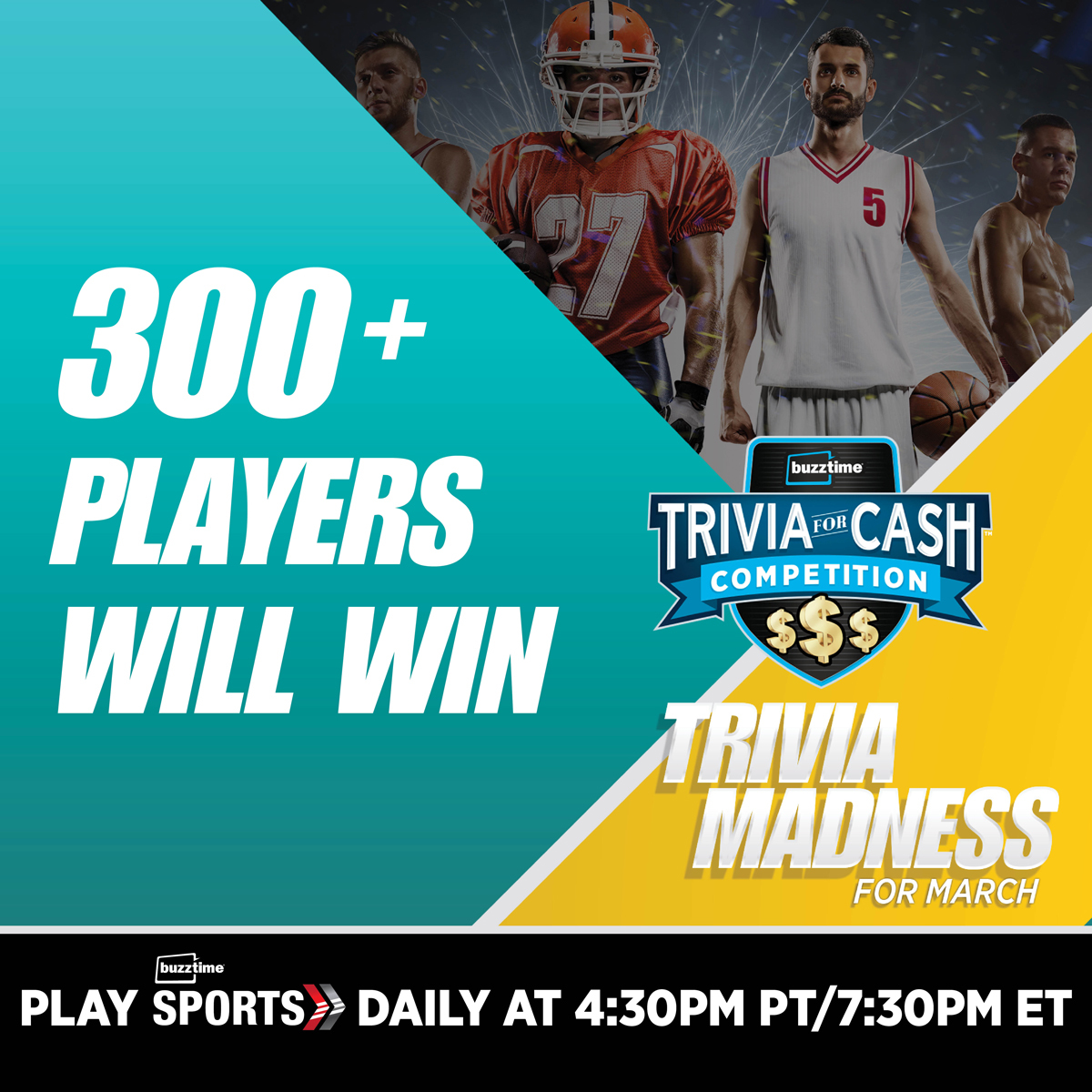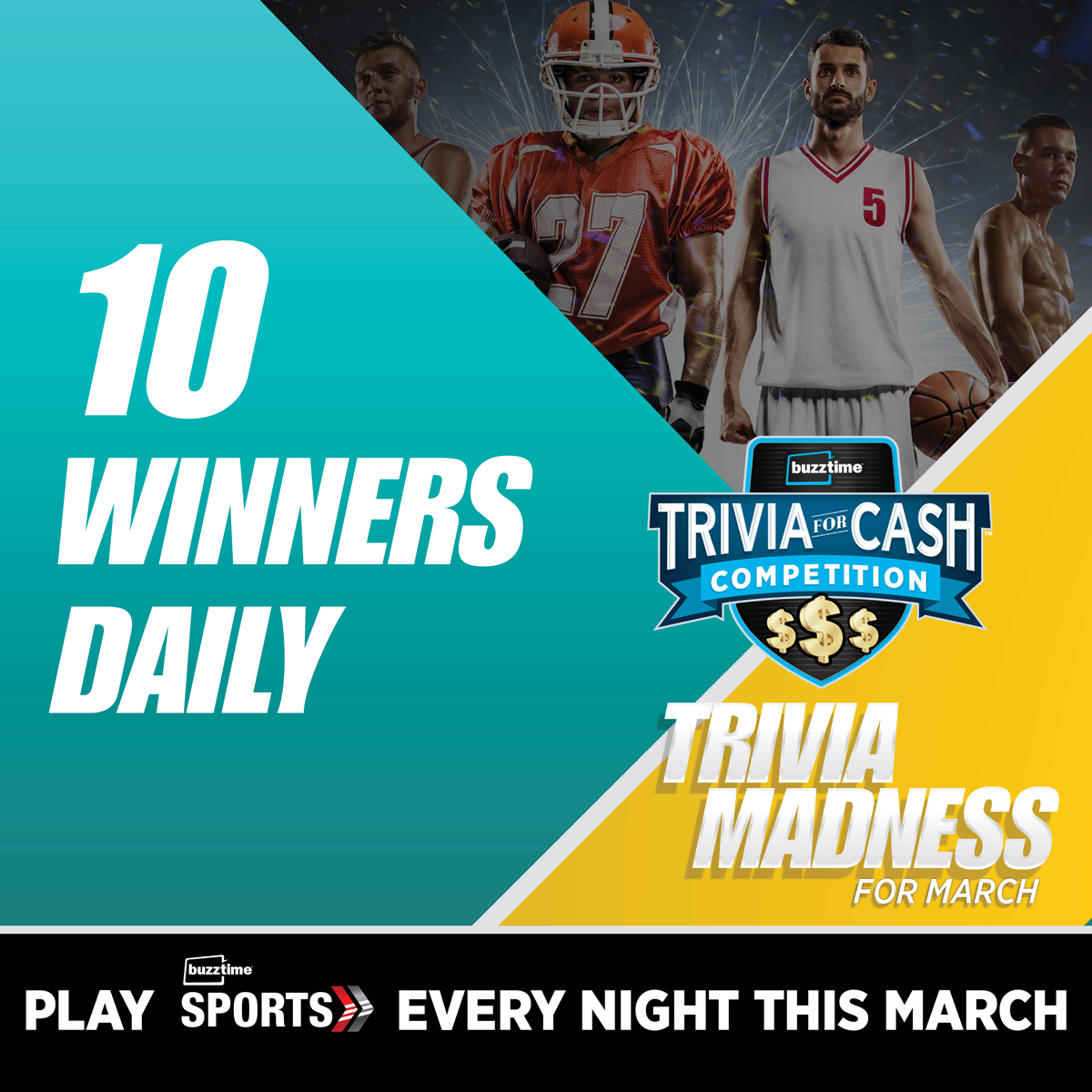 2) Focus on New Registrations
Trivia Madness is the perfect opportunity to build up your Buzztime player base. Invite patrons to take their daily shot at cash and prizes…just for playing a 30-minute game of Buzztime Sports! All they have to do is register first on a Buzztime tablet. It's easy and fast.
To increase your Buzztime registrations, reward staff for helping patrons register. You could hold a competition to see which staff members can get the most players registered.
3) Give Guests Another Reason to Watch Games at Your Venue!
March is one of the top months for sports, with NHL hockey plus NCAA and NBA basketball on TV every single day. Entice fans to catch the gameday action at your place with a daily chance to compete for cash and prizes in Trivia Madness.
Since Buzztime Sports runs during the happy hour daypart, why not create a special sports-focused menu? There's no need to reinvent the wheel: just rename your most popular appetizers and drinks with a sporty twist. That 2-for-1 pitcher special is now a "relief pitcher special" and those spicy wings with your signature sauce are "slam dunk n' dip wings".
4) Go LIVE on Instagram and Facebook
Jump into the live stream and show off the friendly competition and fun of Trivia Madness at your venue. In fact, live videos on Facebook result in 6x more engagement (according to Mark Zuckerberg himself).
Record a live video on your smartphone of a few patrons competing in Trivia Madness and ask them what they'd do if they won some extra cash today! (Just ask their permission before you press record.)
Need tips for going live? Use this 6-step guide to live streaming.
5) Start a Conversation Online and IRL
Use Trivia Madness to engage your followers – both in your venue, and on social media. Whether it's a bartender talking to a patron, or a post on Facebook, use these conversation starters to promote the competition in a casual way:
Ever won anything big in a competition? Tell us, then play Buzztime Sports to see if you're one of today's 10 winners in the @Buzztime #TriviaMadness competition!
How would you spend that extra cash if you're one of today's winners in the @Buzztime #Trivia Madness competition?
What's your favorite beer? Tell us, then come grab a beer – and play a round of @Buzztime Sports trivia for a chance to be one of today's 10 cash and prize winners!
All of us here at Buzztime will be cheering your business on from the sidelines. Now, start alerting your fans that Trivia Madness is going on this March!