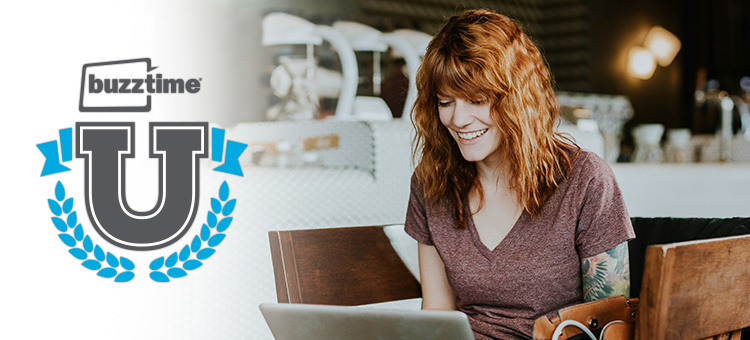 Resources to help you do business, better. That's Buzztime U and you're already enrolled. Your homework? Just check out these powerful tools, tricks, and tips.
Free eBook: How to Run a Promotion for Max ROI
Downloaded by 1,000s of bar and restaurant owners, the 5-step formula in this popular playbook helps you create a promotion that gets REAL results.
How to Use Buzztime to Your "Ad"vantage
Remember, your Buzztime subscription includes a digital signage tool that lets you run custom ads on your TVs and tablets. Promote high-margin menu items, upcoming events…anything you want. Just pick an ad template, and customize it with your content. You'll reach customers at the right time: when they're playing Buzztime and actively engaged with your screens.
New Swag and Signage Up for Grabs!
Need giveaways for your guests? How about table tents and posters? Every quarter, our design crew releases new promotional items. They're 100% free. Just ask your account rep to send 'em out!
Buzztime Has Your Back
Got a question? Need help? Buzztime's customer service and tech support teams are here for you. Give us a holler anytime…
New! Host Your Own In-House Trivia Competition…Anytime
If there's one thing we know about the 10 million Buzztime players, it's that they love showing off their trivia skills in competitions and tournaments.
That's why we've enhanced the functionality of the Buzztime Competition Manager. Now, you can set up a competition just for your venue that's built around ANY of our scheduled trivia games! It's an awesome way to drive traffic into your venue on a repeat basis – whenever you need a boost in business.
In fact, you can run an unlimited amount of competitions…it's all free, and included in your Buzztime subscription.
How to Use Competition Manager
The first step is to read the FAQs and learn the basics. To set up your competition and track player scores, simply log into the Competition Manager. In a few clicks, you'll select the trivia game or games to include in your competition and specify how long your event will run.
From this online portal, you can also access graphics that you can customize with the specifics of your competition. Once you're happy with the graphics, schedule them to run on your venue's TVs using the Buzztime digital signage platform – and on your public-facing online PowerPage.
Need a quick overview of the Competition Manager? Or, want a little guidance setting up your first event? Just reach out to your Buzztime Account Specialist.
4 Ideas for Launching Your First Custom Competition
Many of the 2,600 Buzztime locations are already tapping into our upgraded Competition Manager to launch events like this:
Cater to Loyal Players: Why not ask your community of Buzztime players if they'd like to help you organize a competition? That's what a group of trivia players do every year with the Triviapalooza event. Now in its 12th year, Triviapalooza is a weekend-long competition that attracts players from all over the Chicago area.
Happy Hour Trivia: Add excitement to happy hour, and encourage customers to make your business part of their after-work routine. The upgraded Competition Manager lets you create a "block" of games that qualify for the in-house competition. For example, if you want a happy hour competition to run for an hour, you can add multiple 15- and 30-minute games in the Competition Manager.   
Lunchtime Trivia: Build up your lunch crowd with a short-but-sweet 15-minute Lunchtime Trivia competition. Reward the week's top scorer with a gift card to your restaurant or bar.
Countdown Trivia: Countdown is one of the most popular Buzztime games. It runs daily from 11am-1am, so it's a great option for setting up your competition at any time you choose.
The Power of the Local Leaderboard
Buzztime players are always striving for a higher position on both the national and local leaderboards. When you kick off an in-house competition, they get another opportunity to move up the ranks on a leaderboard.
Just direct your players to this webpage so they can track their scores in real time. To locate your venue's competition, they'll just need to input your zip code, and click on your venue name.