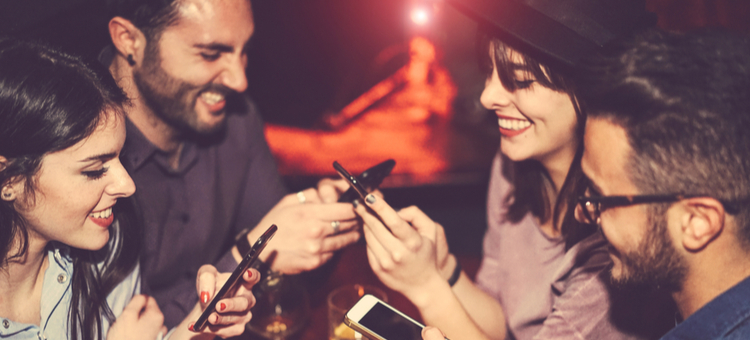 What event can boost midweek foot traffic and sales for almost any bar? Spoiler alert: live bar trivia. No one can argue with that answer. However, you've got options when it comes to how you host a bar trivia event. That's why we're comparing Buzztime vs trivia hosts.
Yes, You Can Host Bar Trivia Yourself
To run a live trivia event, your first thought may be to hire a professional trivia host. However, Buzztime hooks you up with everything you need to run the event yourself – using your own staff members. That's the main difference when comparing Buzztime vs bar trivia hosts.
Now, let's take a closer look at the pros and cons of emceeing trivia night yourself using Buzztime, or bringing in a professional host…
Buzztime vs Trivia Hosts: The Pros and Cons
1) The Host
There are definite "pros" to hiring a "pro" bar trivia host. They're charismatic, funny, and know how to keep the crowd engaged. However, that can be a con as well! Trivia hosts are hired by multiple bars and restaurants. If your customers love the trivia host, they may follow them to bar trivia night at your competitors.
With Buzztime bar trivia, typically one of your staff members runs the show. Chances are, one of your employees has all the star qualities of a great trivia host: sense of humor, confidence, and endless charm. Buzztime provides bar trivia training resources, so it's easy to turn that popular bartender into your very own trivia host. Then, customers are bonding with your employee during the event, which is a great opportunity to boost guest loyalty (that's a major pro).
If you are set on hiring a pro host, Buzztime may be able to connect you with a local professional for much less than you might expect to pay. That brings us to the next factor in the Buzztime vs outside trivia host analysis…
2) The Cost
Outside bar trivia hosts may charge $300-$400 per event, which can be a pro or con depending on your budget. The fees are so high because most hosts do it all: from researching questions and answers, to actually emceeing the event.
Buzztime pricing is different: and there are more options. The most popular one is the bar trivia and entertainment package which includes themed and general trivia questions, automated scoring, and devices for submitting answers. As of February 2019, for just $129 per week, you can use the Buzztime entertainment system to host as many bar trivia events as you'd like using your staff. (There is always a rotating monthly offer, which may lower the weekly cost even more.)
Another "pro" of Buzztime entertainment is that the cost includes more than just live events…Guests can tap into on-demand trivia and arcade game whenever your venue is open! Using Buzztime tablets, guests can compete in real time against players across the nation – or across the bar – all day long across the Buzztime network. It's no wonder over 2,600 bars and restaurants nationwide subscribe to Buzztime entertainment!
A new option for hosting bar trivia on a budget is Buzztime LIVE. Starting at just $25 a week (as of February 2019), you get access to up-to-date trivia questions and answers plus Stump Mobile Software. Stump Mobile lets guests use their smartphones to submit answers for a totally new twist on live bar trivia. You can host the event yourself. Or, if there is a Stump Trivia host in your area, you can bring them in for a low cost.
3) The Gameplay
Buzztime puts a tech-forward twist on the classic bar trivia night, which is definitely a pro. Instead of using pen and paper to submit answers, guests respond using handheld tablets. This delivers serious "pros." First, it speeds up gameplay. (Anyone who's competed in live bar trivia knows that slow-moving games are a major buzzkill.)
Guests can stay and socialize at the table instead of running answer sheets to the host. Speaking of the host, Buzztime bar trivia simplifies the scoring process. It's 100% automated. Players always know their standing in the game, and the pressure is off the host to simultaneously keep score – and run the game.
The host uses a laptop or mobile device to login, access the Buzztime network, select a question package, and then manage the game…it's that simple. Buzztime also makes it easy to run ongoing tournaments, which is a great way to keep players come back week after week.
[fl_builder_insert_layout slug="whitepaper-signup-module-26-bar-promotions-that-work"]
4) The Questions
The secret ingredients of a successful bar trivia event are awesome questions. They must be accurate, challenging (but not too obscure), and cover the past – as well as current events.
Despite the high fees, one of the pros of hiring a professional host is that you can request very specific trivia questions. For example, one bar in Virginia Beach hosted a Harry Potter bar trivia night. The con? You'll only attract diehard Harry Potter fans. When it comes to hosting trivia, your best bet is to keep the questions general – or at least focused on a crowd-pleasing theme like TV shows or sports.
As mentioned, outside trivia hosts typically write all questions themselves. One of the cons of this method is that yes, sometimes they get it wrong. This can disrupt the game, and most trivia players won't come back if they can't trust question accuracy! You may even have arguments over bar trivia that "go viral" – bringing unwanted negative publicity to your business.
If you opt for Buzztime, you can depend on 100% accurate questions. As the leading in-venue bar trivia provider, Buzztime employs an entire team to write questions. There are over 700,000 trivia questions in the Buzztime "vault" – with new questions coming in daily. Buzztime trivia writers know how to achieve the perfect mix of topics, difficulty level, and even question wording. Accuracy is a must since over 2,600 bars and restaurants rely on Buzztime trivia.
5) The Prizes
Last but not least, let's talk prizes. Another con of an outside bar trivia host is that they'll rarely provide any prizes. Instead, Buzztime often hooks up its partner locations with "swag" like apparel to use as prizes for live bar trivia.
For network trivia? Buzztime is all about spoiling players with prize opportunities. In 2018, Buzztime awarded over $30,000 in cash prizes to hundreds of trivia players. That's on top of special offers that all players occasionally receive on bar trivia tablets from Buzztime partners like Fandango.
If you ask any of the 10 million registered Buzztime players about the "pros" of Buzztime, many of them talk about the ability to compete on a national stage. For many players, simply making it to the top of either the local or national leaderboard is a prize in itself.
At the end of the day, deciding to host live trivia is a winning move for your business – whether you host it yourself using Buzztime, or bring in an outside trivia host. The answer is clear…bar trivia for the win!