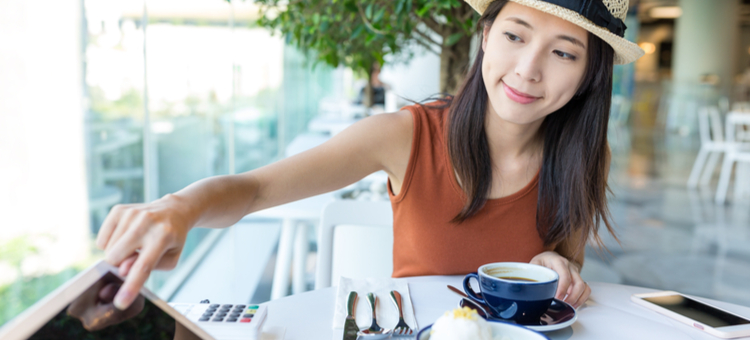 Thinking about bringing tablets to your tables? That's a smart decision, considering that 73% of diners believe technology improves their guest experience. It's why thousands of bars and restaurants let guests order, pay, and even play on tablets. While many POS systems now offer mobile devices so servers can take tableside orders, only two major companies – Buzztime and Ziosk – provide tablets for guest use. Take a closer look at Buzztime vs Ziosk…
Buzztime vs Ziosk: The Tablet Itself
Both Buzztime and Ziosk tablets are wireless, touchscreen tablets. However, as its name implies, Ziosk is a kiosk-type tablet affixed at a slight angle to a wide base. While it can be picked up, it's meant to sit on the tabletop as there is no protective rubber casing and the bulky bottom makes it hard to hold.
When it comes to Buzztime vs Ziosk usability, the Buzztime tablet is truly handheld. Patrons can walk around with tablets and easily show the screen to a friend. The tablets often spark socializing and interaction between guests. When not in use, the tablet can be laid flat on the table or propped with flexible rubber feet at a custom angle. In fact, the entire Buzztime tablet is encased in rubber except for the screen which is covered by a Gorilla Glass-like seal.
As for Buzztime vs Ziosk tablet life, Buzztime's tablet is built tough and tested to over 100 variables from spills and drops, to dings and scratches. The Ziosk tablet is also manufactured for regular use in bars and restaurants.
Buzztime vs Ziosk Entertainment
Before diving into the menu, order, and payment features of Buzztime vs Ziosk, let's look at the entertainment offerings. Again, both tablets offer arcade games and trivia for all ages on its tablets.
The Buzztime arcade games offer an immersive gaming experience because tablets include an integrated gyroscope. That means the tablet responds to the player's movements like turning a virtual wheel in a racing game.
When assessing Buzztime vs Ziosk entertainment, Buzztime stands apart through its national trivia network. The 2,700 Buzztime venues give their guests free access to trivia games that run 7 days a week, 15 hours a day. Players can compete across the bar – or across the nation. As for additional Buzztime vs Ziosk entertainment, only Buzztime provides a live event platform. Using tablets, players can compete in a virtual poker tournament or live trivia hosted by the venue's own staff.
The Touchscreen Ordering Experience
Forget Buzztime vs Ziosk for a moment. Both companies can bring your menu to life through vivid, brilliant photos and longer descriptions than what would fit on your printed menu. Once guests make their selections on the tablet, they can send orders straight to the kitchen. This ensures more accurate orders that arrive faster. And yes, both Buzztime and Ziosk integrate with most major POS providers.
Buzztime vs Ziosk isn't an issue with how tablet ordering will fit into your staffing. Your waitstaff still stay in the picture, but they can cover more tables – helping you save on labor costs. Both Buzztime and Ziosk let you determine whether tablets are used for all orders, or just reorders.
Ultimately, touchscreen ordering is an interactive experience that's enjoyable for guests – and profitable for you.  Modern Restaurant Management found that guest checks increase by 20-30% when orders are placed on a touchscreen device. Researchers credit "upsell engines" that suggest add-ons and extras to guests as they browse. As you weigh Buzztime vs Ziosk, take a product demo to see which tablet you think upsells better as both include automated suggestions.
[fl_builder_insert_layout slug="whitepaper-signup-module-supreme-guide-live-events"]
Buzztime vs Ziosk Tableside Payment Options
Now, let's compare Buzztime vs Ziosk when it comes to payments. The ability for guests to pull up their check and then securely pay directly on the tablet is a huge convenience. After all, guests hate waiting for the check! Again, tablet tech is saving your servers the time need to run back and forth to the POS.
There are some Buzztime vs Ziosk variables to consider in how orders are added up. Buzztime has a group cart that lets a large party place multiple orders and then pay for their portion of the bill. On the Ziosk tablet, receipts can be printed on the device (which is one of the reasons the tablet is on the bulkier side). When guests use the Buzztime tablet, they can opt to get a printed receipt or have it emailed to them.
When analyzing Buzztime vs Ziosk payment options, there isn't much difference. Both take multiple forms of payment including EMV (chip) and mag stripe credit cards. Plus, customers can use their smartphones to make "contactless" or mobile payments using apps like SamsungPay and ApplePay. No matter which tablet you end up selecting, pay-at-the-table technology is a great way to protect your guests – and your business – from credit card fraud. The guest's card never leaves the table! According to an Accenture Loyalty study, 85% of guests are more loyal to business that protect their financial information.
Buzztime vs Ziosk Marketing
You may be surprised to learn that tablets can also be used for marketing. Ziosk and Buzztime both offer tablet marketing packages. You can highlight menu items, promotions, and upcoming events – directly on the tablet. However, when comparing Buzztime vs Ziosk, Buzztime also includes software that can display digital signage on your TVs. Many bars and restaurants even resell advertising on their TVs to add incremental revenue.
Price Comparison of Buzztime vs Ziosk
Last but not least, you're probably wondering about the cost of Buzztime vs Ziosk. For tablet menu, order, and pay, both Buzztime and Ziosk will provide you with a custom quote. If you're just interested in Buzztime's entertainment packages, you can check out this link for the latest Buzztime prices. As of 2018, prices start at $149. Be sure to contact them directly as they always have a monthly special available from waived installation to free tablets.
The best thing you can do if you're comparing Buzztime vs Ziosk is to set up a demo over the phone with each company. You should also go to venues that offer each brand of tablet. Take those tablets for a test drive. Weigh the pros and cons. And then get ready to bring a new level of success to your tables.