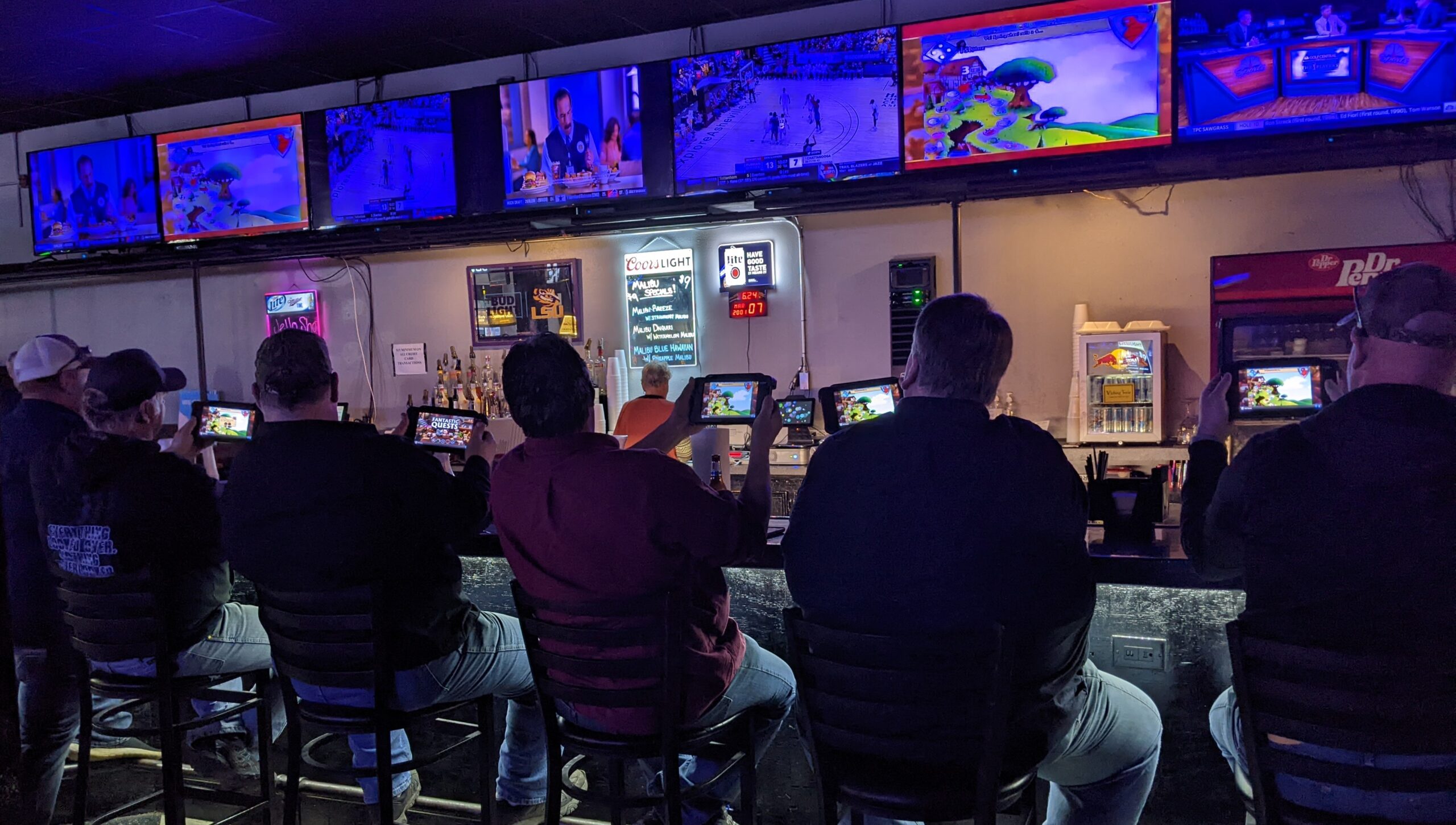 Now it's your turn to get in on the action with this 6-step beginner's guide to hosting bar trivia…
Step 1) Successful Trivia in Bars Depends on Answering 2 Critical Questions!
The first step is to align your trivia event with your business objectives. To maximize the ROI of trivia in bars likes yours, answer these questions first:
Question 1: What day and daypart needs TLC?
Since trivia in bars has been shown to increase sales and foot traffic, first determine when you need that nice bump in business. Spoiler alert! You don't need to host a bar trivia "night." If your Saturday middays need TLC, try a relaxed trivia brunch or lunch event. Happy hour trivia in bars is always a win as well…
Question 2: Are there competing bar trivia events?
Do some quick competitive research on other trivia in bars nearby. Use Facebook events and Eventbrite.com to scope out the scene and adjust if necessary. If a competitor already runs bar trivia on Tuesdays? Opt for Wednesdays instead.
Step 2) Select a Bar Trivia Format
When planning a trivia event, the next step involves picking a platform on which to run the game. No, it's not just pen-and-paper trivia anymore! Before we review the 3 most popular formats to choose from, here is a quick rundown of the game itself:
1) People form teams of up to 4-6 players.
2) Most trivia in bars is held in a series of about 5 "rounds" that involve 5-7 questions each per round.
3) To keep the crowd engaged, scoring often occurs after each round and the host announces standings.
4) After the final round, there may be a tie-breaker question if needed. Then, the trivia champion is crowned
Now, back to the bar trivia formats. Here are your options!
Traditional trivia in bars runs on the "old school" method where a host reads off questions, and guests answer on sheets of paper. Yes, this means that scoring bar trivia is also done by hand (or using an excel spreadsheet) at every round – which can slow down gameplay. Some trivia hosts may display the questions on venue TVs through a laptop PowerPoint display. Check out this helpful guide to hosting DIY trivia if you go the pen-and-paper route.
Thousands of bars are putting a tech-forward twist on trivia night with handheld tablets. The key benefit is that answers are submitted to the host via the tablet, so scoring is instant and automatic. Players of trivia in bars that use tablets love that the gameplay moves faster. They spend more time socializing at the table instead of running answer sheets to the host. Leaderboard standings, questions, and answers are all displayed on both tablets and TVs. Plus, hosts enjoy not having to shout above socializing guests! Another plus of tablet-based bar trivia is that it's simple for your own staff to run the event. You don't need to bring in an outside host.
The newest type of trivia in bars turns a guest's smartphone into a scoring device. Again, you could run the bar event yourself or hire a host. Look at a product like Buzztime Streaming where you are able to use your own device to play trivia
Step 3) Decide on a Host and Question Source
Now that you know when your event will be, and the type of bar trivia format you'll use, the third step is to select a host and source for questions. Again, you've got 3 possibilities to select from:
$0: Host it Yourself, Write the Questions Yourself
If you want to save some cash, you can go 100% DIY. First, pick a bar trivia event host from your staff. They should be confident, charismatic, and know how to work the room. Then, you need to write question…Got 8 hours to spare? That's what the company Quiz Runners claims it takes to research and write questions for trivia in bars (and that's just for one event!)!
$$$: Professional Bar Trivia Host and Questions
Trivia in bars can also be entirely run by an outside company. You simply provide the venue (and typically, the prizes). Prepare to cough up some serious dough: professional trivia hosts may charge up to $500 per event. Before hiring a host, do your research. Go to trivia in bars hosted by the company you're thinking of hiring. Then, use these 23 questions to interview any potential hosts.
$-$$ Somewhere in the Middle: Host it Yourself, Use Professional Questions
When it comes to trivia in bars, this is becoming the most sought-after option. Bars use a staff member to host, but subscribe to a trivia network like Buzztime. Companies such as Buzztime provide everything: from questions and answers (pulled from a database of 700,000+ questions with new ones added daily), to scoring systems. By having your own employee host bar trivia, it gives them a chance to bond with guests – instead of an outside host.
Step 4) Determine the Theme
The fourth step for hosting trivia in bars involves picking a theme. You want to exercise caution! The more general the questions, the better. Beware of themed trivia questions that will only attract a select few folks – like Harry Potter trivia night. Plus, for best results, you'll want to run your bar trivia night on a recurring basis, and there's no limit to general trivia questions!
However, it's a great idea to come up with a clever name or overall theme for your bar trivia event. Use these ideas for inspiration:
Some trivia in bars takes a cue from popular hashtags. Host bar trivia on Tuesdays – and serve an a la carte taco menu and pitchers of margaritas or Corona. Other popular day-of-the-week hashtags include: #MondayMotivation, #WhiskeyWednesday, #WisdomWednesday, #WineWednesday, #ThrowbackThursday (throwback a few beers, and throw down in trivia…yes please)!
Battle of the Charities or Companies
Host an ongoing tournament where charities or local companies faceoff in bar trivia.
Remember, you don't need to narrow down questions to a specific holiday. You can, however, get thematic with trivia in bars by running a costume contest during a trivia night near Halloween, or hosting couples bar trivia around Valentine's Day. For more weird holidays to inspire your trivia event, check out these 32 offbeat holidays.
Step 5) Line Up (Really) Good Prizes
Now that you've got your theme all set, you need to plan out prizes. The most successful trivia in bars always involves awesome prizes. From a bar tab for the winning team, to Instagram-worthy trophies, use these prize ideas for your next bar trivia event.
Take a Cue From Wrestlers A (fake) gold championship belt may seem gimmicky…and that's the point! The winners will snap lots of pictures and brag about their "hardware" on social media. You could also try a giant gold trivia medallion necklace or trophy. Treat it like the Stanley Cup. The winning team gets to keep it for the week, but has to come back to compete for the rights to keep it!
Spin the Wheel Prizes for trivia in bars can also involve a little guesswork. Buy a simple prize wheel and let the winners spin to reveal their prize!
Sponsored Prizes Another option when planning prizes for trivia in bars is to seek sponsored prizes from local businesses like gift cards or products. The business would "donate" the gift card, and in return, your bar trivia host would talk up the business throughout the event. You might also want to include the sponsoring business's logo on any digital, social or printed bar trivia night promotions.
Everybody Wins! Hand out $2-$5 coupons to all attendees to reward them for participating in bar trivia – and to bring them back in again. It's also a great way to build loyalty and prevent players from attending other trivia in bars nearby.
Step 6) Write an Event Plan
The very last step for hosting trivia in bars is to tie everything together! You'll need to write an event plan to keep yourself organized, track results, and of course – set a budget. This is what you will want to include:
This includes everything from a floor plan to how you'll track RSVPs. Use these thought starters to prepare your list:
Let's Talk Numbers: First, you'll want to decide how much to spend on each bar trivia event. Factor in the costs for a host (if you hire one), questions for trivia in bars, and of course marketing the event.
Market Smart: The best way to promote trivia in bars is to set up a free Facebook event (use these 10 tips for creating Facebook events that get noticed). You can also print out posters or use digital signage on your TVs. Send out emails and instruct your staff to invite patrons to your bar trivia event.
Floor It: Next, create a floor plan. You'll want to space out tables so that players won't overhear other teams discussing answers.
Crowded House: Another benefit of setting up Facebook events for trivia in bars is that you can get an idea of how many will attend. Prepare more seating than you think is necessary…no one wants to be standing up for bar trivia. Tables should be spaced apart as teams don't want other players overhearing their answers!
Staff Needs: Since bar trivia is a great way to bring in new customers, assign a staff member to act as a greeter who can gather email addresses and welcome guests to the event. Ask either the trivia host or another staff member to take pictures and post to Instagram and Facebook. Photos of trivia in bars is an awesome tactic to show everyone else all the fun they missed!
Set Up and Take Down: Who is responsible for setting up equipment and when will it happen?
Now, you have everything you need for managing trivia in bars like yours. What are you waiting for? It's time to start poppin' the questions!