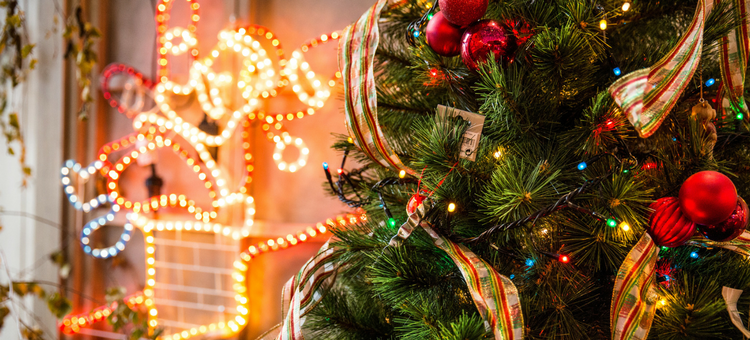 When you think of Christmas, what adjectives come to mind? Warm, comforting, and inviting? That's what customers will expect from your customers at Christmastime. So how do you make your restaurant attractive to customers for the holidays? Your Christmas décor is one of the most important elements of your restaurant's success in December. The atmosphere you create will be the difference between your customers seeing you as a holiday haven or just another restaurant.
Holiday decorations do more than just create an atmosphere, however. They also encourage customers to book holiday parties and order your holiday catering. Your Christmas decorations might seem like a small aspect of your business, but they can bring in big money!
But you probably don't have an endless amount of money to spend on Christmas decorations. In fact, you might be on a pretty tight budget! How can you create a Christmas wonderland without going bankrupt? Read on for some cheap ways to decorate your bar or restaurant this Christmas.
[fl_builder_insert_layout slug="whitepaper-signup-module-50-best"]
First, focus on changing up little things that have a big impact. Seasonal table cloths, napkins, and centerpieces don't have to be expensive, but they can make a huge difference in your dining room. Even better, you can buy ones that can be reused year after year.
You can also try switching out curtains, chair cushions, or any throw pillows you might keep in your waiting areas. Using Christmas colors (red and green, of course, or whatever fits with your holiday décor) will instantly make your restaurant look like it's ready for the holidays. Although these fixes might be a little more expensive than table cloths and napkins, they'll likely be reusable, meaning you can pull them out again next year at no cost.
Dressing up what you have is also an important tactic to save money. You probably already have some plants or pictures at your bar or restaurant, so there's no need to get rid of them for the holiday season. Simply add some Christmas flair. Place twinkle lights around your plants or on any surfaces and throw a garland or tinsel around your other decorations for a quick but festive fix.
And, speaking of twinkle lights, they're one of the easiest and cheapest ways to make everything look like Christmas. Lighting is essential when it comes to creating that warm, cozy Christmas feeling, and for most people that means twinkle lights.
And remember for next year that you should buy decorations at the end of the season when things are on sale. You can use these decorations over and over, which saves you a ton of money.
Remember: your decorations don't have to be fancy. Many people find simple decorations to be even more charming! Inexpensive decorations are often the most classic, and that's what many people want around the holidays. Keep these Christmas tips in mind as you decorate your bar or restaurant on a budget.