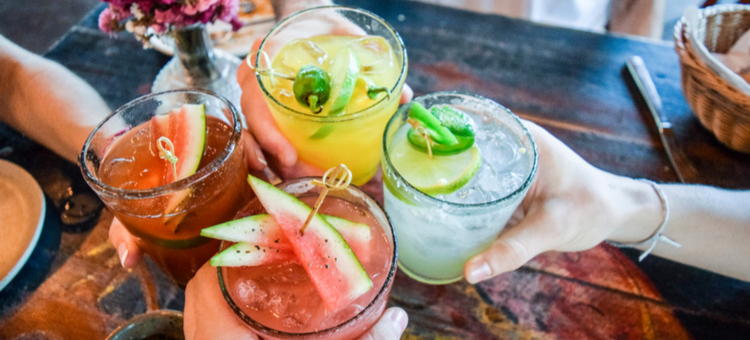 Get ready to stir up more business, and shake up your bottom line. We've put together a simple 5-step plan to increase cocktail sales at your bar or restaurant. Whether you run a sports bar or a swanky cocktail lounge, these tips will take your profits to the next level.
Step #1) Increase Cocktails Sales by Knowing Your Audience
In general, these are the four types of characters you'll come across today in any given bar. The beauty of cocktails is that there really is a drink for every type of person, and your cocktail list should reflect that. From mocktails to drinks featuring in-demand brands, here's how to please a diverse range of customers – and increase cocktail sales.
"Instagram King" Kevin, Age 34
As the kids say today, Kevin is a "hype beast." He loves showing off what he's wearing, where he's traveling, and what he's eating and drinking on social media. Kevin is what's known as a micro influencer. He has a few thousand local followers and local businesses pay him to promote their products. To increase cocktail sales, approach Kevin about doing a post about your bar on Instagram.
"Cocktail Connoisseur" Chris, Age 49
When it comes to cocktails, Chris knows his stuff. He expects your bartenders to be up on their game. He'll order obscure cocktails and name drop collectible bourbons like Pappy Van Winkle. If you want to increase cocktail sales with people like Chris, stay up on the latest trends in liquor brands (turn to your liquor distributor for insights on what's hot).
"Make Mine a Mocktail" Melissa, Age 29
Like over 45% of millennials today, Hannah is happy to give up alcohol to improve her health. But she still wants to go out and party. Unfortunately, it's tough for her to find bars with a solid mocktail menu (mocktails are cocktails without the booze). If you can make Hannah happy with inventive mocktails, you'll increase cocktail sales.
It's not just health-conscious millennials seeking alcohol-free concoctions. You'll be a hero to everyone from pregnant women to under-21 customers, employees on their lunch break to those who just aren't in the mood to imbibe.
"Well and Good" Will, Age 22
Will just graduated from college. He's broke. And he'll take a hard pass on your fancy cocktails. So, how can he help you increase cocktail sales? You see, Will seeks out well drinks like gin and tonics, along with "basic" drinks: we're talking Jack and Coke, Red Bull and Vodka. But Will comes with friends, and what you might lose on smaller per-drink margins, you'll make up on volume. Someday, Will might evolve into a Cocktail Connoisseur…not today.
In their quest to increase cocktail sales, some bars focus exclusively on pushing gourmet cocktails. Don't forget the Wills of the world. Even the most elite NYC cocktail lounges still offer deals on well drinks.
Step #2) Create Your Cocktail List and Pay Attention to Pricing
The next step in your quest to increase cocktail sales should be finetuning your drinks list. Research has shown that you'll boost sales by limiting each menu category to 7-10 items. That means 7-10 beers, 7-10 wines, and yes, 7-10 cocktails. Aim to include a few trendy options, at least one unicorn (read on for what we mean), and classics with a twist.
Try a Little Trendiness: Start with Seltzers…
A great tactic to increase cocktail sales involves featuring "it" drinks on your menu. You won't turn off well-drinks Will by tapping into what's cool in the cocktail world. Heading into 2020, the booze with the biggest buzz is anything with seltzer. Love it or hate it, you can thank the rise of White Claw seltzers. It got so popular in the fall of 2019, there was a (gasp!) White Claw shortage. To increase cocktail sales, task your bartenders with putting their own twist on seltzer sippers: start with these 12 seltzer cocktail recipes.
Create Your "Unicorn"
Let's take it back, way back, to when Starbucks launched their Unicorn Frappuccino in April 2017 and it went viral on social media. What does that have to do with your mission to increase cocktail sales? Everything.
Your goal should be to whip up a signature cocktail that's visually stunning and will make every Instagram King Kevin come running (and promoting your bar in the process).
It could be a layered cocktail or shot. Or turn glassware into the main event like the Mother of Pearl tiki bar in NYC. Their shark's eye cocktail – served in a shark mouth vessel – is one of the most-Instagrammed cocktails among the Manhattan in crowd. If you want to increase cocktail sales of martinis, order this straw-tini glass.
Increase Cocktail Sales with Science
Menu engineering is real, and there are studies to prove it. Once you've created your 7-10 cocktails, it's time to increase cocktail sales through smart pricing. Of course, you'll want to use the beverage cost formula to ensure you've built in a healthy margin. Then, it's all about how you represent the prices on your menu…
First, get rid of those dollar signs and ditch the zeroes. Cornell research found that folks will spend more with 'em. Your $8.00 martini is now 8- or 8. Actually you should make it 9. Why? Because MIT researchers discovered that people have a thing for prices that include the number 9 and they'll pay more when they see that magic digit (strange but true).
Step #3) Increase Cocktail Sales with Packages and Promotions
Everyone loves a deal, even Cocktail Connoisseur Chris…
Cocktail Menu Release Promotions
You should be updating your cocktail list about 3-4 times a year, so why not make it a seasonal occurrence? Luke's Kitchen and Bar in Orlando kicked off a "Fall Cocktail Festival" on the first day of fall and debuted their new menu. To increase cocktail sales and encourage customers to try new flavors, Luke's created a trio of smaller versions of their new cocktails for one set price of $18.
Celebrate Special Occasions to Increase Cocktail Sales
Sometimes people like to splurge on expensive booze. It might be a birthday, anniversary, or just an average night (if you're like Instagram King Kevin). Try these ideas to increase cocktail sales and let people show off their purchase: Reward the Scotsman or woman who orders an expensive scotch shot with a commemorative plaid beret they can sport for the night, and take home as a keepsake. Create a special birthday cake shot. When groups of 10 or more order 10 shots, hand out birthday hats to everyone and toss confetti. Of course, the easiest way to increase cocktail sales– at a margin of at least 500% – is to offer bottle service for those who really want to celebrate…
Every Cocktail Has Its Day…
…and we mean that quite literally. October 19th is Gin and Tonic Day. February 22nd is Margarita Day. We could go on and on (or just check out this handy calendar of boozy holidays). You can increase cocktail sales by encouraging customers in person and on social media to celebrate the "holiday" with a great deal on the featured drink.
Step #4) Be Eventful to Increase Cocktail Sales
Promotions are great, but events take things to the next level and can draw a crowd eager to consume your cocktails.
Art of the Cocktail
Take a cue from the North Carolina Museum of Art in Raleigh. They partnered with local restaurants who each invented a cocktail inspired by a Georgia O'Keefe painting that would be on display at the museum. To increase cocktail sales and show off your artsy side, team up with a local artist to host an event where he or she debuts their artwork (which you could keep on your walls for a season). Ask your bartenders to create a few cocktails inspired by the artwork.
Bartender Mix-off (aka Battle of the Bartenders)
Ever watched the Food Network's Chopped show? In one of your more creative ways to increase cocktail sales, you're going to take the battle to the bar. Here's how: Ask 4 of your most talented bartenders to participate. There will be 3 rounds. At each round, you'll give the bartenders a "mystery" ingredient to use in a unique cocktail of their creation. The customers are the judges, and will each taste a small pour of the cocktail. They'll vote on one bartender to eliminate at each round until there's one bartender who remains victorious!
Live Trivia, with Class
Who says live trivia needs to involve sloshing pitchers of domestic beer? Class it up with a more sophisticated event that will also help you increase cocktail sales. For best results, most trivia experts recommend that you run live trivia on a weekly basis. Each week, put a specific cocktail on special. During breaks between trivia rounds, ask bonus trivia questions based on that cocktail. Oh, and if you want to boost beer sales, too? This type of live trivia has you covered. It helped Beef O'Brady's in Apollo Beach, Florida improve pitcher sales by 200%.
Step #5) Train Your Team
Upsellin' ain't easy. But it's a surefire way to increase cocktail sales – and sales in general – at your establishment. When upselling is done correctly, it's far from sleazy or pushy. It's actually all about guiding the guest to their perfect cocktail (which just might happen to be a bit pricier than the basic well drink).
Many bartenders swear by the "sample secret." Let's say a customer asks for a gin and tonic. The bartender then says something like "you've got to try this new gin we just got in." She proceeds to give her customer a pour of this delicious new gin before mixing it with tonic, and the rest is history as you increase cocktail sales with minimal effort.
Research backs up the power of the sample pour, showing an astonishing 2000% increase in sale of items that are given away first as a sample. Here are 26 more secrets of upselling you can use to train your team, and increase cocktail sales along the way.
Now, you've got work to do. You've got 5 steps to increase cocktail sales. Get to it. We'll be raising our glass, and saying cheers to your success.