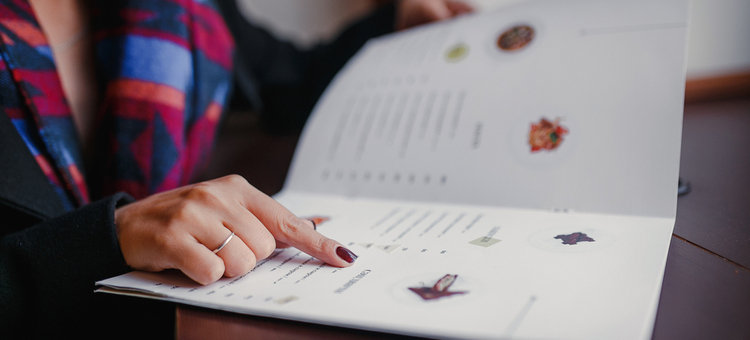 In your quest to run a profitable restaurant, don't overlook the "silent seller." Your menu could become a top performer, but like any team member it requires tools for success. Consider these 6 steps a training plan to take your menu from good to great. In no time, you'll have a menu that sells – and the profits to prove it.
Step 1: Limit Your Options
The first step to creating a menu that sells is to practice a little self-restraint. Unless your goal is to be the next Cheesecake Factory (do not attempt), limit the items on your menu.
Less is more on a menu that sells. Research shows that quick service restaurants should aim for 6 options per menu category; fine dining concepts should strive for 7-10 choices per category. Categories refer to appetizers, mains, sides, and desserts.
Why the limits? First, the study revealed that guest satisfaction goes down as the number of options increases. This is known as "choice overload" and can lead to guests to look at other factors – like price – to make their decision. Second, quality and consistency are tougher for the kitchen to achieve with endless dishes to master.
To build a menu that sells, ruthlessly edit down your menu so that only your best dishes make the cut.
Step 2: Use the "Rule of 3" for Menu Balance
Now, onto the next step in whipping up a menu that sells. It's all about balance. You want to keep guests intrigued and coming in to try new dishes. But you don't want to disappoint them by removing a beloved favorite. That's where the
"rule of 3" comes in. To engineer a menu that sells, always include at least one of the following items in each category:
Menu Mainstays: These are your bestsellers, house specialties, and most-ordered dishes. Use your POS to uncover these menu rock stars. For most restaurants, mainstays will make up 50-70% of the overall menu.
Seasonal Servings: A menu that sells changes with the seasons. In fact, Mintel research shows that 70% of Americans enjoy seasonal food at restaurants – and 42% will pay more for it.
Trendy Tastes: Meatless mains and Middle Eastern spices, so hot right now. Stay on top of what's trending, and try incorporating in-demand eats for a menu that sells.
A quick note on timing for a menu that sells: Most experts suggest that you refresh your menu about every four months. However, when you add new items, don't call it out on your menu. Research reveals that only 30% of guests will order items that are labeled "new" on the menu.
To see this study and 13 more DOs and DON'Ts of bestselling menus backed by research, download the popular ebook: How to Create a Menu That Sells.
Step 3: Price to Entice
To launch a menu that sells, the next step is to integrate proven pricing tactics. Behind the scenes, you'll want to run the food cost formula on every single item to ensure you're building in a healthy profit margin. But don't stop there. Certain prices and price formats are more irresistible to guests than others.
Here's an example. Why price a steak for $27, when you'd likely sell more at $29? MIT and University of Chicago researchers discovered that people bought more of an item priced at $39, than the same item priced at $34. Apparently, people have a thing for the number nine.
Another well-kept secret of a menu that sells: don't put dollar signs or zeros on your menu. Dollar signs remind people that they're spending money; zeros create the illusion of expense: $34.00 is subconsciously read as $3,400.
Step 4: Write it Out
Up next on this 6-step plan for a menu that sells requires a little wordsmithing. Get descriptive as you name each dish. A Caesar salad is basic. The "Cut-Above Caesar Salad with House-made Croutons" is alluring and intriguing.
Again, science comes into play. Research by the University of Illinois found that sales of menu items with descriptive names increased by 27% – and people were willing to pay up to 10% more for them.
If you source ingredients from local producers, always include that in your menu descriptions. It's a strong selling point and implies value.
Step 5: Design a Menu That Sells
After you've finalized the text for your menu, step 5 involves graphic design – one of the most important variables in a menu that sells. For best results, turn to a graphic designer. It's worth the investment to ensure your menu looks as good as your food tastes.
One rule of thumb is to never to list your menu items from lowest to highest price. You'll also want to steer clear of linear columns. This invites price comparison: the enemy of a menu that sells!
Every (seemingly) small detail matters when designing a menu. Even the fonts used can either increase or decrease sales. Some restaurants will pay menu engineers thousands of dollars to craft a profitable menu. Instead, get the best menu design tips in the free ebook no menu engineer wants you to see: How to Create a Menu That Sells.
Step 6: Turn to Tablet Menus
The last step in creating a menu that sells could actually replace step 5. Join thousands of restaurants who are increasing sales and impressing guests with tablet menus.
Instead of shelling out serious cash on a graphic designer and pricey menu printing every few months, you can pay a one-time fee to purchase touchscreen tablets. In a few clicks, you can instantly update your menu items, prices…anything you want. The best tablet menus even include customizable templates.
Ultimately, if you want a menu that sells, consider going digital. Tablet menus automate the upselling process. When a customer thinks they just want a standard burger? The menu suggests add-ons like cheese or grilled onions along with sides. And while photos often look tacky on printed menus, they (literally) shine on tablet menus.
It's easy to forget the power your menu holds over your bottom line. Now is the time to reframe your thinking, and start building a menu that sells. Let these 6 steps lead the way to a more profitable restaurant!