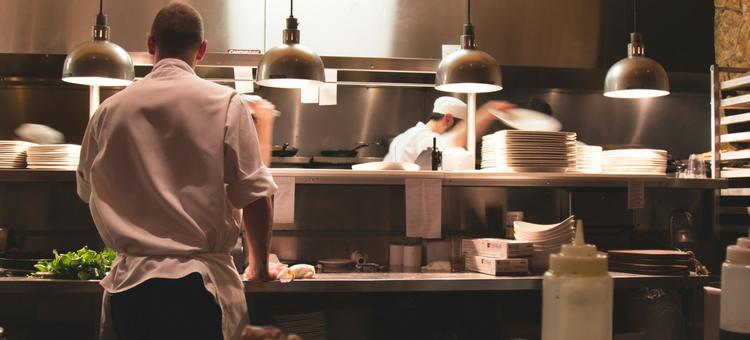 With Americans' frenzy for popular reality cooking shows like Chopped and Top Chef, inviting guest chefs to your restaurant for a cook off or culinary demonstration is a surefire way to bring more customers through your door.
For inspiration, look no further than Chicago's well-known Bar Toma, where chef/proprietor Mantuano launched the Dough Master Series to invite guest chefs to his restaurant known for its Italian fare. Mantuano stated in a Chicago Tribune article, entitled Guest chef trend is heating up, "We give people known for their dough some insight into how we make our dough, but learning takes place on both sides." Mantuano said that he believes these sharing secrets move kitchens forward, and the more the guest is aware of his restaurant's tricks, the more they will appreciate what it does.
And Bar Toma is just one of many successful restaurants throughout the country leveraging guest chefs in some way. Another example is Graffiato in Washington, DC which hosts monthly Industry Takeover Nights on the first floor of the restaurant. Chef/Owner of Graffiato Mike Isabella said in a Washington Post article that despite a long wait in frigid temperatures more than 300 foodies packed the place for its one-year anniversary of these popular events.
Perhaps after reading this, you're also considering the idea to host a guest chef event or series to attract customers. Here are a few ideas to get you started toward creating a draw for your restaurant by featuring guest chefs.
Stay true to your restaurant's theme: Partner with guest chefs that represent the types of food or cooking techniques that your restaurant is already known for, i.e. selecting a well-known sushi chef to host sushi-making demonstrations in your Japanese restaurant. For instance, Boston's L'Espalier and Portland's Five Fifty-Five teamed up to have L'Espalier 's Matthew Delisle, chef de cuisine, prepare a special seven course meal focused on local, sustainable ingredients from L'Espalier's farm at Five Fifty-Five in Portland, ME.
Cook for a cause: Host a private event having a guest chef cook for a charitable cause that your employees and customers care about. Veraisons Restaurant, located at Glenora Wine Cellars in Dundee, NY recently announced its 8th Annual Celebrity Guest Chefs Pasta Nights 2014. Every Thursday, local celebrities appear front and center at the pasta buffet station to serve guests their freshly created dish of pasta.  A portion of the proceeds are donated to the charity of the Chef's choice, and at the end of the celebrity guest chef series, Glenora Wine Cellars matches the donation to the charity that brings in the most patrons.  During the last seven years, Glenora Wine Cellars has donated more than $10,000 to local charities.
Return the favor: Show your gratitude for the guest chef who cooked in your restaurant by having one of your star chefs do the same at that guest chef's restaurant. It's not only good karma, but in addition, it gives you an opportunity to expose your chef's culinary abilities and restaurant's cuisine to new patrons.
All in all, featuring guest chefs is not just a great way to generate business. It's a WIN-WIN for everyone involved—your guest chefs in your culinary community, the customers who will appreciate attending your guest chef events, and perhaps, a philanthropic cause that you support with such events along the way. Do you have experience hosting guest chefs in your restaurant? Please share it with us in the comment box below.
[fl_builder_insert_layout slug="whitepaper-signup-module-50-best"]