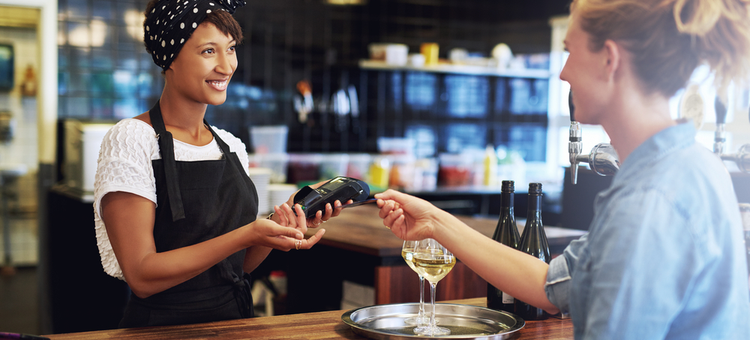 In the restaurant industry, it's no secret that managing your operations well behind the scenes plays a large role in the success of your business.
A restaurant's margin for making a profit can be really thin, even if customers are lining out your door. This is why restaurants should invest in the right kind of software solutions to add efficiencies and streamline their business plan wherever possible.
Looking for a good place to start? Try payment technology.
Accepting payments is central to your restaurant's day to day activities, but many restaurant owners and managers don't really think about how they can strengthen their payment processing strategy with tech.
In this article, we'll do a deep dive into the ways your restaurant can implement payment processing tech tools into your business plan. Specifically, we'll answer your top questions about credit card payment software and point of sale (POS) systems, which form the foundation of modern payment processing technology.
Your team may be wondering:
What kind of POS systems are out there?
How does credit card processing work?
How do POS system features enhance payment processing?
How can a mobile POS enhance restaurant operations?
When your restaurant's management team can be confident that you have the right payment technology in place to handle the demands of your growing business, you can be confident about moving full steam ahead with your business plan.
Let's jump into these key payment technology questions!
1. What kind of POS systems are out there?
Whether you're new to the restaurant industry or are well-traveled in the business, it can be challenging to keep up with all the new advances in POS system technology.
After all, POS platforms have come a long way since the days of the standalone cash drawer.
With added payment processing capabilities and enhanced software tools, there's more to the modern POS system than simply conducting transactions.
To better understand your restaurant's POS options, consider the following different forms of POS systems that are currently on the market:
Legacy POS systems. This is your traditional point of sale hardware. Without many capabilities beyond transacting, legacy POS tech is quickly falling out of favor with restaurant professionals. Traditional POS systems typically require a large initial investment and lots of regular upkeep costs to keep running.
POS kiosks. Point of sale kiosks are growing in popularity among small businesses and large businesses alike. These touchscreen-enabled devices can be used by your customers to place orders or make transactions themselves. With customizable interfaces, businesses of all sorts can make POS kiosks their own.
mPOS systems. If your restaurant is looking for a forward-thinking POS solution that moves with your staff, try a mPOS. Mobile POS systems run on tablets, not bulky computers, meaning purchases can be completed wherever you want, from a food truck to a traditional table. In seconds, your customers will settle their bill and be on their way.
The bottom line? For your restaurant, invest in modern POS tech that can grow with your business, not slow it down.
When it comes to your restaurant's payment processing strategy, knowing your options is essential. Want to learn more about your point of sale choices? Check out Lavu's restaurant POS offerings for more insight into what these smart tools can accomplish.
2. How does credit card processing work?
Credit card processing represented the first major advancement in POS technology.
Once consumers primarily turned to credit and debit cards to make transactions, businesses had to respond with smart solutions to handle their emerging needs.
In the decades since, credit card processing has only grown more complex. Whether it's advancements in security tech or consumer conveniences, there's a lot your restaurant or bar needs to know to get up to speed on credit card processing.
First, let's review the core methods of credit and debit card processing your restaurant's team should know:
Traditional credit and debit card processing. When you think of credit card processing, you think of the prototypical card swiper. While this method has been in use for decades, it's quickly falling out of favor due to concerns over payment security.
EMV chip card reading. This method emerged as more secure response to traditional credit card processing methods. Short for Europay, MasterCard, and Visa, EMV chip cards store consumer payment data without having to directly share it with businesses.
Contactless payment. Introduced to increase efficiencies at the point of sale, contactless payment methods allow customers to make transactions without needing to swipe or dip their cards. Think systems like Apple Pay, Google Pay, and Samsung Pay.
Now that you're refreshed on the top credit card processing methods in use today, your restaurant still needs to brush up on how to keep your customers' data safe.
Consider these key security terms you should be familiar with:
Encryption. Using this security method, your customers' data will remain unreadable by unauthorized scammers who try to hack your payment processing system.
PCI compliance. Short for Payment Card Industry compliance, your restaurant's credit card processing system and POS platform must adhere to these security standards.
The bottom line? When your team picks a credit card processing system and POS platform for your business, be sure it can process payments using each of the common methods above while protecting your patrons' payment data.
Bonus! Excited to learn more ways to keep your customers' data safe from scammers? Check out Swoop's guide to user authentication to find out how to ensure only the right individuals are authorized to access sensitive payment information.
3. How do POS system features enhance payment processing?
As your restaurant considers an investment into new POS and payment processing solutions, it's important to know how these two areas interact for businesses.
More than that, however, it's essential to understand how restaurants in particular can leverage POS technology to enhance the way they process payments.
Restaurants have specialized needs that other businesses don't, so why would you choose a POS system that doesn't understand restaurants?
Look out for these core payment processing features your restaurant needs in its next POS:
Check splitting. Giving your servers and customers the ability to cleanly split checks among patrons can make a huge difference in customer satisfaction. Not only does this increase efficiency for your team, but it shows customers that your restaurant values their convenience.
Automatic gratuity. Another convenience-booster for your patrons is automatic gratuity. When your patrons close out their check, offer them automatic gratuity suggestion buttons. Or, set an automatic gratuity percentage for larger parties so they don't have to worry about tipping (and so your restaurant can keep prices low).
Accounting software integrations. There are so many moving parts to managing a business, so why have seperate POS and accounting solutions? Pick a POS that integrates with your restaurant's preferred accounting software so you never need to manually transfer data again.
Not only can your next POS system offer smart payment processing features, but it can enhance your payment processing strategy with intelligent reporting tools.
With each transaction, you can learn what strategies work for your business and then apply that knowledge to improve your restaurant's operations.
Be sure to find a restaurant POS that offers:
Customized operational analytics
Real-time sales reports
Mobile reporting access
The bottom line? You can better manage your restaurant by investing in POS and payment processing solutions that work with one another to enhance your business strategy from the ground up.
4. How can a mobile POS enhance restaurant operations?
As we touched on earlier in this article, there have been many recent advancements in POS technology that have revolutionized the restaurant industry.
One of these advancements, mPOS systems, has seen its popularity skyrocket among restaurants for one simple reason: it dynamically benefits restaurant operations.
Mobile POS systems can really do it all while serving your restaurant's staff and customers well. Since they're adaptable to nearly every restaurant or food service establishment, your business is sure to find a way to make a mPOS system your own.
mPOS systems can enhance your restaurant's operations by:
Being highly portable. These days, many up-and-coming restaurants meet their patrons' needs in a variety of venues. Whether you offer catering services, park a food truck at events, or have a traditional restaurant space, choosing a mPOS means you can bring your business wherever customers take you.
Easily updating their software. Since mPOS systems are run on tablets, you don't need to worry about purchasing complicated new hardware or loading software into a legacy system. These mobile devices update just like smartphones and tablets, so you won't have to have an IT specialist on site to make updates.
Not only do mPOS systems make running your business easier, but they're also a fan favorite for customers. Customers love mPOS systems because:
They're more convenient. Instead of asking for a check, waiting to receive it, flagging a server down, giving them their card and then waiting again for the signature form, closing out a check can happen in seconds.
They're user-friendly. Since mPOS systems are highly customizable, your customers can be confident that their servers will get orders right every time. From customizing a cocktail to designing a pizza, mPOS systems offer an accessible interface for customers and servers.
They're flexible to customer needs. Mobile POS systems are designed to make transactions work smoothly for your customers. From order placement to closing their bill, your team can customize its mPOS to serve your clientele in a way that works for them.
The bottom line? Mobile POS platforms offer restaurants like yours a wide variety of features to streamline operations and build stronger relationships with customers. By choosing a mPOS, you get the best of both worlds: an inexpensive solution that also can grow with your business!
There's a lot to learn before your restaurant starts looking into your next POS system. Now that you've reviewed our Q&A guide, you're ready to make a smart decisions for your business.
About Author
Lavu is a full-featured point of sale and business management system that improves workflow, communication, and organization. Lavu's innovative iPad POS system was created to simplify owning and operating a food and beverage establishment.
[fl_builder_insert_layout slug="whitepaper-signup-module-top-ten-pos"]