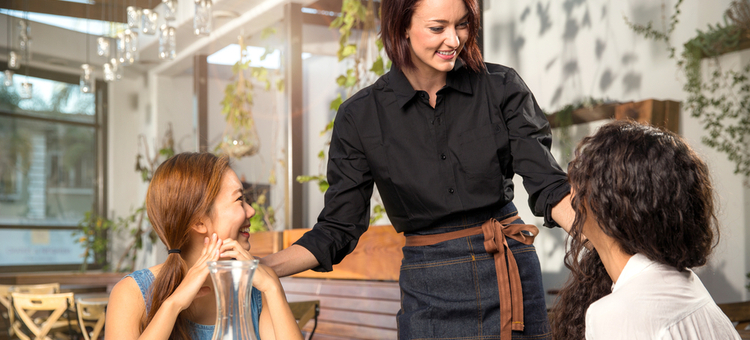 It's a Catch 22: you provide great service at your restaurant, so guests get comfortable – too comfortable. What can you do? Try these 9 tips for dealing with customers who stay too long, a 5-step plan for serious stallers, and 1 secret used by NYC restaurants.
Before Dealing with Customers…Understand Them First
Most guests simply want to enjoy their meal. Therefore, tactics used when dealing with customers overstaying their welcome should be subtle. You never want guests to feel rushed.
Undercover Report: 9 Tips for Dealing with Customers Who Linger
On Thanksgiving Eve, we went undercover at one of Detroit's most popular restaurants. Our mission? To take our sweet time – and observe the restaurant's tactics for dealing with customers who stay too long. The main takeaway was this:
Don't wait until the meal is over to start dealing with customers who won't leave! Be proactive. Move things along throughout the entire dining experience.
1) Never Say "It's Busy"
Our party of 4 had a 6pm reservation. We arrived at 5:45 and were invited to the bar. Right at 6pm, the hostess asked that we take our drinks to the table and said: "We'll bring your tab over, no worries. I just want to keep your reservation for you!"
This was a smart way of dealing with customers – proactively. The hostess alerted us it was a busy night without saying it directly. She framed it in a customer-focused way: it was all about ensuring we didn't lose our reservation.
Customers don't want to hear "it's busy tonight." That's all about YOU.
2) Set the Pace
Within minutes of being seated, our server inquired if we'd like more drinks or any appetizers. He was polite and conversational…giving us recommendations. Just like the hostess, he set a tone and pace for our meal that was decidedly brisk yet focused on our needs.
3) Leave Behind a Menu
Sometimes, dealing with customers who take too long can be as simple as leaving a menu behind. If table space is an issue, consider space-saving touchscreen tablet menus.
This restaurant put everything on one menu: cocktails, beer, apps, entrees, and desserts. Wine was on a separate menu. After taking our orders, the server left one of each menu: "I'll leave these at the table in case you'd like to browse."
Not only did we order cocktails mid-meal (boosting the check average), but we browsed the desserts and were ready to order at meal's end.
Leaving a menu is a way of proactively dealing with customers who may take too long deciding which dessert or after-dinner drink to order.
4) Hot and Fresh
The apps arrived fast – within 7 minutes of ordering. They were hot, fresh, and delicious. Entrees came out in 12minutes. The secret to dealing with customers who loiter might be a lean menu: This menu had 7 apps, 9 main courses, 5-6 side dishes, and 5 desserts. The kitchen can be your unsung hero in dealing with customers who take their time by shaving off minutes between courses.
5) Oh, Hello There Hostess
Once during the meal, the hostess walked through the dining area with an iPad. She smiled if you made eye contact. But it was clear: She was monitoring where each table was at in their meal. No one seemed offended.
6) No Easy Chairs
The chairs were wooden. They weren't uncomfortable. Yet, the seating didn't make you want to stick around for hours. Dealing with customers who get too cozy? Try ditching plush, sofa-like seating in favor of wooden or metal seats.
7) Water Refills
After dessert, the server began filling our water more frequently. It was a subtle reminder that he was taking care of us – even though we had finished. He also knew when to "make the ask" if we were ready for the check…
8) Parting Words
Most patrons know "Can I get you anything else?" is code for "are you wrapping up?" This server used a smart variation: "Could I get you any other desserts?"
Who can answer "yes" without feeling like a glutton? This was an ingenious way of dealing with customers who linger.
Then, 5 minutes later he came back with the "can I get you anything else?" line.
9) The Check and Chat
The server placed the bill on the table and asked another brilliant question: "So which dessert was your favorite?"
While we answered, one of us glanced at the bill and set out a credit card. The server picked it up and said "I'll be back with this quickly for you."
He made it seem like he was doing us a favor by being fast! Plus, by chatting with us, he didn't have to come back for the check – and he made us feel special.
Our visit came to 1 hour and 35 minutes. But what if we had decided to stay longer?

5 Steps for Dealing with Customers Glued to Their Seats
1) "Can I Get You Anything Else"?
Yes, you know this line for dealing with customers who won't budge. Don't be afraid to use it more than once.
2) Say Good Night (and Goodbye)
If you've finally gotten the party to pay for their meal, say goodbye.
Be gracious and kind. Smile. But end with a clear "good night" or "good bye." Do this while holding the check holder for a little dramatic emphasis.
"It was such a pleasure serving you tonight. I hope to see you again soon. Good night!"
Then, set the check holder down. Walk away. The more assertive you can be when dealing with customers at this point, the better. Your goal is to avoid asking them to leave.
3) Send in the Busser
Still dealing with customers stuck at the table? Send in a busser (or another waiter) to clear the table – but not you. This is a visual cue that things are wrapping up.
Instruct the busser to pick up the check and ask "may I take this?" If guests haven't left their tip, the busser can say "I'll be back, no problem."
Guests should finally get the hint. If they're annoyed? Their irritation is directed at the busser – not the server who took care of them the entire night. It's a little good cop/bad cop strategy for dealing with customers in linger mode.
4) Offer an Incentive
Uh oh. Now, dealing with customers who won't leave is reaching a crisis mode.
You've got a party of 8 who's been waiting 20 minutes for that table.
So, invite guests to the bar! Be upfront yet warm:
"I noticed you're still enjoying yourselves! Could I invite you to the bar? I've put a $10 tab at the bar for you since I know this is a bit inconvenient."
5) Offer an Even Bigger Incentive – and Ask for Help
If your bar area is slammed, too? Offer a gift card and invite them back. When dealing with customers who have stayed too long, ask for their help:
"Could I ask you to help me? There is a group of 8 waiting for your table. I know this is so inconvenient for you, so I'd like to give you a gift card to show my appreciation."
This is critical when dealing with customers who won't go. Never ask them to leave without a conciliatory gesture. It can ruin the chances of them every returning. Plus, you're NOT requesting that they leave – you're asking for their help in seating another party.
*Use step 5 only when absolutely necessary. Set up protocol for dealing with customers at this point. Require a manager's permission before initiating this step.
How Some NYC Restaurants are Dealing with Customers Who Linger…in Advance
Do you confirm reservations with an email or a phone call? Use this new tactic for proactively dealing with customers who won't leave.
Inform guests of the reservation start – and end – time.
This new tactic for dealing with customers who move slowly is becoming common in big cities. When a guest books a reservation on OpenTable or through email, many restaurants create short and sweet boilerplate language that includes reservation length. Here are 2 examples from NYC restaurants:
We look forward to seeing you! Your reservation has been held for Friday, December 1st from 7:00 until 8:30pm.
Here at ____ Restaurant, our goal is treating you to a relaxing, indulgent evening with us. To ensure you're seated promptly – and the guests dining after you as well – we kindly ask that you join us for an hour and a half. We can't wait to see you!
If you try this tactic for dealing with customers who may stick around, be sure servers don't rush guests. This actual Yelp review reveals why:
The only negative was…we were clearly and strongly "encouraged" to leave after 75 minutes… not so nice. If they can grant you the 1.5 hours promised in the reservation confirmation, it's a very nice dinner experience.
When dealing with customers who are reluctant to end their dining experience, it's all about having a strategy in place. Train your team using these tips for dealing with customers. Above all, be proactive on busy nights. Set a consistently brisk pace that starts with the hostess – and ends with satisfied guests who never once felt rushed.