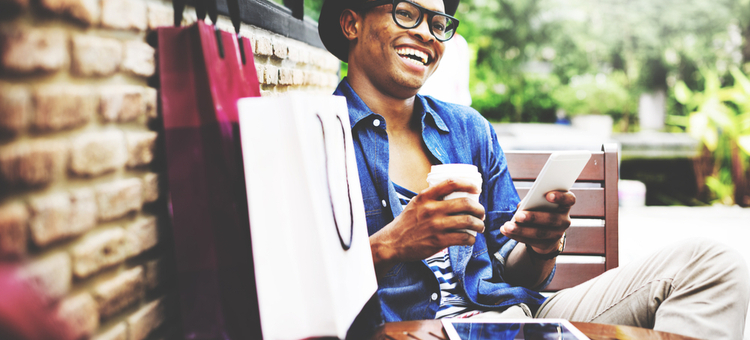 Guest loyalty. There's an app for that! That's why restaurants are ditching punch cards and plastic loyalty cards in favor of mobile loyalty apps. See the 4 reasons to launch one now and learn the ABCs of building an awesome restaurant loyalty program.
Why Go Mobile with Your Restaurant Loyalty Program?
Today, over 77 percent of Americans own a smartphone according to a 2017 Pew Research study. Smartphone owners love their apps, accessing 9 mobile apps a day and over 35 per month on average.
If that's not enough to convince you to build a mobile restaurant loyalty program, consider this…
In the largest-ever loyalty study by Bond Brand Loyalty and VISA, 57 percent of 28,000 North Americans said they'd prefer to interact with your loyalty program on their mobile device.
Get in on the action with an app for your bar or restaurant that includes a restaurant loyalty program. It's more affordable than ever to build a mobile app for your restaurant with companies like Appy Pie. Plus, most app developers have templated loyalty programs you can customize. Here are a few more reasons why a mobile-based restaurant loyalty program is the way to go:
Guests always have their phones with them! But it's easy to forget that restaurant loyalty program punch card at home…
Once your loyalty app has been downloaded, your restaurant's logo is always on the guest's smartphone. Plus, most apps automatically generate "push notifications" to alert guests they have a reward waiting
A mobile app can provide a real-time update on loyalty points accumulated – there's no guesswork
Unsavory guests may create holes in their punch card, mobile apps prevent cheating
Most mobile loyalty apps interface with today's POS systems, so it's simple for servers to scan or enter a mobile coupon
4 Reasons to Launch a Mobile Restaurant Loyalty Program
Still prefer to stick with a loyalty punch or plastic card? That's ok. You could also organize and track guest rewards by using their phone number or a membership number.
TGI Friday's™ has one of the most successful restaurant loyalty programs, and recently integrated the "Friday's Rewards" program with their mobile app. But if guests prefer, they can simply provide their phone number or membership number to the waitstaff instead.
The most important thing is to launch a restaurant loyalty program…now. You'll see significant bottom line benefits, like this:
Increased Guest Spending: Well-designed restaurant loyalty programs "gamify" spending – turning it into a quest to unlock rewards. In fact, guests may spend up to 39 percent more than usual so they can get their reward faster, according to a study by LevelUp and Nation's Restaurant News.
Better Customer Retention: It costs less to retain customers than to spend money attracting new ones. In the 2017 Bond Brand Loyalty/VISA study mentioned earlier, 81 percent of participants agreed that being in a loyalty program made them more likely to continue doing business with that brand.
Word-of-Mouth Advertising: The same study also revealed the benefits of a great restaurant loyalty program: participants are 73 percent more likely to recommend your business to others.
Build Personal Bonds: A study by Deloitte Consulting, LLP showed that customers who enrolled in a restaurant loyalty program said they've developed a personal relationship with the bar or restaurant. Only 29 percent of customers NOT enrolled in a restaurant loyalty program felt the same way.
Know the ABCs of Rewarding Guest Loyalty
The best advice when it comes to designing a restaurant loyalty program is this: reward the behavior you want to see more of. Here are the ABCs of building a great loyalty program!
A) Ask
The most important aspect of a well-designed restaurant loyalty program is this: Ensure the guest is rewarded for signing up. Don't leave the sign-up to chance. Get your guest to sign up while they're at your restaurant. The easiest way to do this is with an instant reward. TGI Friday's™ provides guests with a free appetizer or dessert as soon as they enroll in the program. Here are a few more ideas…
Unlock a $10 off coupon for the next visit
To incentivize sign ups, give away hats or t-shirts with your logo for a limited time. Every time your guest wears the item they become a walking advertisement for your restaurant.
B) Birthdays
Give guests a reason to celebrate their birthday at your venue with a high-quality, automatic birthday reward meant to attract big groups. Consider including not one but two free appetizers.
C) Create Community
Turn your restaurant loyalty program participants into ambassadors for your business! Give them a reward that can be redeemed by a friend. To access the reward, the friend would need to sign up for your loyalty program. Therefore, the reward should be substantial like a $10 reward.
D) Double
Seeing smaller crowds on weeknights? During lunch? Offer guests the chance to earn double or even triple points for visits during set hours. Remember, it's all about rewarding the behavior you want to see!
E) Exclusive Events and…EASE of Use!
Great restaurant loyalty programs make guests feel like VIPs. Create special events just for those in your program, like a live trivia night held midweek with a few complimentary appetizers. Or, invite program participants to be the first to try out a new menu.
By far the most critical aspect of your restaurant loyalty program is to make it EASY on the guest (and your business). Most loyalty programs give guests the chance to earn one point per dollar. Once guests reach a set point amount such as 100 points, they get a free reward.
3 Smart Ways to Promote Your Restaurant Loyalty Program
Nearly half of customers do not even know if a restaurant loyalty program is available. Be proactive and promote your restaurant loyalty program with these best practices. Your main headline in any promotion should be your instant sign-up offer. So, make it a good one!
Educate and Incentivize Your Servers: When you run employee training, include a breakdown of your restaurant loyalty program. Everyone in the front of the house should know the ins and outs of your program – not just your waitstaff. Remember: Reward the behavior you want to see more of! The same holds true for your staff. Reward them for "pitching" your restaurant loyalty program to guests. Give out gift cards each month to the 3 staff members who sign up the most guests.
Promote Your Program on Site: Because guests are more likely to sign up if they do so on site, maximize your in-house marketing. Put out table tents and posters promoting your restaurant loyalty program. Or, save on print costs and turn your TVs into attractive digital signage that promotes your program.
Create a Restaurant Loyalty Program Promotion "Blitz": To create a rush of signups, use a "blitz" approach. Offer a free tote bag or t-shirt with your logo to the first 25 people who sign up for your loyalty program. Or, give anyone who signs up during a set time period double points the first month. Guest loyalty doesn't just happen. You have to cultivate it. That's where a well-planned restaurant loyalty program comes in. Just as you train your staff, train your guests to come in more frequently by offering great rewards. In no time, you should see an uptick in business – every night of the week.
The best restaurant loyalty program is one guests will actually use. One way to find out what they want? Asking about it on your customer survey. Use your patrons' preferences to guide which loyalty program your restaurant ultimately chooses. You'll both reap the rewards!
[fl_builder_insert_layout slug="whitepaper-signup-module-rewards-program"]