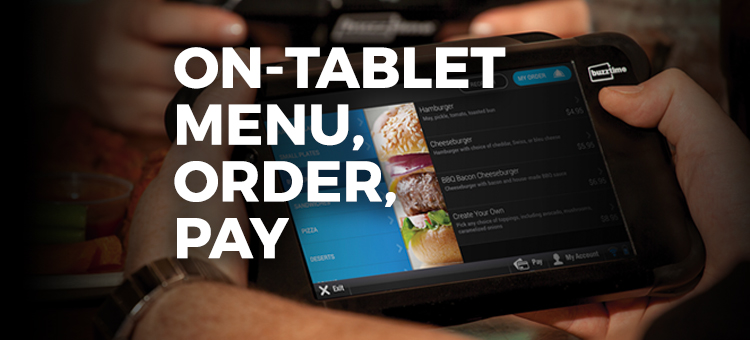 Tech is everywhere, and now it's arrived tableside on Buzztime Tablets equipped with digital menu, order, and pay capabilities. Who exactly is driving the digital revolution in restaurants and bars? Your customers! Eight in every ten customers agree that technology improves their guest experience.* Here are 6 reasons why guests are happy to have the power to order and pay – directly in their hands:
1) It Feels More Personal
Digital menus automatically offer guests more meal customization options and add-ons than the best server could ever recite. From extra cheese to gluten-free options, guests can personalize their order – and their experience.
2) Instant Gratification
From another round of appetizers to drink re-fills, guests don't have to flag down a server. In a few taps on the Buzztime Tablet, they can place an instant order that goes straight to the kitchen.
3) No. More. Waiting
This is a big one for customers. When they're done with a meal, they can pull up their check directly on the Buzztime Tablet. Again, guests appreciate avoiding the awkward "waiter wave down."
4) VIP Treatment
Buzztime Tablets can "remember" a previous diner's order, providing custom recommendations based on previous selections. It makes every guest feel like a regular.
5) Ease Check-Splitting Fears
Groups of friends often stress over fair bill splitting. Now, venues that offer Buzztime's order and pay solutions can clear up the confusion. Bill splitting is automatic, accurate, and on the tablet. Friends can then pass around a single tablet and pay with their own credit card.
6) Secure and Simple Payment
With on-tablet payment, credit cards never leave the table. Not only is this convenient for guests, they feel more secure and safe. To appeal to super tech-savvy diners, Buzztime Tablets are even being configured to accept NFC payments like SamsungPay and ApplePay.
*Restaurant Technology in 2016 Report. Toast POS.