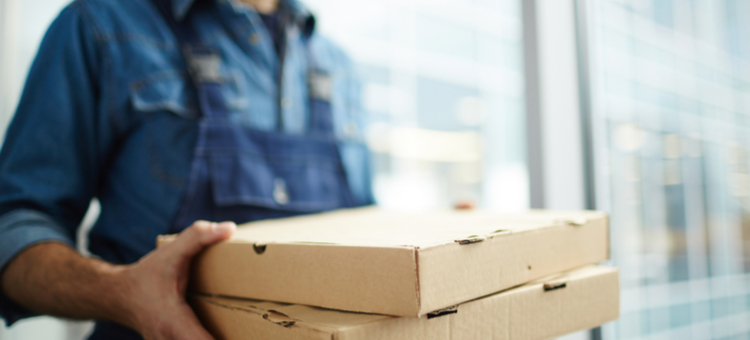 What's better than watching Netflix and chilling in your pajamas? Binge-watching Netflix while binging on a meal from your favorite restaurant.
According to research by the NPD Group, 50% of restaurant meals are now consumed at home. And most of those meals arrived via restaurant delivery services like GrubHub and Uber Eats.
In a perfect world, customers would get out of their PJs – and into your restaurant. But the next best thing is bringing your food to them. Here's how to do it in 7 simple steps.
How to Set Up Restaurant Delivery Service in 7 Steps
Step 1: Survey Your Customer Base
The first step is the most important: Before going all in with restaurant delivery services, do your research. Find out what your customers want by launching an online survey. Use a tool like Survey Monkey (it's free for up to 10 questions and 100 respondents). Here are just a few questions to ask – and what the answers will reveal:
What days/times are you most likely to order delivery? Set hours for delivery and ramp up staff during peak delivery days and dayparts.
What restaurant delivery services do you use? Decide which delivery platforms to get listed on.
Would your business order catered food if we delivered? Skip to step 5 for tips on corporate catering.
Step 2: Bundle Up! Package Makes Perfect
Boom. Your kitchen just whipped up a perfect burger and fries for delivery. But 20 minutes later? The burger is cold, the fries are soggy, and grease is dripping onto the customer's bathrobe (because everyone dreams of eating a burger in their bathrobe, right?).
Before investing in restaurant delivery services, assign proper packaging to every single item on your menu. Ask your foodservice distributor for tips on sourcing the right containers. For example, fries stay warm and crispy in the Crisp Food Technologies® container from Anchor Packaging. It features venting to release moisture while thick, microwave-safe plastic protects from leakage. Sure, it will cost extra; but it's worth it to ensure customers order again. Also, be sure to re-run the food cost formula to include packaging costs and price your delivery menu accordingly.
Other considerations for packaging include: labels so customers know what's what, extra utensils and napkins, a flyer for upcoming restaurant events, disposable wipes, something "extra" or fun like a piece of candy. Get creative to make your restaurant delivery services memorable – and convenient.
Step 3: Select One (or More) of These Restaurant Delivery Services
Now, it's time to select your delivery platform. You can hire your own team of delivery drivers, or use restaurant delivery services provided through a 3rd party platform like DoorDash or GrubHub. Some restaurants offer both options to customers.
While 3rd party restaurant delivery services do eliminate the overhead of paying drivers, somebody still has to pay for delivery! It varies by platform: some charge the customer, others take up to 30% in "commission" from each meal purchased on the platform. Many restaurants also don't like the fact that these 3rd party companies own customer data.
However, in most cases, it's still smart to pony up and pay that commission (or let your customer foot the bill). Why? Because many hungry customers start their search at the websites and apps of these 3rd party restaurant delivery services first. If you're not listed on at least one of these 9 leading restaurant delivery services, you could miss out on serious sales.
GrubHub is one of the most popular restaurant delivery services – and the most widely available with over 30,000 restaurants in 800 cities. There are no upfront costs to get listed on the platform, which smoothly integrates with POS systems like Oracle's Micros, Toast, and Breadcrumb. When you update your menu on your POS system, your menu items will automatically be updated at GrubHub.com. Customers can even place GrubHub orders through Amazon's Alexa! GrubHub claims restaurants see a 30% increase in monthly orders after a year.
Dinner from your place to their doorstep in an average of 15 minutes. That's how Uber Eats describes their restaurant delivery services. Uber Eats also assists restaurants at every step: from menu promotion to streamlining delivery operations.
If you can, try to both offer delivery directly through your business – and get listed on a few 3rd party restaurant delivery services. Here's one reason why: Of guests that use apps like GrubHub and UberEats, over 30% of them actually prefer ordering directly from the restaurant, according to Mintel Research. They believe restaurant-managed delivery arrives faster and costs less.
What if you're in an area where these 3rd party restaurant delivery services aren't available?
You can still get in on the delivery trend. Yes, you'll need to hire delivery drivers. It's also important that you make the ordering process convenient for customers, which should include online ordering…
[fl_builder_insert_layout slug="whitepaper-signup-module-get-more-customers"]
Step 4: Set Up Online Ordering on Your Website and App
The next step is to ensure online ordering is available through your website (and app if you have one).
Many of the 3rd party restaurant delivery services listed above can also be set up at your website and app. If you opt to hire your own drivers, talk with your POS provider as many companies like Toast POS offer online ordering software.
No matter which restaurant delivery services you select, online ordering at your website is essential! One study found that the average check for an online order is 23% larger than an on-premises or phone-only order.
Step 5: Consider Catering to Local Businesses
Now that you've got your restaurant delivery services and online ordering all set up, the next step is to think big. Think corporate catering. This may be the right move if you have your own team of delivery drivers. At the Technomic Restaurant Trends and Directions Conference held in Chicago, panelists in charge of catering orders at their companies said they prefer restaurants to come in and set up food.
Online ordering is also critical: A study by Fast Casual revealed that 93% of those placing orders for big groups want to do it online. (After all, you don't want your staff spending 15 minutes on the phone taking down a massive order, right?)
Ready to deliver catered food to businesses near you? Use this guide to restaurant catering to get started.
Step 6: Promote Your Restaurant Delivery Services
This is the fun step. Now it's time to tell your current customers that you've set up restaurant delivery services! Chances are, they're already getting their groceries or DIY meal kits delivered…now your restaurant will be on their list.
Use Facebook and Instagram Live to make a big announcement about your restaurant delivery services.
Send out an email announcement – and include a coupon for a set amount off their first order.
Use your own TVs to promote your restaurant delivery services – it's easy with digital signage software that turns TVs into customizable ads!
Train your team to let dine-in customers know you now deliver.
Step 7: Keep it All in Perspective
While it's clear that customers demand the convenience of restaurant delivery services, there's no replacing the act of going out for a meal. In fact, the Benchmark Hospitality report on 2019 dining trends predicts renewed appreciation for the on-premises restaurant experience.
Your goal is to offer customers consistent, high-quality food: whether it's enjoyed at home or within your four walls.